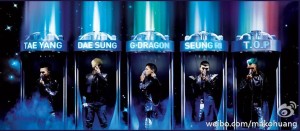 Who remembers BIGBANG on MTV World Stage back in early 2012? Was that not a fantastic first hand teaser of the Alive tour?
Well MTV has been hit by the BIGBANG love again as they are scheduled to air the band's ALIVE Around The World documentary on Saturday 1st June at 2pm.
As of right now the documentary will be shown on the MTV Live HD channel but hopefully it will spread to the other MTV channels during the same month. Those of you with HD, make a note on your calendars and reserve the TV for yourselves to watch this exclusive behind the scenes footage of the Alive World Tour.
For the VIPs who were lucky enough to witness BIGBANG 's incredible London gigs at Wembley Arena last December you will definitely relive your experience from this documentary if the two teasers on MTV's website are anything to go by.