May 1st marked the Manchester stop on the Korea Rocks UK tour. One of us was there to check out what Korea has to offer when it comes to rock music.
I'm no stranger to rock music. In fact my rock loves hail from countries all over the globe and even extend to the 'death' descriptions of the genre. Some of my more mainstream Korean loves include early TRAX, the solo rock releases of former H.O.T. member Moon Hee Jun and the indie rock group Nell. So heading to a Korean Rock gig wasn't completely unknown territory for me.
Reading the reviews on the Korea Rocks' acts I'd found claims that I'd be seeing four of the best rock groups in South Korea, four groups that are even better lives than they are on their studio produced albums.
So of course I listened to all four groups, I even thought I'd found a firm favourite amongst them, surprisingly everything I read about the four groups Korea Rocks brought to the UK was right.
Let me first tell you that Night and Day, in the Northern Quarter of Manchester, the host for the night of Korea Rocks that I attended, isn't a huge place. Its easy to find and get to but it is, plain and simple, a side street city bar with a small live music set up. Put any underground British rock group in this bar and they'd be right at home, so maybe the setting was perfect.
GALAXY EXPRESS kicked off proceedings with an energy that explodes from the group and draws you in. There is no let up, with each track the fire that comes from this band is outstanding, and you'd be hard pushed to take your eyes from the stage.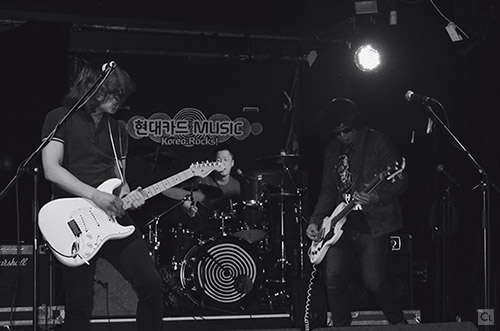 I'm unsure of his age but guitarist and vocalist Jonghyun Park seems to have the energy of a teenager amped on sugary drinks as he makes his way through the tracks, scissor kicking as he plays, and playing the showman as he plays his guitar with his teeth.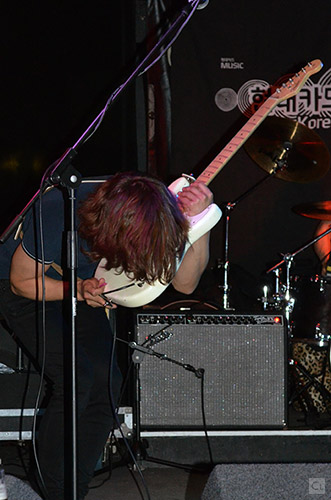 I will admit this isn't the group I liked the most when listening to their album, though I had thoroughly enjoyed it, but it just took their first track of the night 'Psycho' to cement Galaxy Express a spot on my one to watch list.
As the end of their final song of their set came around, 'Jungle the Black', I was sure I wouldn't be forgetting this group in a hurry. I'm even writing my review whilst listening to their 'Noise On Fire' album, the cd I chose to purchase after the gig.
After seeing all four acts I'd would pick out Galaxy Express as my favourite of the night. Their energetic style makes you watch and their sound has instant appeal.
GOONAM (Goonamguayeoridingstella) have a wonderful sound that is rather hard to describe but you can't help but enjoy it. It's one that gets into you and commands you to grove along with the music they play.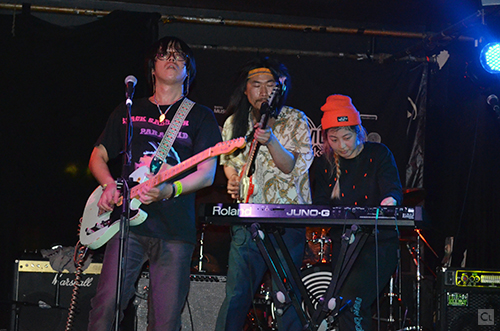 Keyboardist Naun Kim doesn't stand still for even a moment, dancing her way along to the rhythm of the music they play. Meanwhile guitarist Ung Joh certainly knows how to compel a crowd, more at ease after a couple of songs, talking and joking. Bass player Byunghak Eem takes crowd interaction to the next level, heading down off the stage, showing off his skills whilst completely in his element down amongst the audience gathered at the front of the stage.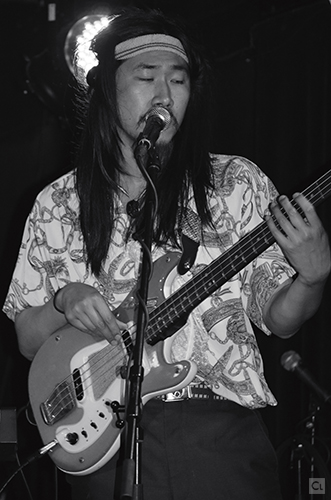 Goonam are certainly unlike any group I have heard or seen before, and will probably see again. I can't imagine anyone leaving a Goonamguayeoridingstella gig disappointed.
GATE FLOWERS certainly earn all those stripes they've collected over the past three years since being noted as one of the most promising bands to emerge in 2010. Their music hits you in just the way rock music should. Keunhong Park delivers his vocals with such power and volume the passion in the Gate Flowers' tracks is apparent to even those who don't speak Korean.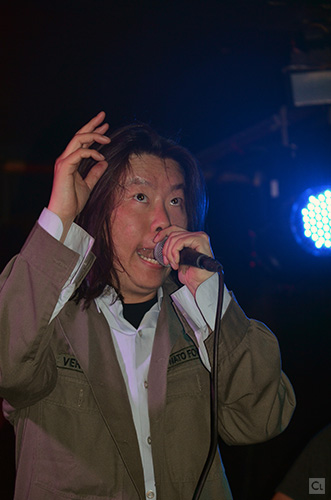 In the middle of the set the group played Seoul Ballad, renamed by guitarist Seungshik Yeom as UK Ballad to fit the setting, a similar gesture I believe the group made on many stops of the tour.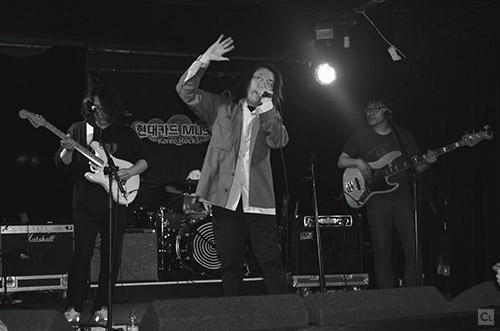 Gate Flowers are definitely a group I'd recommend to anyone looking to listen to a Korean rock group, they're everything you expect of rock music and a whole lot more.
APOLLO 18 are intense, and I don't think anyone in Night and Day would've argued with me. This group had everyone on their feet and at the front of the stage. If the other three groups were loud Apollo 18 invented a new volume setting.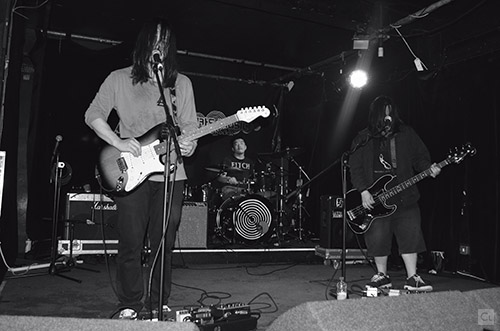 Apollo 18 had been the group who's EP I had enjoyed the most and they are most definitely far better live than they are in studio. Their EP just doesn't capture the excitement and passion the band create. Though maybe you could say that of any rock group the felling is a little different with Apollo 18.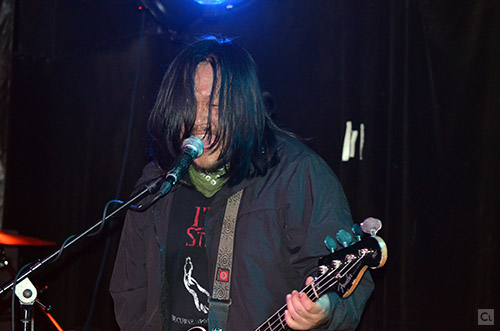 Apollo 18 could easily tour and pull in an audience because their rock energy would be so appealing to any fan of the genre. I might even send some Apollo 18 to a couple of rock loving friends of mine who don't understand my appreciation of Korean music, this might change their minds.
Korea Rocks did what it said, brought four of South Korea's best rock groups to the UK to showcase their talent, and it was an amazing showcase.
I am very grateful I had the chance to see these groups in action and will definitely be keeping an eye out for any future music from all of them.
The Korea Rocks groups have returned to Korea already but if you want to check out any of them you can do so at the following places:
GALAXY EXPRESS | Twitter | Facebook | SoundCloud
GOONAM | Twitter | Facebook | SoundCloud
GATE FLOWERS | Twitter | Facebook | SoundCloud
APOLLO 18 | Twitter | Facebook | SoundCloud
And more photos from the night can be found in last gallery here