Block B have had a lot of trouble as a group since their debut in 2011. It is so sad to see such young individuals having to deal with these controversies and setbacks in such a short space of time. However, the band and their fandom have shown themselves to be a very strong and resilient bunch.
Even now, as a few of the members continue with solo work, one can sense the support that is always buzzing in the background for this group. There is no doubt that BBCs will wait for the day when their favourite artists will be able to greet them as a solid unit once more. In homage to guys, I thought I would attempt to emulate on of my personal favourite concepts they have had – the 'Nillili Mambo' style!
As you can see, each individual member's outfit reflects their on-stage image and persona very well. Jaehyo's clothing reflects a calm yet stylish masculinity whilst P.O's give of a smart and almost regal vibe. Kyung's style reflects his mad energy whilst Zico's shows a flamboyant individuality and so forth.
It is for this reason that this concept is quite difficult to summarise in a few choice selections. So this article only aims to emulate the general feeling of this concept. Whilst I am sure that it would also be simple enough to mimic a certain member's style if you have your favourite, I am instead going to dub the reproduction of this overall concept: "Classy Pirate Style"! (I get a distinct pirate vibe, but it's not so cliché as Jack Sparrow fancy dress!)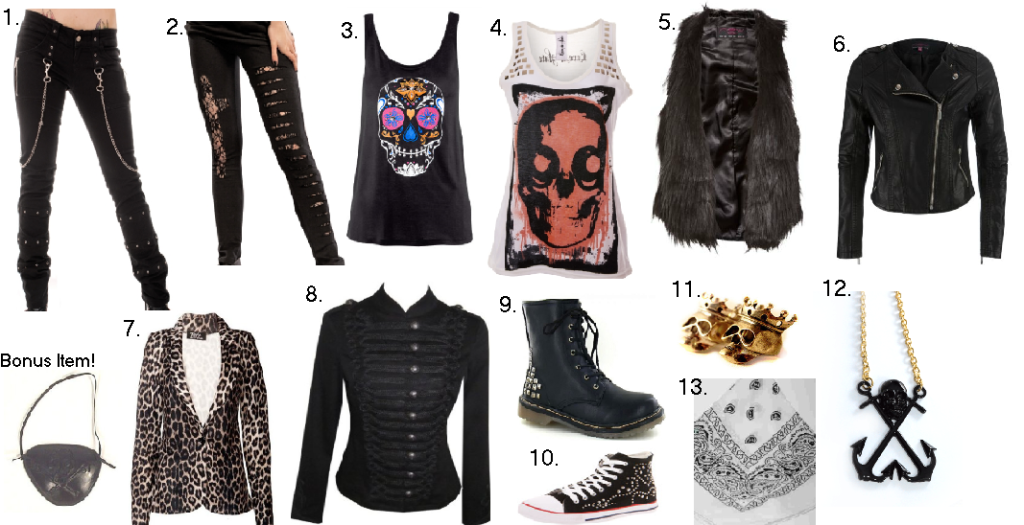 Jist Chain Jeans – attitudeclothing.co.uk: £34.99
Vixxsin Cross Slash Leggings – attitudeclothing.co.uk: £21.99
Top (Black/Skull) – H&M: £7.99
Love and Hate Studded Skull Women's Vest – attitudeclothing.co.uk: £18.99 [Now on Special Offer!]
Black Faux Fur Gilet – New Look: £8.00
Black Leather-Look Biker Jacket – New Look: £39.99
New Leopard/Animal Print Button Up Blazer/Jacket/Coat – amazon.co.uk: £15.99
Victorian Black Gothic Military SteamPunk Indie Jackie Coat – amazon.co.uk: £29.99
 Black Studded Heel Worker Boot – attitudeclothing.co.uk: £31.99
Mils Heart Stud Canvas Hi Top – boohoo.com: £20.00
Skull with Crown Ring – ringsandtings.com: £4.50
Skull and Anchor Long Necklace – ringsandtings.com: £5.50
White Paisley Bandana 100% Cotton – amazon.co.uk: £1.25
Bonus Item: Party Accessory Pirate Eye Patch – amazon.co.uk: £1.12.
Bandanas are a very versatile item and you do not have to mimic Zico exactly in order to achieve the pirate vibe. If you feel uncomfortable with wearing a bandana on your head (which can also be achieved in a variety of ways – search on YouTube for tutorials), you can also tie it around your wrist or even around the belt loop of your jeans allowing it to hang down.
The jeans and leggings suggested above are fairly expensive, but if you have any old and scuffed-up jeans hanging in your wardrobe, you could get some scissors and cut some slashes in them yourself and still look very cool and pirate-like!
Jeans with crazy patterns such as Tartan would also add extra punch to this style, but if you are going with this, remember to pair with slightly more plain clothes on your top half so as not to overwhelm anyone who looks at you!
Also, even though I wanted this style to be 'Classy Pirate', I could not resist adding an eye-patch. It's very fancy-dress, but it's just incase any readers are brave enough to go full on with this pirate look!
[WARNING]: Eye-patches (obviously) cause visual impairment and are not recommended for daily wear. 😛
This is a really great look that you can have a lot of fun with. Block B revamped this style and gave it a really modern and stylish twist that can be emulated with British High Street pieces fairly easily.
Go and get Pirate-y!!
What do you guys think of this article and the look?
Let us know if you have tried it out for yourself!
[Sources: Google Images, attitideclothing.co.uk, H&M UK Website, New Look Website, amazon.co.uk, boohoo.com, ringsandtings.com]