Today I'm going to be recommending an unusual romantic comedy, Two Weddings and a Funeral.
Now, straight off the bat, this film is queer cinema and a wonderful insight into the realities of being gay in modern South Korea, but if gay interest isn't your thing, then perhaps give this film a miss. That being said, this is a wonderful film that follows two gay couples whose lives become intertwined when lesbian partners Hyo Jin and Seo Young want to adopt a child, and they enlist the help of Min Soo and Suk to be able to do so. Hyo Jin and Min Soo get married in order to hide their homosexuality which not only allows the adoption to go ahead, but also gives closeted Min Soo a reprieve from his overbearing mother.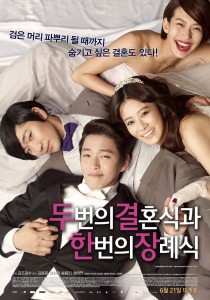 Throughout the film we also see snippets of the lives of Min Soo's gay friends, and a variety of hardships that they face due to their sexuality in day-to-day life, but despite the open and blatant discrimination the characters face at times, the film still retains a hopeful and light-hearted feel that mixes surprisingly well with the tragedy mentioned in the title.
I would highly recommend this film if you're looking for something a little different from the norm, particularly if you're a fan of gay cinema, but even if you're not currently a fan of it! This film is definitely worth taking a chance on as it will make you laugh and cry, while providing you with food for thought. What more could you ask for?
Have you ever watched this film, or are you planning on watching it? Let us know what you think!