Before his set on the Capital FM Summertime Ball stage yesterday, British musician Robbie Williams had a quick chat with Capital FM's Greg Burns about his future plans and in particular artists he'd like to duet with. Like many stars who tweeted the Gangnam Style video when it was first released, Robbie has been hit by this craze but also said he'd like to collaborate with PSY
"I get the feeling that he networks well," he explained. "I could learn from him, I'd like to be in the studio with him and come up with something, it would be fun!"
You can watch the entire Capital FM interview below.
Turns out PSY is a fan of Robbie Williams as well. He tweeted the following photo of the two together backstage at the Summertime Ball.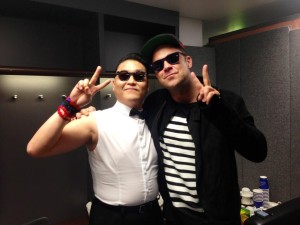 "I've been a fan of this guy for a long time and just got that he's also a fan of me!! OMG!! @robbiewilliams 🙂
What kind of song could PSY and Robbie pull off together? What do you picture? Something jazzy, big band style (Robbie's done that genre before) or perhaps a fun, catchy track? Did you manage to see PSY perform at Wembley Stadium yesterday? Let us know.