Let me start off by saying that if you're trying Korean BBQ for the first time, I highly recommend Yori.
Yori is based in Piccadilly, and have a wide variety of dishes to choose from. As soon as we walked in, we were greeted by a friendly waiter who immediately found us a table. We didn't have to wait long to place our order, and as we were unsure of some of the items in the menu we asked for some help. The staff were more than happy to give their own personal preferences, and show us which is most popular with customers. Even going as far as letting us taste some drinks before letting us decide. Eventually, we settled for the pork belly BBQ, with kimchi, rice and spring onions on the side.
As in every restaurant, the drinks came to us first. When ordering, we were given a small taster of these drinks as we weren't quite sure what they were. These are very sweet drinks, especially the rice punch.
Shortly after, we were given the meal. The staff left the pork belly on the grill to cook and would return every so often to turn it and make sure it's cooking alright. You can also ask to have the meat cut into smaller chunks. I assume you can ask to do this yourself if you know what you're doing.
The amount we got for what we paid was fairly decent, and as I was with a vegetarian the staff were checking through the ingredients with her, making sure she's okay with it. So any vegetarians out there – you're safe!
After we had finished, we then ordered ice cream. The flavours were very unusual (red bean paste, matcha etc), and so I was cautious. I ordered the red bean flavour and it came with dried fruit on the top, well presented. Needless to say, it tasted great!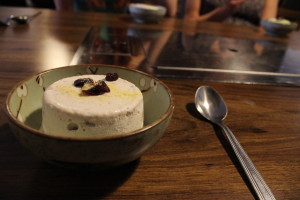 I've heard many people talk about Yori as having really friendly service, and I completely agree! Earlier I mentioned that your first Korean BBQ should be here, and this is because the staff will guide you. Whether it be recommendations or just simple advice they seem genuinely happy to help. The food here tastes really great, and is given at a decent portion. I definitely would want to come back and try out the other dishes they have on offer.