Urban Electro Band NU'EST have returned, just six months after Hello, with their 3rd mini album Sleep Talking. After featuring exclusive photos from their comeback we decided to take a look at their new offering!
When they debuted NU'EST's aim was to make a mark on the music industry by exploring sound and establishing styles that set them apart from other groups. This album certainly continues that mission with a mix of sounds.
The album draws on the group's good friend electro, the staples of korean pop, and dashes of pop-rock to form a mini album with 'mystic fantasy' themes.
Lyrically the theme is of confessing to the person you like. The first two tracks tell of the difficulties of being able to confess to that person, while the middle two, rather than approaching the person you admire them from afar. The album ends with a confession of true appreciation, rather than appreciation for the artificial and provocative.
Put these elements together and you have an album that oozes catchy tunes to create a pop masterpiece that any idol in the industry would be proud of.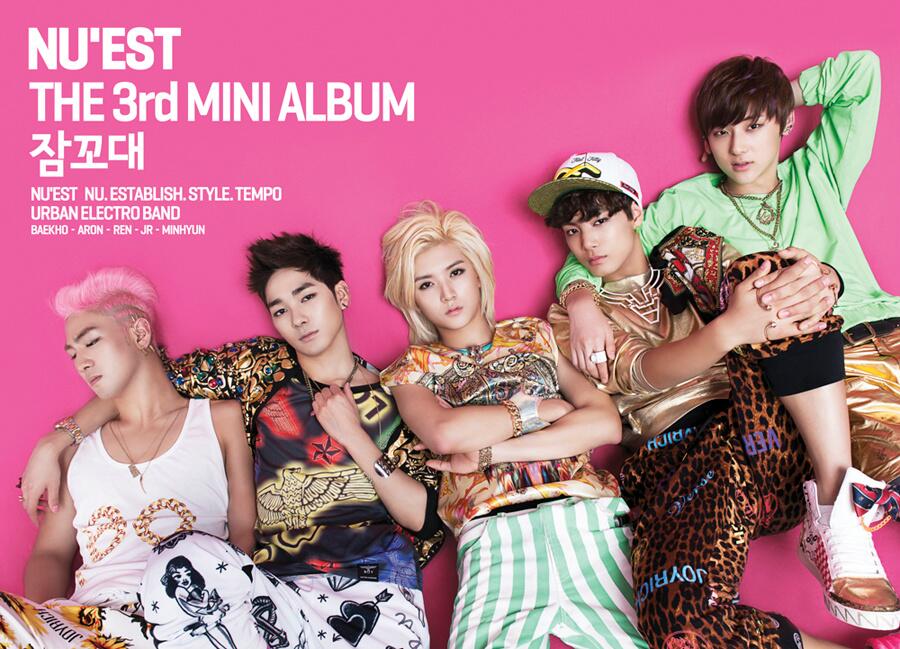 Sleep Talking (잠꼬대)
The album opens with the title track Sleep Talking. The song takes the group back to their electro roots with a blend of electronically produced sound and electric guitars.
Writers and producers Duble (Side)kick have left their stamp on this track with a name check just before the dance break interlude, and like many of their productions this is infectious.
The song's lyrical content and visual concept lies around a dream world and the addition of sound effects such as snoring, yawning and alarm clock bells adds to this theme within the music.
Its interesting to note the change in JR's rapping style for this track, JR is one last years rookie rappers considered quite 'marmite'. If you disliked him previously this may be an opportunity to re-listen.
Beautiful Ghost
The second track on the mini is Beautiful Ghost. The song features rap lyrics written by JR, this album giving him more opportunity to write since his contribution to their debut.
Vocalists Baekho, Minhyun and Ren prove they can all stand up to the test of a powerful pop-rock band arrangement. Ren takes on the spot as second vocalist in this track, the spot normally held by Minhyun, showing his improvement since Hello. The rappers give all they've got too, with Aron even providing occasional English lines.
Beautiful Ghost is the track you can currently see NU'EST promoting on music shows as their intro stage before Sleep Talking.
Pretty (예뻐) Featuring Yoo Ara of Hello Venus
Pretty is reminiscent of 80s synthpop. Alongside layers of synthesised beats the lyrics are full of repeating syllables that you can pick up really quickly even if you don't speak any Korean. Yoo Ara injects a sweetness to the lyrics with her style, she is the first female vocalist to collaborate with NU'EST and her voice fits flawlessly with the NU'EST boys. From 2:20 you can hear Yoo Ara harmonising with Minhyun, before Baekho leads into the chorus.
Fine Girl
We're still with the 80s pop influences as Fine Girl kicks in, with slight disco undertones. A mixture of keyboards, synthesisers, and drum machine beats are layered with the lyrics that utilise phrase repetition. You'll find it hard to resist joining in as the group hit their chorus with its English lyrics. This is what makes the track as catchy as the pop it is reminiscent of.
Not only do the members adapt to an 80s disco style of pop, Minhyun and Baekho also try out a little rapping in this track for the first time, showing that NU'EST are versatile and always aiming to continue in their original aim.
Love You More (조금 더 사랑할게)
Love You More is, of course, a ballad. Previous ballads have been led by Baekho and Minhyun, but for their third album Ren joins the duo to create a powerful and memorable love song. Baekho's powerful voice is particularly prominent in Love You More, driving the song forward and creating some of the more catching drama with the music. Accompanying the lyrics are a beautiful mix of piano, guitar, strings and percussion.
Please Don't / Don't Wear Revealing Clothes (야하게 입지마)
The synthesised sounds of Please Don't are accompanied by the sweet vocals of the boys combined with smooth rap transitions.
A staple kpop track that asks a girl not to wear revealing clothes as her beauty shines without doing so, its packed full of bright and cheerful styling you'd expect from this concept.
Interestingly at around the 2:23 mark in the track you'll hear the line 'Neukdaedeul pyojeongeun wow / The faces of the wolves go wow' and an 'awoooo' in the background. This may not be a direct reference to the group that debuted around the same time as them but does make you think of EXO's comeback and its lyrical content about beautiful girls and a man's animalistic nature.
The cute feel of this track is possibly a reminder of their youth but never the less is a great way to end the album.
So…
With synthpop, disco, pop-rock electric guitars, and power ballads in the mix the 80s themes are strong with this album. Think power pop mega-stars of the decade, Michael Jackson and Prince. Possibly inspirations for many hit makers in Kpop, but how many of them are creating music that sounds quite like this?
It doesn't matter if you're not old enough to have grown up with the music of these pop greats, almost everyone knows Michael Jackson, even if they don't know Prince, so you may be able to hear some of the musical influences here. If not, play the intros to your parents and see who they think of!
Highs & Lows
Highlights include the turbulent pop rock track Beautiful Ghost and power ballad Love You More. Both feature strong vocals from Baekho, and more prominent lyrics from Ren than we've heard previously.
If you can really call it a low point, on the first couple of listens you may find Pretty and Fine Girl quite similar, given their use of repetition and synthesised beats, though Yoo Ara will set the tracks apart. Fans of Aron may find that he has less lines in this mini than he has had previously, though the flow of the album doesn't seem to leave anyone sounding out of place.
For their varied range of music, throwback to pop greats, and catchy beats NU'EST get an impressive 4/5
Find NU'EST & Sleep Talking on
Have you heard the album? Do you like NU'EST's third mini and what are your highlights?
Let us know in the comment section below!