I recently discovered a small Korean restaurant named K-Cook in the North West London area. Conveniently located close to Hendon Central Underground station and Middlesex University's Hendon campus, does it have much to offer? I made a quick visit to see for myself.
The minute you walk inside the restaurant you'll notice the large Kpop posters and clear files stuck to the walls. There is also a TV playing various Kpop live performances and MVs. In a nutshell K-Cook 's environment will definitely attract Kpop fans and make them feel at home.
K-Cook is slightly larger than the funky Seoul Bakery and you will have more leg room or space to walk past tables. Unfortunately as the kitchen is very close by you'll come out smelling like cooking oil. edit Was informed by the restaurant that there is ventilation but it wasn't working that day.
As I was in a rush I didn't order more than one dish and I think the waiter was rather surprised I only ordered one thing which was seafood pancake. The Dolsot Bibimbab and Katsu dishes were very tempting believe me but I wanted something quick before they closed for their afternoon break.
This is my seafood pancake (apparently bigger than the other pancake dishes).  It cost £6.90 and enough to satisfy my appetite.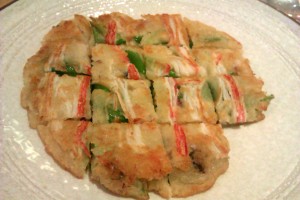 If you're dining in groups, it's likely you'll get to sit at these tables for your BBQ feast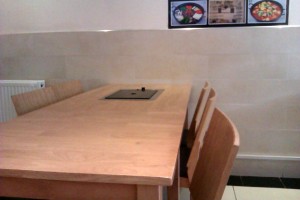 Examples of the large posters of popular Kpop groups along with photos of the restaurant's food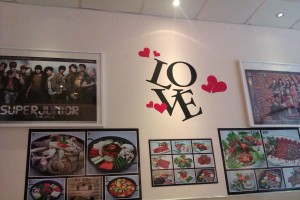 Clear files of Kpop groups. See how many you recognise when you visit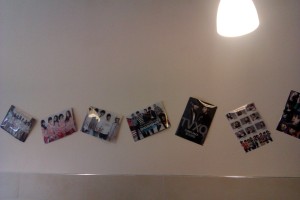 Overall: The main Korean waiter was polite and attentive to the customers, including the rather demanding young international students who wanted a lot of beer and juice every five minutes.  As I was reading the menu I realised it's possible that K-Cook want to cater to the large number of Chinese Middlesex University students who live in the area, thus have written the dishes in traditional Chinese along with Hangul for any Korean speakers. There's also Chow Mein available to order.
For a small restaurant slightly outside of zone 1, there's quite a nice variety of dishes to pick from. The menu offers cold noodle dishes, soup noodles like Kimchi Ramyun and also fried noodles along with fried rice. The common favourites are there – Dolsot Bibimbap, Dupbap, Bulgogi and Jap Chae. I noticed a lot of Chinese students in the restaurant had ordered the Pot Stew dishes as it comes with steamed rice and small side dishes of vegetables including kimchi. There are even a few Japanese dishes included in the menu such as Salmon Teriyaki, Prawn Tempura and Pork Katsu. All come with a bowl of steamed rice.
Pricing is of a similar range to the restaurants in Central London and for my meal I did not get charged for service. However for a restaurant that's near my area and a 20-30 min bus journey I wouldn't mind revisiting K-Cook if I cannot get to Soho or New Malden and really crave for some freshly cooked Korean cuisine. It definitely benefits the Middlesex University students if they want a Korean feast. It's just a 10 minute walk from the Hendon campus. The restaurant is closed on Sundays but open Monday – Saturday with Saturday being the only day they're open all day with no two and a half hour break in between lunch and dinner time.