Following their recent Kpop fanboying at this year's MTV EMAs, the Jedward twins decided to revisit their first encounter with another popular Kpop group – BIGBANG.

On their Twitter account Jedward began with a touching letter to the guys, thanking them for inspiration and how Kpop music opened their eyes.
"We Want to Thank Big Bang for really inspiring us!
Its all started the 1st time we flew to Japan and We loved the Vibe and the People! We heard these really fun catchy songs on the radio and in shops and We saw Big Bang and really liked how they presented themselves in their music videos and billboards around Japan!
Big Bang and Kpop really opened our eyes to a new world of music and style and made us want to improve and learn more and work on our dancing and music videos!
We met them on the PhotoShoot for their Album Alive!
Before we came to Japan we felt different because we had spikey hair and crazy stage clothes and when we got introduced to Kpop and Big Bang we felt at home and people really enjoyed our energy in Asia and saw what our fans around the world saw!
Tae Yang invited us to their concert in New York City and we felt so happy for the guys when we saw the fans go crazy! we loved the lights and the atmosphere it reminded us of how crazy Jedward fans are and how they come together and support each other the Big Bang Concert was out of this world something we had not seen before just wow! Its always awesome supporting your friends
Thank You G-Dragon! TaeYang! TOP! Seungri! and Daesung
Peace from John and Edward JEDWARD!"
The brothers then tweeted a group black and white picture with BIGBANG at the latter's photoshoot, along with the following caption:-
"Jedward and Big Bang Team Cool! @IBGDRGN @Realtaeyang Hope to See you guys on Tour Soon!"
**This picture was also posted on Jedward's Instagram**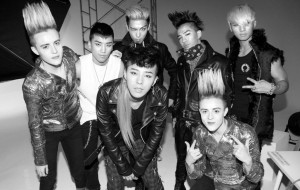 Could Jedward possibly be one of the luckiest Kpop fans from our side of the pond to be able to meet Kpop's biggest names?