Monday 4th of November kicked off this year's Korea Brand and Entertainment Expo, with many top businesses flying in to showcase their products to potential buyers in the British market. The expo was previously held in Japan (2012) and in Paris the year before, with JYJ as the ambassadors for Japan and Secret as the ambassadors in Paris. However this year KBEE managed to secure one of Korea's top girl groups as their ambassadors; 2NE1. 2NE1 had a congratulatory performance on the second day of KBEE, after performances by traditional Korean music groups and a fashion show by Kim Seoryeong.
Stalls at the expo included big name brands such as YG Entertainment – the home of BIGBANG, 2NE1 and PSY, Bibigo – the PSY endorsed restaurant chain, Caffé Bene – the Starbucks of Korea – and Kun's INC, whom are responsible for the ever idol-popular clothing brand SAKUN. Other stalls featured a variety of Korean produce, from health products to historical games to cosmetics, not a corner of Korean branding was left unturned. The diverse range of stalls drew much interest from potential buyers and casual visitors alike. The event also featured a section by CJ E&M/Mnet, which was an area dedicated to K-pop and Korean movies. A number of TVs displayed various music videos, performances and movie clips to passing fans, whilst Hongdae's DJ Itae spun the latest and greatest of K-pop hits to the dancing crowd.
BIBIGO
Bibigo, a Korean restaurant chain and food brand endorsed by PSY took over a corner of Old Billingsgate with their stall of delicious samples and eating  area; where you could purchase Bibigo meals and sit for a quick break amongst the hustle and bustle of the expo. If you played their Bibigo dice game, you could win items such as a tote bag, Bibigo ears hair band, or if you got lucky, even a £15 voucher to their restaurants.
Bibigo do, in fact, have a London restaurant, and a number of supermarkets in London stock their products. Their London restaurant – and bar – is located in Soho on Great Marlborough Street. The restaurant claims to emphasise 'healthy and fresh' with Korean cuisine, whilst their wine list compliments their food, along with a number of cocktails found only in their Bibigo restaurant. You can all expect a review coming soon!
Tesco stores which stock Bibigo items include; Kensington, New Malden, Wembley, Abingdon and more. Check out this page for more info. (link full list with maps)
On the Wednesday of KBEE, 2NE1 held a fansigning in Old Billingsgate, with two (x, y) members at the CJ E&M stall and two (x, y) at the Bibigo stall.
CJ E&M

Any K-pop fan attending KBEE visited CJ E&M's stall at least once, with DJ Itae blasting K-pop hits and their TV displays showing K-pop MVs, performances and Korean movies, fans were flowing through all day. Each day 2NE1's  make-up artist took over from DJ Itae for a few hours to show tutorials on the girls' make-up, and a few lucky audience members were even chosen to have their make-up done by her.
| | |
| --- | --- |
| | If you hadn't already noticed the CJ E&M stall when you walked in, the volunteers dressed as Crayon Pop would ensure you knew exactly where it was. Although not knowing K-pop well, it seemed, the volunteers danced amongst the fans each day and by Wednesday, it looked as though they were beginning to learn Crayon Pop's famous 'Bar Bar Bar' dance. We're sure they've probably got the song stuck in their heads now, if not, PSY's Gangnam Style or Gentleman will surely be. The expo was edged by PSY's songs consistently playing in the background over at the YG section. |
YG ENTERTAINMENT
YG Entertainment dominated much of KBEE with the hologram performances of 2NE1 and PSY, Bibigo's PSY endorsement, the 2NE1 make-up artist, 2NE1's congratulatory performance and fan signings and of course, their own stall display. Unfortunately, none of the items displayed on their stall were for sale, but YG fans could see what kind of merchandise they offer for their three biggest acts; BIGBANG, 2NE1 and PSY.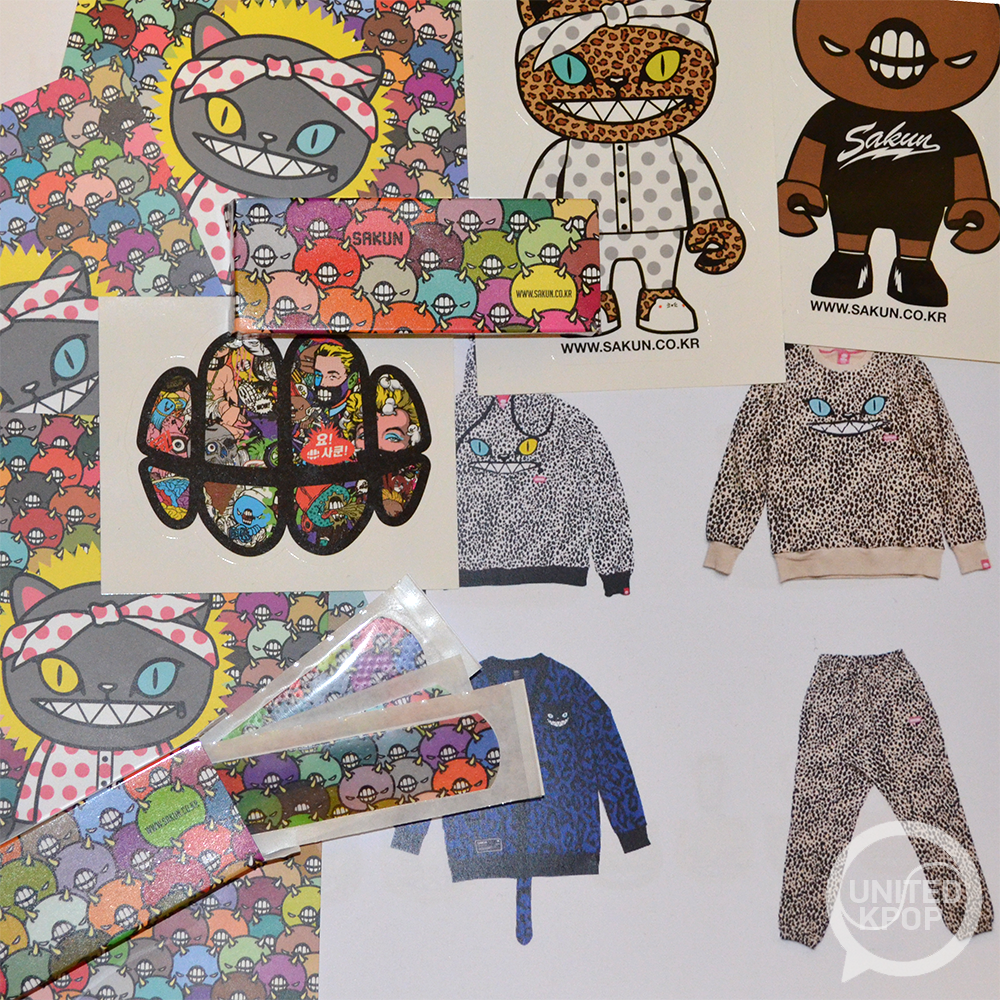 Other stalls at KBEE included popular clothing brand SAKUN (KUN's Inc) whose designs are featured above. SAKUN is worn by a number of Korean idols including the likes of SHINee's Key. The brand is well known for their bright and colourful designs and stylish clothes cut, there is a good reason for their lasting popularity in Korea. Another feature of KBEE was the hologram concert, with regular showings of PSY and 2NE1 concerts over the three days, the feature proved to be very popular and was fantastic to view. Finally, Kim Seoryeong's fashion show held just before 2NE1's congratulatory performance was shown to be a delight for all. The designs featured were all beautifully cut and designed. Although not clothes you might wear every day on the streets of the UK, they were wonderful designs. A huge kudos to Kim Seoryeong and the models.
2NE1's performance was a major drawing factor for the K-pop fans in attendance, the attendance more than doubling on Tuesday 5th of November. The girls performed their hits 'Do You Love Me?', 'Lonely' and 'I Am The Best' with a brief talk, saying how excited they were to be in London. Stay tuned for full coverage of 2NE1's performance and fansign on the Wednesday, including HQ photos!
—
Overall, KBEE 2013 in London was a largely successful event and we look forward to the next KBEE, in London or otherwise! What was the best stall at KBEE for you? The Bibigo stall with their delicious samples and games, or perhaps the CJ E&M stall with their K-pop beats and Crayon Pop girls? Let us know your thoughts!