Every Thursday, we'll now be sharing with you all a cute or fun story from the K-pop world of the past week. This week, we have GD GD Baby Baby, quite literally as G-Dragon proved to be both cute and funny as he dressed up as the baby from 'Doom Dada'.
Donning the baby head from fellow band mate TOP's solo MV 'Doom Dada', G-Dragon took to Instagram on the 4th to share his 'new look' with fans. Captioned with the lyrics 'Doomdadadibidada', his efforts did not go unappreciated by fans, with the photo receiving a whopping 256K likes.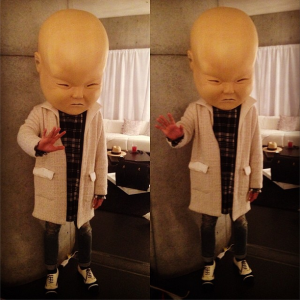 G-Dragon also showcased a stylish smart casual look whilst sporting the massive baby head, forever the style icon, even in silly circumstances.
Until next week!