Korean Supermarket Hmart, which we briefly reviewed back in August 2013, have just announced that they will start selling Kpop CDs in store.

On their Facebook page, Hmart posted a quick message to readers about this forthcoming addition to their supermarket. Not only will there be classic CDs available, even the latest ones that have just been released will be included.
The CDs will be ordered directly from Korea and as of right now, the price range is unknown but we will keep an eye out on further updates.
This is perhaps another good reason to pop over for a visit in New Malden. Not just for eating in Korean restaurants or doing grocery shopping but also to get your Kpop CDs in the heart of K-Town.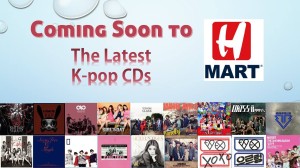 Photo originally from Hmart UK's Facebook page
**Update**: Readers, Hmart have received some of their album orders in store and more are due to arrive very soon so do pay a visit when you can as some of the albums may come with extra goodies like posters or special books. If you want to place any requests, you can send a direct message on HMart's Facebook page and they'll make a note of it for their next order.