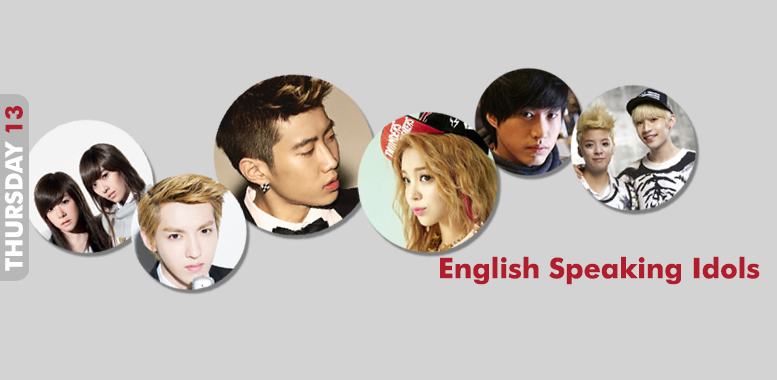 To continue this week's 'Thursday 13', we look at 13 idols who speak fluent English! Continue reading to see who made the list!
1)      Tiffany – Born and raised in San Francisco, California, till the age of 15, Girls Generation's Tiffany is fluent in English. She has also sung many covers in English from Rihanna's 'Umbrella' and 'We Found Love' to Adele's 'Rolling in the Deep' and just recently Ariana Grande's "The Way".
2)      Jessica – Just like bandmate Tiffany, Girls Generation's Jessica was also born and raised in San Francisco, California, until she moved to South Korea at the age of 11. Jessica has also done English covers proving she is still fluent in English despite living in South Korea.
3)      Krystal – Just like her sister, Girls Generation's Jessica, f(x)'s Krystal was also born and raised in San Francisco. As expected she also speaks fluent English which she has shown many times in her roles in dramas "High Kick 3" and "The Heirs".
4)      Amber – f(x)'s Amber was also born in California, living in LA prior to moving to South Korea to be a trainee under SM Entertainment. She has also proven her fluency in English through variety shows and music. Aside from English and Korean, Amber is also fluent in Chinese.
5)      Kris – Although born in China, EXO's Kris moved to Canada at a young age, gaining him fluency in Chinese, English and Korean.
6)      Ailee – Born in Denver, Colorado, Ailee lived in the USA up until 2010 when she moved to South Korea to pursue her music career. She has shown her fluency in English also through covers such Beyoncé's 'Halo'.
7)      Nicole – Born in LA, California, former KARA member Nicole, is also fluent in English, which she has shown time and time again on talk shows and through singing English covers.
8)      Jay Park – Born in Seattle, Jay has spent most of his life in the USA until he came to South Korea in 2005 to receive training under JYP Entertainment, which then helped him gain fluency in Korean also. Jay has many English songs such as "Girlfriend" and "Know Your Name".
9)      Kevin – Also born in California, Kevin is 1 of 3 English-speaking members of U-KISS along with Eli and AJ. Kevin moved to South Korea when he was 15, to pursue his dream. Kevin has also shown his fluency in English through talk shows such as 'Pops in Seoul'.
10)   Henry – Super Junior member Henry was born in Toronto, Canada. His native language is English, but he also speaks Chinese and Korean.
11)   G.NA – Born in Canada, G.NA is also fluent in English, as well as Korean. She has an English album called 'Oui' which features her Korean hits in English.
12)   HanByul – LEDApple member HanByul was born in Australia, and claims he is fluent in four languages: English, Korean, French and Latin.
13)   Tablo – Epik High member Tablo was born in Indonesia, after relocating several times, his family settled in Canada when Tablo was 8. Tablo was a student at Stanford University, attaining a Bachelor's Degree in English Literature and a Master's Degree in Creative Writing. Epik High have many English songs such as 'Map the Soul', 'Maze', 'Excuses', and 'Rocksteady'.
Can you think of anymore? List them in the comments below!