MV Monday today features two Super Junior members, two halves of a self named sub unit, Donghae & Eunhyuk. The duo are set to release their Japanese album on Wednesday. The thirteen song album will include the duo's first two tracks Oppa Oppa and I Wanna Dance, and the albums lead track Motorcycle.
The album comes with the somewhat questionable title of Ride Me, after the release of Motorcycle no one can dispute whether the suggestive title was intentional, Ride Me means exactly what you think it means, and what many of us hoped was lost in translation.
[youtube id="anrh6iSKCNQ"]
Motorcycle is as much about the mode of transport as it is about women. It is often commented that men love their cars as much as, if not more than, women. Motorcycle uses this idea of a human love for an inanimate object to represent attraction.
The motorcycle symbolises man, or more specifically Donghae & Eunhyuk, and at times woman. To rock your motorcycle is displaying your relationship in a confident and uninhibited way, and having to buckle on the highway gives an image of an intense relationship. Chasing motorcycles, our hands are clapping the whole way, describes the thrill of attraction or a relationship.
This idea of the motorcycle being humanised, and therefore sexualised, is also shown in the visuals and choreography. Black and white close up shots of a motorcycle replace the over used close ups of a woman's body. The choreography includes stances and actions related to riding a motorcycle but these same moves are suggestive with many of them focussing on the pairs' hips.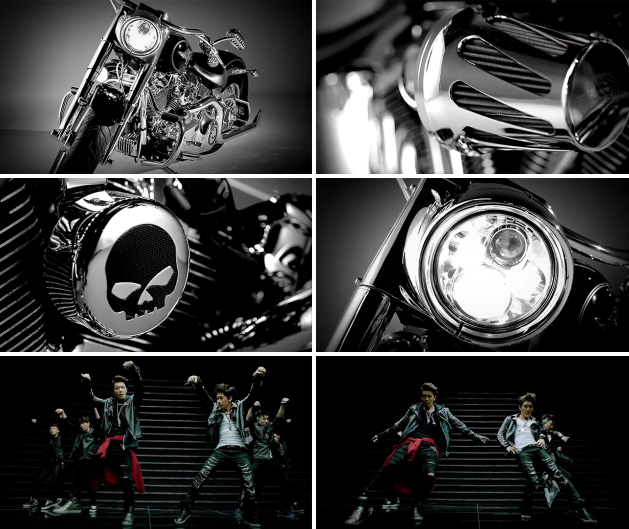 Of course Motorcycle couldn't be a Japanese release from Donghae & Eunhyuk without the inclusion of humour. The pair don long wigs to become stereotypical bikers, and there is even an usual cameo from fellow SuJu member, Siwon.

The inclusion of Siwon in his feminine attire leads us to one of SM's favourite topics of late, industry commentary. Just as SHINee's Everybody uses industry commentary to point out that although others may be hitting the top of the charts SMTown are still a formidable power, we see Donghae & Eunhyuk make reference to the same artist.
Siwon's scene can be taken as a reference to G Dragon's Crayon in which the camera approaches a woman only for us to find out it is G Dragon. Of course Siwon makes a far less convincing woman, even wearing a wig and shot from the back due to his masculine stature, but this is all part of the humour the duo display.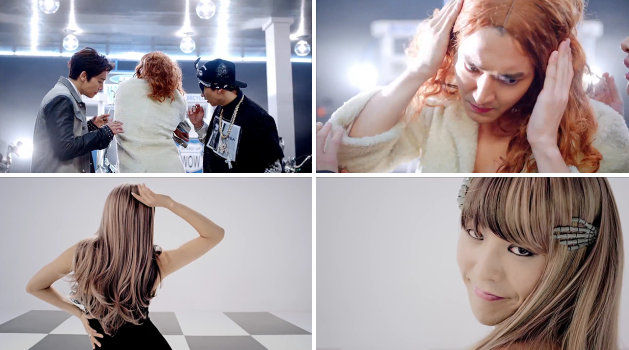 Continuing this referencing of YG and their artists we see a scene in front of fuel pumps, in which the duo and their dancers dress in attire similar to that you'd see on GD and Taeyang. The fuel pump setting could even be linked back to 2NE1's Falling In Love.

Another prominent reference is to the King Of Pop, Michael Jackson, with the line MJ told me beat it, beat it, beat it, Eunhyuk even emulates his dance moves. As well as referencing a large musical influence, as with imagery in SHINee's mv, this shows SM and their artists as being at the top of their genre.
Motorcycle, and its album, Ride Me, may well be suggestive, but the song is undeniably catchy, and fits the duo. You can listen to a preview of the album below, and if you like what you hear you should be able to purchase it via iTunes as of this coming Wednesday, 26th February.
[youtube id="177S_OewA5U"]
Do you like the Motorcycle mv and are you looking forward to the Ride Me album? 
Are there any mvs you'd like explaining for MV Monday?