Next month Dead Buttons is to be one of the Korean indie groups on tour in the UK. We gave you a brief intro of the band before, but it's time to get to know the people behind the name! 
SEE ALSO: Korean Indie bands Asian Chairshot, PATiENTS and Dead Buttons to tour UK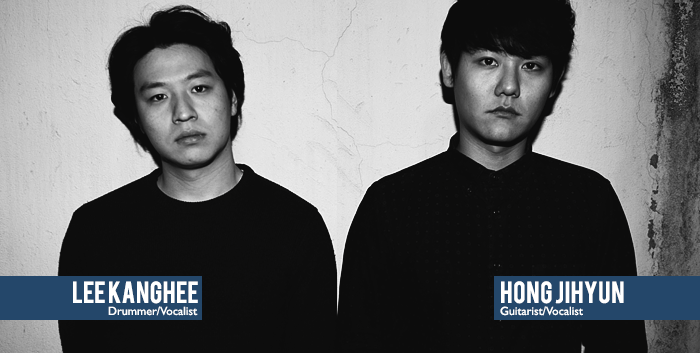 Guitarist/vocalist Jihyun Hong and drummer/vocalist Kanghee Lee are the duo that make up Seoul-based Dead Buttons. Hong is a veteran of Korea's indie scene, having played in a number of rock and punk bands previously, he also currently plays in Combative Post outside Dead Buttons. Hong and Lee decided to form Dead Buttons together after Lee had finished his mandatory military service. Originally a trio, the band scrapped all previous material after their bassist left in summer 2013 and started again, creating new tracks as a duo.
Though the band's early material was more garage punk, their first EP as a duo 'Whoever You Are', released February this year, boasts a wider range of genres. The EP mixes garage rock, blues, country and psychedelic music, in an usual yet infectious 80s-esque blend that showcases the potential of the up-and-coming pair. Check out the EP below and their latest live performance, here.
[soundcloud url="https://api.soundcloud.com/playlists/32809352″ params="auto_play=false&hide_related=false&visual=true" width="100%" height="300″ iframe="true" /]
What's the story behind your name, 'Dead Buttons'?
Jihyun: There is no special meaning or story behind the name.  We chose the name Dead Buttons because we wanted to have a name that included the word "Dead" in it, similar to Dead Kennedys and The Dead Weather.
In your own words, can you describe your sound to us?
Jihyun: We're a rock 'n' roll band.  We add bits of psychedelic music, stoner metal, punk, garage rock, and country music to our songs.  Basically we try to incorporate all the different types of music we like into our own music.
Who and what would you say are the influences of your sound?
Jihyun: Johnny Cash, Bob Dylan, Muddy Waters, and lots of other musicians have influenced me.  I've also really been influenced by Quentin Tarantino's movies.
Kanghee: The Kinks, Muddy Waters, Led Zeppelin, The Sonics, and so many other acts.  There are too many musicians to list.
[To Hong Jihyun] You're also the guitarist in Combative Post, and have played in a number of other bands too, how do you juggle your responsibilities between bands?
Jihyun: It's not that hard.  Bands usually make a schedule of what they are going to do in advance, so it's usually no problem to balance my responsibilities with both acts.
Aside from playing in other bands, which fellow rock bands – past or present – would you most like to collaborate with?
Jihyun: We're already planning to collaborate with the Korean bluesy folk duo Billy Carter.  They play such great music and we always enjoy their performances.
Kanghee: I think we'll also collaborate with the Korean band The Veggers one day too.  They are a really good punk band.  When we drink with them, we always talk about collaborating on something together.

You'll be touring the UK next month, and also performing at Liverpool Sound City. How do you feel bringing your sound to an international audience?
Jihyun: It's always fun to play in new places and for a new people. These will be our first gigs outside of Asia.  We're eager to meet new people, experience some new things, learn lots, and have some fun.
Kanghee: We're excited about the tour.  We're a rock band and are heading to the birthplace of rock music so this is going to be a cool experience for us. I think audiences are really going to enjoy what we do, and we're all going to have a blast together.
If you were to convince a K-pop fan to listen to your music, what would you say?
Jihyun: I'd tell them to just listen to our music.  Some people will like it and maybe some people won't like it.  People can make up their own mind about it.
Kanghee:  I agree.  Music is a very subjective thing and we all have different tastes in music.  People are welcome to like and support whatever they want to.  But we'd be very grateful if they wanted to like and support Dead Buttons!
What are you looking forward to the most about the UK tour? What are your favourite – and least favourite – parts of doing a tour?
Jihyun: We're looking forward to meeting new bands and music fans and seeing some new places.  As for my favourite part of doing a tour, I think that is the after parties!
Is there anything you'd like to say to your fans?
Kanghee: Thanks so much for reading about Dead Buttons!  We hope to see you guys soon in the UK, Korea, or somewhere else in the world.  Let's meet and rock out together.
Dead Buttons will be performing as follows:
| | | |
| --- | --- | --- |
| May 2 | Liverpool, England | @ Heebie Jeebies (Liverpool Sound City) |
| May 3 | Liverpool, England | @ Kazimier Gardens (Liverpool Sound City) |
| May 7 | Bristol, England | @ The Hatchet Inn |
| May 8 | Southampton, England | @ Unit Club (WTFest) |
| May 9 | London, England | @ AAA |
| May 10 | London, England | @ Astbury Castle |