Having arrived in London not too long ago in preparation for their upcoming LOE concert, B.A.P did not waste time strolling around the city…followed by lots of camera crew.

They were spotted in the city on the morning of 25 April, namely around the Westminster area.  It is possible the guys had been filming a new MV right here in good ol'London.
Despite the rather murky weather, it seemed B.A.P were in good spirits while walking around and filming at the same time.
Here are some exclusive fan photos.  Photo credit goes to @ieechaerins [Twitter] , as shown on the watermark.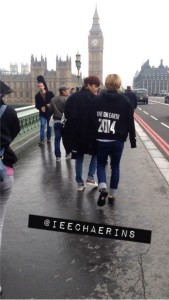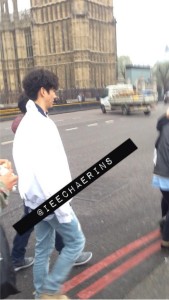 What do you think the finalised MV will consist of? Does this make any Babyz more excited to see B.A.P this coming Sunday? If you've bought tickets, we hope you have a great time.