Korean supermarket H-Mart have an exciting event on Saturday 23 August where shoppers can win prizes. Keep on reading for more information.

To celebrate the shipment of 25 new Kpop CDs, which creates a total of about 70-80 albums when added to their existing collection in store, H-Mart are going to be having a special event on the 23rd August where free gifts can be gained…but that's not all – there is even a chance to win a trip to Korea!!
So if you intend to do any shopping in New Malden or plan to have lunch in K-Town, definitely pop over to H-Mart this coming Saturday to see if you could win any freebies or even the exciting opportunity to go to Korea.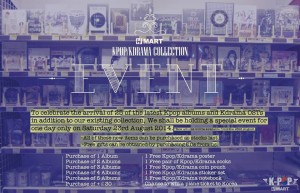 Photo originally from H-Mart's Facebook
**One other thing** – if you happen to be a fan of B.A.P you might be pleased to know that H-Mart has also started selling cute Matoki dolls. The Kpop goods are growing at this supermarket.