With the Japanese debut Urban Electro Band NU'EST imminent, ConceptLore is finally taking a look back at the title track of their first full album in Korea, Good Bye Bye. 
Good Bye Bye is the title track of album Re:BIRTH. Almost every interpretation of the album title and concept explains NU'EST are being reborn, though this may not be the intended interpretation. Re:BIRTH may not actually mean to be reborn, it may in fact mean Regarding: BIRTH. NU'EST's first album is possibly not about disregarding their former image and becoming reimagined, it is in fact about finally emerging established, formed, whole – finally defining themselves. They have had time to learn, to grow, to mature and now it is time to show who they really are, in their album, regarding their birth.
This would fit far better with the imagery displayed in their mv.
NU'EST have stated that Good Bye Bye is not just a song about a relationship break up, but about their image changing.
Each member has their own narrative, some seeming convoluted, though all have the same end, defining their image, even if they will always have life's weights on their shoulders.
JR struggles with an internal pain, one that comes form the backbiting of others. He worries that the colourful words of those that dislike him will become his story, all that anyone remembers. As JR is considered a very marmite Kpop rapper this reflects his life.
Swallowing the fish is JR's visual for accepting those words and continuing on, even if the pain still lies within him, because his efforts will pay off honestly.

Ren's story shows he's defined his outer self, but the rose he effectively vomits shows that although he is leaving behind his innocence his former flower boy image will always burn strong within him.

Aron's struggle is with being separated from his family and life in the US, a recurring lyrical theme for Aron. The image of his longing to see through the shuttered window shows that he will always long for, and wonder how his life could be in, America.

Baekho's story tells of masks. Though he might be shedding his mask through ripping away the wallpaper he still struggles with his true self behind that mask. Baekho believes he is not as good looking as the other members, something that will always stay with him despite working hard to define his image.

Minhyun struggles with labels, something that is entirely plausible for someone whom at such a young age was deemed the lead singer, dancer, and face of his group.

As the end of the mv comes we see the group break free, finally defining themselves, and celebrating their 'birth'.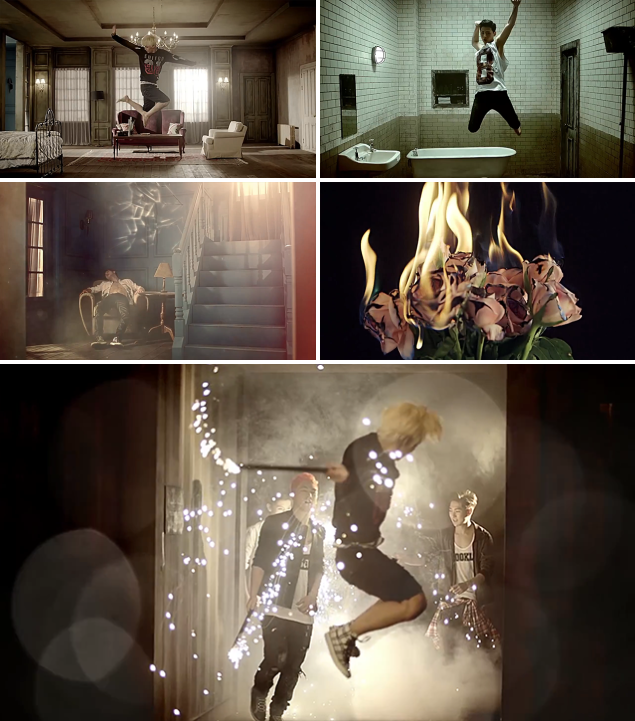 Good Bye Bye is one of the strongest visuals to come from NU'EST, and compliments the maturity that has emerged in their first album.