Anyone up for a cake to go with their tea or coffee? How about the popular Victoria Sponge Cake ? Perhaps you'd like to try making your own one but don't know which recipe to go for.
Ann Wightman, the wife of Korean's British Ambassador Scott Wightman recently shared her family's recipe on how to make the very popular Victoria Sponge Cake after Korean celebrities Sung Si Kyung and Kim Sungyoung had a taste of the cake on tv.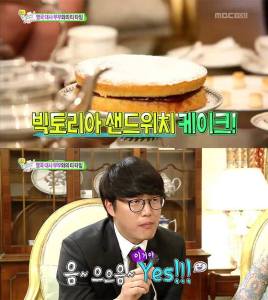 Here is Ann's family recipe for the "Victoria Sponge Sandwich," which was shared at the British Embassy in Seoul's Facebook Fanpage.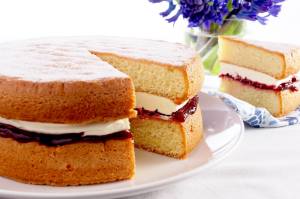 For this recipe, I usually weigh 3 large eggs, which usually amounts to 200g. I then weigh out the same amount in margarine (butter if you prefer a richer cake), caster sugar and self-raising flour. Preheat your oven to Gas Mark 4/180 degrees C/350 degrees F. Grease and line the bases of two 20cm sandwich tins with baking parchment.
Beat the sugar and margarine together until fluffy. Beat the eggs lightly with one teaspoon of vanilla extract and add to the mixture alternately with the flour, to which you have added 1 tsp of baking powder. Then add one teaspoon of just-boiling water to the mixture and stir gently. The mixture should fall from the spoon. If it seems too heavy, add another teaspoon of hot water.
Divide the mixture equally between the two tins and spread level with a knife. Place in the oven for approx. 22 minutes or until the sponges are golden and spring back when you prod them with a finger. Leave in the tins for 10 minutes, then turn out onto a wire rack to cool. Spread one cake with a jam of your choice (I like raspberry) and you can leave the filling like this or add some whipped cream. Place the other cake on top and dust with icing sugar.