When I was young I was rarely given books by my father, when I was they were often about history and mostly about wars and planes, that's why Jonathan Livingston Seagull is one I will always remember. As it says on the 'tin', its about a seagull, and Jonathan is sick of living the boring life his seagull eyes show him and he strives for self perfection. Jonathan is a symbol of the reader.
The Hen Who Dreamed She Could Fly, Sun-Mi Hwang's international best seller, also known as being adapted into Korea's most successful animated movie, Leafie, A Hen into the Wild, took me back to being young and reading Jonathan Livingston Seagull.
In its barnyard tale the book features themes of freedom, individuality, and motherhood as Sprout the hen is no longer content to continue laying eggs for the farmers and have them taken away never having even touched them. Sprout dreams of her future, of roaming free, of sitting on and hatching her own egg. Sprout dreams of flying. As with Jonathan in Jonathan Livingston Seagull, Sprout is a symbol of the reader.
The Hen Who Dreamed She Could Fly displays the almost impossible fight against all odds to survive to fulfil ones dreams as Sprout's chance at freedom finally appears, paradoxically, as the decision is made to cull her.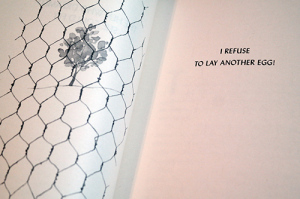 Sprout follows her own dreams, for freedom, and to become a mother and in doing so pushes herself to help her son, Greentop, fulfil his dreams. Though at times truly heartbreaking you can't help but become attached to Sprout as she finds her own happiness, makes friends, forms her own unique little family and helps secure Greentop's destiny.
The beautifully simple prose, and colourful characters are brought to life by the translation of Chi-Young Kim, are scattered with sparse line illustration by Japanese-born illustrator Nomoco.
The following comes from an interview with Sun-Mi Hwang with Oneworld Publications, the international publishers of The Hen Who Dreamed She Could Fly.
Where did your inspiration for this novel come from?
I got the idea to write a story about a hen while I was watching TV, and the inspiration for the duck came from a comic book. These two sources of inspiration were surprising, as they were so different.

Why did you choose a hen for your main character?
The hen is hardly the coolest or most beautiful of characters to choose for a heroine, as hens are neither brave nor good fighters. In picking a hen I deliberately opted for a puny, run-of-the-mill creature – a creature that is so often overlooked and ignored – as I wanted my protagonist to be an ordinary person who readers could relate to, and realize that they could be a hero in their own lives.

Do you see anything of yourself in Sprout?
Of course there is! It's natural for a writer to put something of themselves into any character in his or her work. Sprout is all about following one's passions and dreams and about taking a chance to discover a new life for yourself. I'd have to say the novel is based on the story of my father and my adolescence. I prefer to write about strong characters like Sprout – this is very typical of my books.
The Hen Who Dreamed She Could Fly is available via all major book stores and e-readers