With so many artists making their comebacks, it's certainly a real treat for the fans! Amongst all the assortment of K-pop idols dropping albums from left to right, for this album review, we're here to talk about Mamamoo's second mini-album release! It's been said that each member had their own part in writing the lyrics and composing the songs. I have to say, when I first listened to this album, I'm have to admit that I really enjoyed each individual track, I feel that all unique retro styled six songs contributed together to make a pretty darn good mini-album. Some background information of this upcoming group for those new to this group, Mamamoo officially debuted halfway into the year 2014 with the title track 'Mr. Ambiguous', I was honestly surprised that they're technically classed as a rookie group, their vocals and rap abilities are on a completely new level.
GIVEAWAY: Fancy the chance of winning a Mamamoo album? All you have to do is tell us which song of this album you like the most or which part of the MV either – 'Ah Opp' or 'Um Oh Ah Yeh'  was your favourite to able to take part in this giveaway!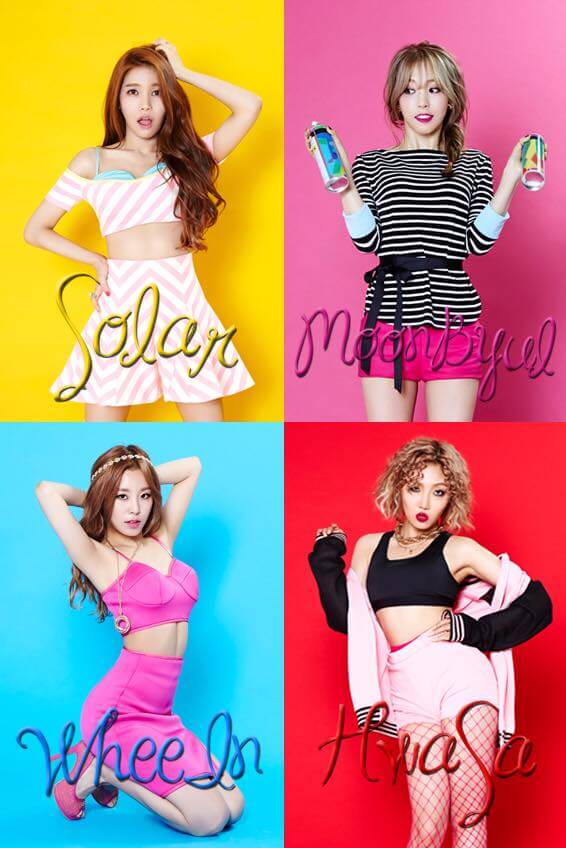 There are four members in total, Solar (Leader, Singer), Moonbyul (Rapper), Wheein (Singer) and Hwasa (Singer, Rapper). Despite the rookie status, these girls have stood out amongst all the other girl groups, with their predecessor album 'Piano Man' reaching 8 on the Korea's Gaon Music Chart, Mamamoo ranked tenth highest among other idol girl groups for digital sales, 19th among them in album sales, and 11th among them in overall sales of music for 2014.
Their recent album 'Pink Funky' entered in at 6 in the Korean charts and even managed to enter as 7 on the US charts!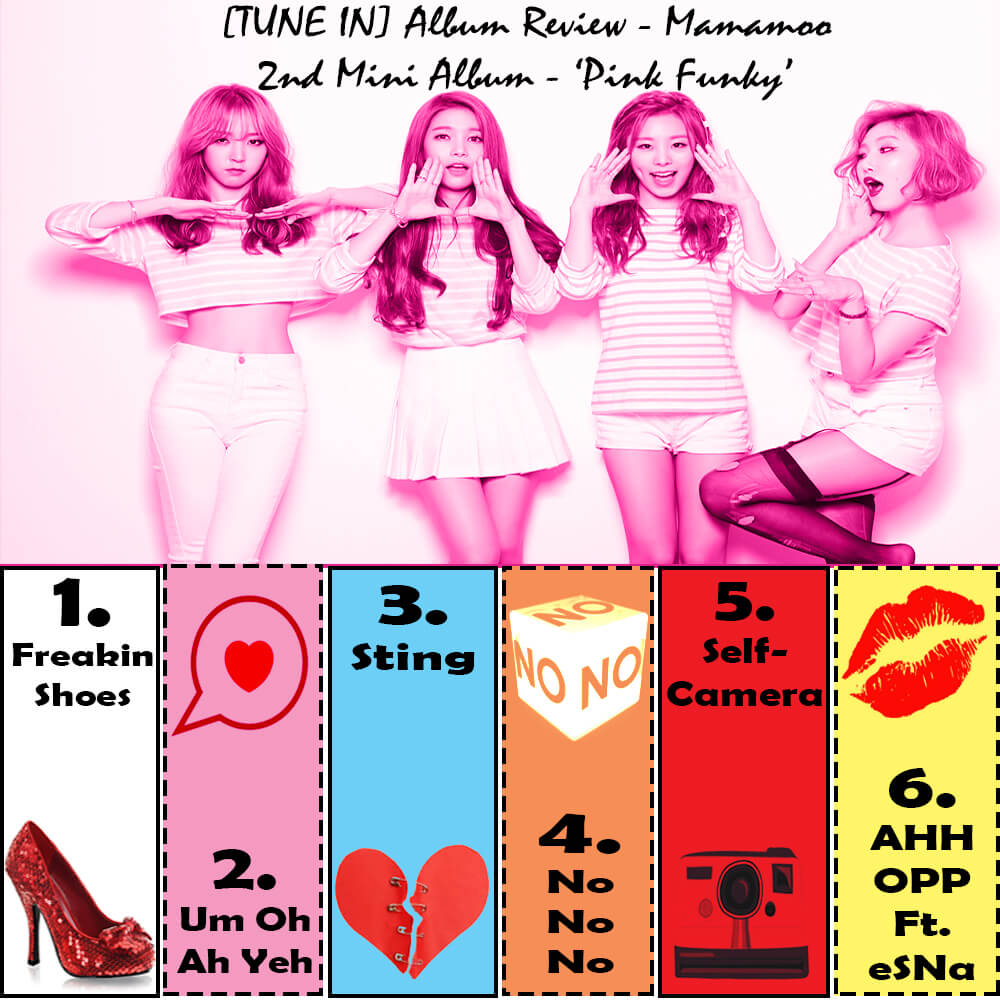 01. Freakin Shoes
The opening track of the album is a funky number, when I looked up the lyrics, the first impression I had was that the song uses the metaphor of symbolizing a man to a pair of shoes, the one of a kind that stand out to you the moment you see them in the store. There's only one and they want to have it. Though, there's a number of references to 'marriage', which could imply there's a direct link or connection between these special or magical shoes and getting married.
02. 음오아예 (Um Oh Ah Yeh)
This is a certainly a song that fits the overall summer vibe/feel, I particularly like the sassy vocals from Hwasa on this song. I think this is a unique music video from any K-pop group with over three of the members cross-dressing to look like boys, coupled with hilarious antics from the members! It's definitely one of the best MV's released this year so far! With the lyrics side of things – it gives the impression of being an average love story (i.e. girl falls for the boy with the general notions of an infatuation forming) until of course, it gets to the later part of the song the 'boy' actually turns out to be a girl. Plot twist, at its finest. If you haven't already watched the MV, you'll find yourself smiling by the end!
Mamamoo have been catching attention this comeback as they even got a special mention from Jenna Marbles, who is a host of The YouTube 15 on SiriusXM Hits 1!
YES #MAMAMOO trending with #UmAhOhYeh they are so adorable I can't #YouTube15 @SiriusXMHits1 pic.twitter.com/iDis1yuuTO

— Jenna Mourey/Marbles (@Jenna_Marbles) June 26, 2015
03. 따끔 (Sting)
Then, the album transition moves onto a slower and mellow, ballad style. It seems like the type of OST song you could expect to hear during a heart-breaking scene in a drama, or maybe that's just me? The spine tingling vocals are on par, as usual from Mamamoo. This soulful track paints the image of reminiscing on a past relationship, the memories and raw feelings of heartbreak pour out from their voices.
04. 갑과 을 The Handcuffs (No no no)
This track really caught my attention, it's the kind of retro style you would expect to hear from this group, like their trademark go-to sound? The song itself has an addictive beat and the meaning in an nutshell is Mamamoo being sassy and assertive by calling out the guys who didn't treat them right in the past who took so long to finally see their true worth and acknowledging their beauty. Which in turn makes the guys look at them in a new light in comparison to just friend-zoning the girls, only to realize too late.
05. Self Camera
Now we're nearly at the end of the album, the general feeling of this song is a slickly smooth tune with angelic singing. There's no finger pointing like in the previous song, this song encompasses the cycle of a love story from the girls' perspective. They croon over wanting to catch the guy through the camera lens or it could be that the technical gadget could be symbolic in portraying the image of the girls admiring the guy from afar behind the facade of using the camera, but are too afraid or intimidated to approach him in fear of the guy not returning these feelings.
06. AHH OOP! (아훕!) ft. eSNa
This was released a while ago, but this was actually the first song I heard from Mamamoo and I loved everything from the confidence and attitude the girls were showcasing in this video, the fierce vocals of the song really blew me away and the rapping, which reminded me of a provoked snake ready to go in for the kill, from Moonbyul especially caught my attention in this song. In terms of the lyrics, the song itself screams of an acknowledgment looking past their looks, it demands the listener's attention and the respect from the guy in question. "Look at my eyes, look at my lips, look at my neck, just look don't touch." but that's not all Mamamoo are trying to point out. They stress on the importance and value of respecting a girl, within its own limits, it can be okay to appreciate a girl's looks but in the lyrics they put a strong emphasis on not invading a girl's space without her consent, to not treat her as if she's a piece of meat or that she can be easily bought with material possessions. A really, really good message to send out to their fans.
Final thoughts:- It's a 'freakin' good album, this is the first I've checked out from Mamamoo but I'll be sure to watch out for their future releases! I was initially introduced to this group with the last song of this album 'Ahh opps' and I'm seriously glad that I found these girls. They have blown me away by their insane talent, the soulful strength of their vocals and clever, subtle rapping style. Mamamoo is a group to expect great things from, they have not disappointed so far and I'm sure they won't in the future. There's so much talent brewing from this group I have such good expectations for them to do well. I firmly believe that this album really showcases their talents as true artists.