Trafalgar Square was packed out on Sunday, and not just with lost tourists, as the London Korean Festival took place.
Boasting performances from idol group f(x), and psychedelic rock group Guckkasten, the day was set to be impressive.
Along the outer edges of the square you were able to find a whole host of tents showcasing elements of Korean culture and Hallyu. Every tent saw a constant stream of visitors throughout the day, many offering competitions, samples and freebies.
You could try your hand at traditional Korean games, try on the traditional Korean dress Hanbok, read a webtoon, or even sample some Kpop. Then, when you felt a little hungry there was a vast choice of Korean food to buy and try. Though if you didn't want to eat you could watch top chefs Joo Wan and Judy Joo showcase their skills! 

Sat between Trafalgar's lions you could easily spot the centre of proceedings, the main stage. Entertainment and showcases played throughout the afternoon.
Presented on stage by British Korean actor Arthur Lee, and English presenter and journalist Lisa Vickery, and on the big screen by 'roving reporter' Korean Englishman [Josh Carrott], it was Josh that connected most naturally to the audience. Arthur and Lisa read cheesy scripted lines telling of the close bond between the two countries – though this seemed less convincing as Lisa's script at least had her playing dumb to all the aspects of Korea she spoke about. But the hosts were not the focus of the stage.

Showcases included traditional Korean music, and dancing; and both traditional and modern Korean fashion; but it was the more contemporary performance acts that really stole the show.
Globally respected bboy act Jinjo Crew aptly had the Square on fire in multiple performances of their high octane creative dance.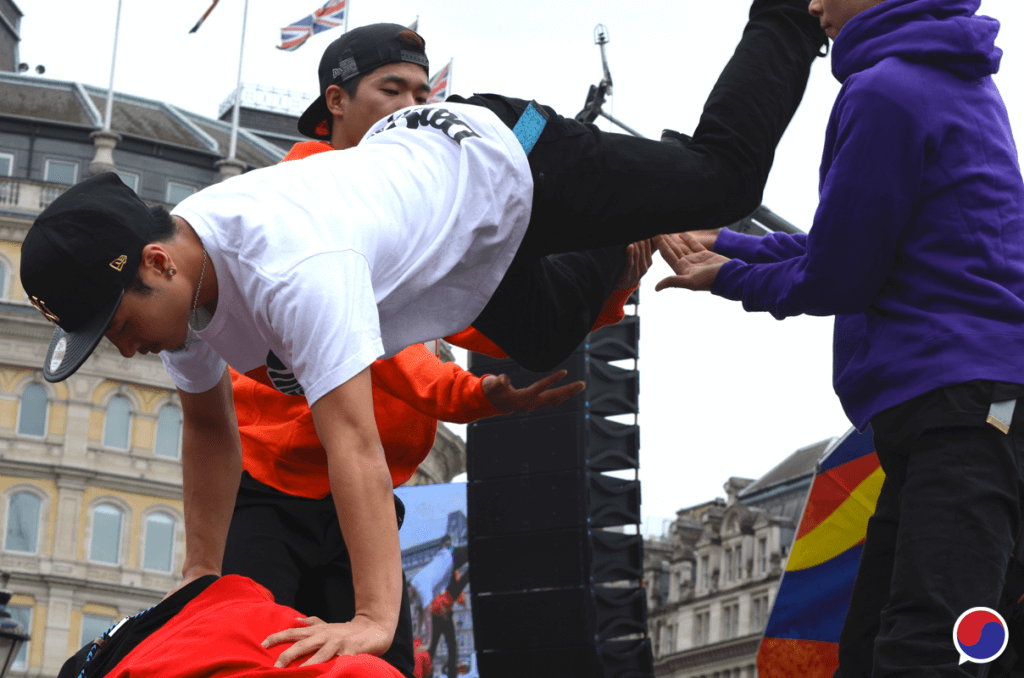 Though it may have been f(x) that many ventured to Trafalgar Square for. The group put to bed rumours of their disbandment in the pre-show press conference, stating they were working on a new album, and each member will get a chance to work on a solo project.
The girls played four of their popular tracks. Amber kicked off proceedings with Shake That Brass, with Rum Pum Pum Pum, Hot Summer and Red Light continuing the set with the rest of the girls.
f(x) had the Square singing and dancing along to their catchy pop anthems, and we'd love to see them return to play their very own concert.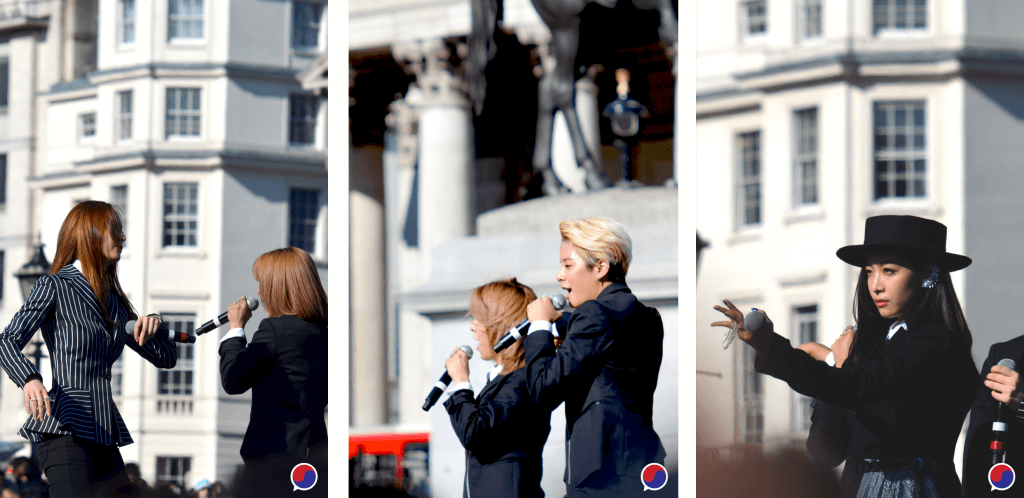 Alternate Korean music also got its time in the spotlight too, with psychedelic rock group Guckkasten taking to the stage. In their press conference the group had laughed about their origins, telling of how they simply thought it would be cool to be in a band so tried it out, and joked from behind sunglasses that eye contact was an important element in their performances.
Trafalgar Square rocked with Guckkasten, their set ending with their own rendition of Korea's traditional song Arirang.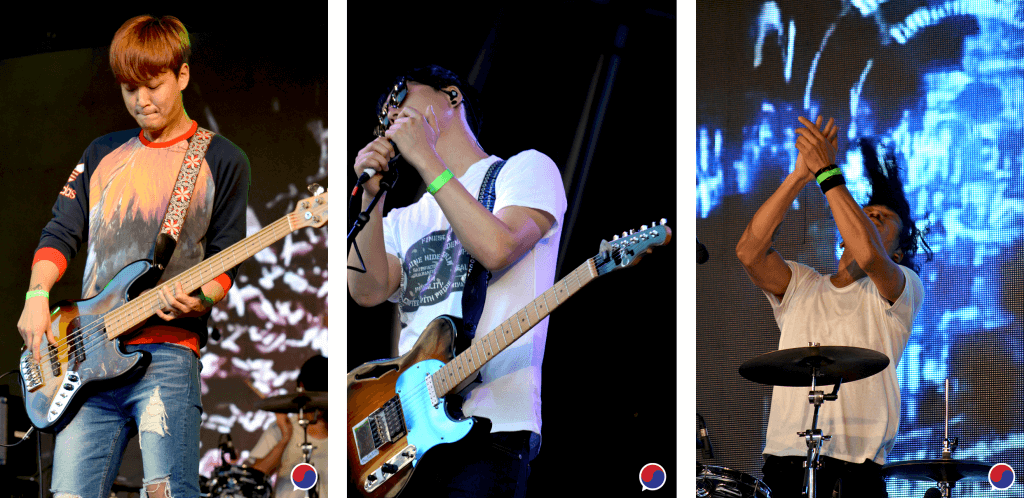 On that note Arthur and Lisa announced the festival would end with a number of renditions of Arirang, culminating in a traditional Pansori performance of the song.
Though when it came time for the final song technical issues saw the announcement that this would not take place, and the acts chose to perform anyway. Without music, without microphones, everyone on stage joined the traditional singer in his classic rendition of Arirang – and not just the musicians, even Jinjo Crew joined in as they waved to fans, and those in the audience who knew the words to Arirang could be heard singing along too. It was the truest example of the bond between the two countries that the festival had shown, and it was the most unexpected.
The London Korean Festival was a huge success, each act having their own unique charm. We can't wait for the next time Korea comes to London!
—
Did you go to the London Korean Festival? Let us know what you thought of the day in the comments section below.