Super Junior have today teased for two releases set in Switzerland. 
Releasing (for us) at 4pm on Wednesday (15th October 00:00AM KST) is Kyuhyun's second solo release. Yesterday Kyuhyun made one of his sporadic visits to Twitter to modestly promote his album ahead of the teaser release today.
The teaser, and presumably the mv, is set in Zurich, Switzerland and features Go Ara alongside the Super Junior member.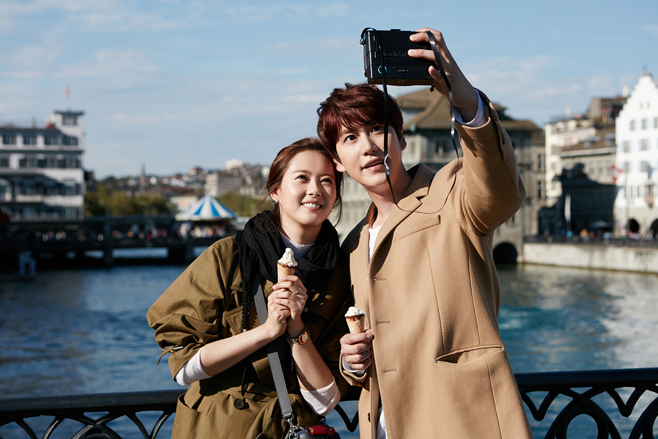 The pair pass each other numerous times, even accidentally bumping into one another; but it is at a street market they finally meet as they both reach for the same item.
This mv looks set to be perfect for fans of the singer, who will know that Kyuhyun believes he will one day find love while doing something 'normal', he even rides public transport for that exact reason.
But that isn't all, on Monday the 19th Donghae, Eunhyuk and Leeteuk will release their Swiss Diary, a travelogue of their trip to the country.
Presented as a photo book their Swiss Diary will be a guide to the many sights and attractions they visited; and will include 'leisure sports pictures' of the members partaking in activities such as snowboarding, photos taken by the members themselves, and their thoughts of their experiences in Switzerland.
With Eunhyuk enlisting in the military on the 13th, and Donghae on the 15th (his 29th birthday) this is an especially poignant gift to D&E fans.