For this week's make-up review I'm bringing you Etude House's "Dear My Blooming Shimmer Blusher". The collection itself has included a bunch of amazing products including lipsticks, eye shadow sets and blusher duos, with these being released more recently. Normally, I can guarantee that I'll gravitate to a lip product so I decided to switch it up and bought the Shimmer Blusher.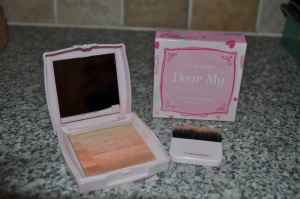 I got the Shimmer Blusher in the shade 'OR201, Coral Spectrum' inside the super cute princess style compact complete with a mirror, you get a tray with 5 different shimmery cheek shades. Starting from a warm shimmery off white, down to a darker warm brown. The beauty of the product is that it also comes with a small brush, and if you take the product onto the brush in a side-swept movement you can get a highlight and contour effect when applying it on your cheeks as the colour pallete moves from light to dark in the pan!
I really love that the blusher comes with a mirror and brush; it makes it perfect for taking it along in your make-up bag whenever you're away from home! And as it has the highlight tone, it'd also save taking extra products with you as it already has it included.
Below are some swatches of the Coral Spectrum blusher, both on myself, and on my hand so you can see the colours, I applied each colour individually on my hand, so you can see the variations easily. (In indoor lighting, with flash)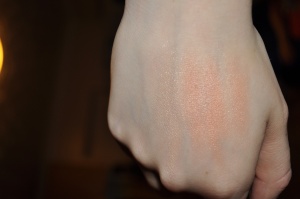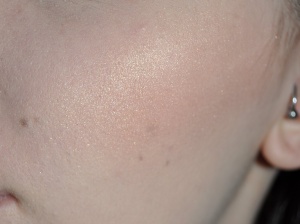 One thing that makes me not completely love this blusher is the colour pay-off. I find the shimmery effect really flattering and pretty but the orangey tones really don't come out that strong. I find myself really having to build up the layers to get a nice colour which isn't a problem, but I'd prefer it to come out a bit bolder. I actually use the product more for eye shadow instead of a cheek colour as the shimmery orangey tones look really pretty for a variety of eye looks. I feel like this product will only work on light skin tones, but it will give a pretty highlight effect on darker skin tones.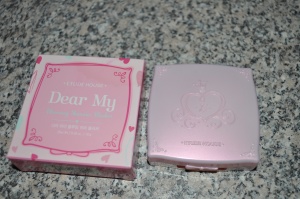 The "Dear My Blooming Shimmer Blusher" was also released in another colour, 'PK001 Pink Spectrum' this one starts with the highlight and darker tone at the end, just like Coral Spectrum, but is filled with pink tones instead. I definitely want to try this one too, as I tend to go for more cool pink tones with blushers so it'd be a great addition to my make-up collection.
I found this product in a make-up shop called "AiMi" in Birmingham for £15.99. However if you're not in the area, you can also get the blusher online from YesStyle in Coral Spectrum or Pink Spectrum.
Have you tried this product before? What did you think? Let me know in the comments below!