Today I'll be bringing you a review for the adorably packaged Tony Moly Petite Bunny gloss bar. I don't own many Tony Moly products, so when I saw this one in a shop I just had to get it! The adorable bunny lid completely drew me in, and I needed to broaden my Korean product selection from just copious amounts of Etude House!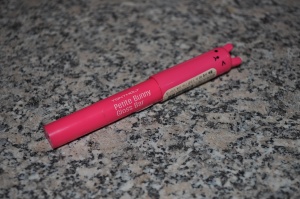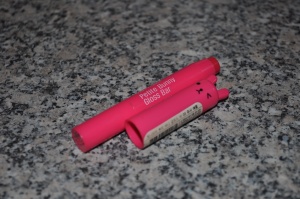 I selected the shade '03 Juicy Apple' and after opening it; the first thing I can say is that the scent these products have is just beautiful, I personally love scented products so it's a big bonus to me! The consistency is like a lipstick, but product has a finish of a sheer gloss. The colour is more subtle than I expected, and I usually go for products with lots of colour, but it's really grown on me! It feels extremely moisturizing on too, so it's a great one to try if you struggle with dryer lips but still want a touch of colour with your lip products.
Below is a picture of the Petite Bunny gloss bar swatched on my hand, one is with natural indoor lighting and the other is with flash. You can really see the shine this product gives! I've also included a picture of the product worn (without a liner, or any other product) so you can see how it looks on too!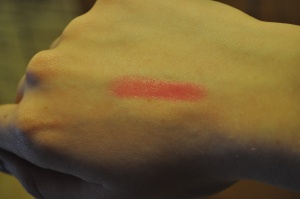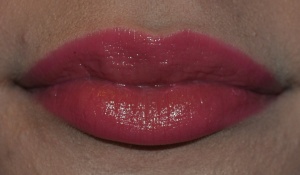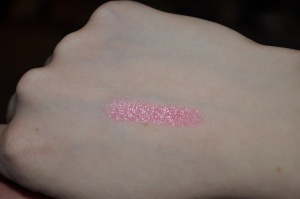 Overall I really love the formula of this lip product, and it's made me want to get more Tony Moly products to try. So watch the space, more Tony Moly reviews may be coming! I definitely think when I wear this that I'll be layering it on top of another lipstick or liner just to make the colour pop and to add more shine instead of just having the hint of colour it gives on it's own.
I bought mine from a shop so I can't add a link, but you can also purchase them from eBay HERE with the other colours from the range too (Plus free delivery!)
Have you tried the Tony Moly Petite Bunny gloss bar before? What did you think? Let me know in the comments below!