With the rising popularity of K-pop outside Asia and growing demand for Korean products such as cosmetics, foods, fashion and K-pop collectibles, the west is slowly adapting to the trend and reacting to consumer's wishes. The US are definitely on the front when it comes to incorporating Korean culture, with many cities having their own Koreatown, K-beauty stores, Korean spas and much more. Another growing trend are Korean-themed subscription boxes, which surprise their subscribers with a monthly set of different products. MEMEBOX is certainly one of the most popular cosmetics subscription boxes, while at the same time functioning as e-shop.
So, while in the US there are plenty of different ways for Korea enthusiasts to get their hands on different products, the UK market is still a bit lacklustre. From K-pop merchandising to cosmetics or food, most people will depend on importing their products directly from Korea, which can result in high shipping costs and hefty import taxes.
Luckily, this scenario is beginning to change, thanks to the launch of the UK's first Korean culture box: Inspire Me Korea! Diana Chan, the mastermind behind IMK, came up with the idea after spending some time in Korea and falling in love with the culture and the catchy K-pop music. But, since moving to Korea wasn't an option back then, she thought of a way to bring Korea closer to her home in the UK instead. Thus, Inspire Me Korea was born.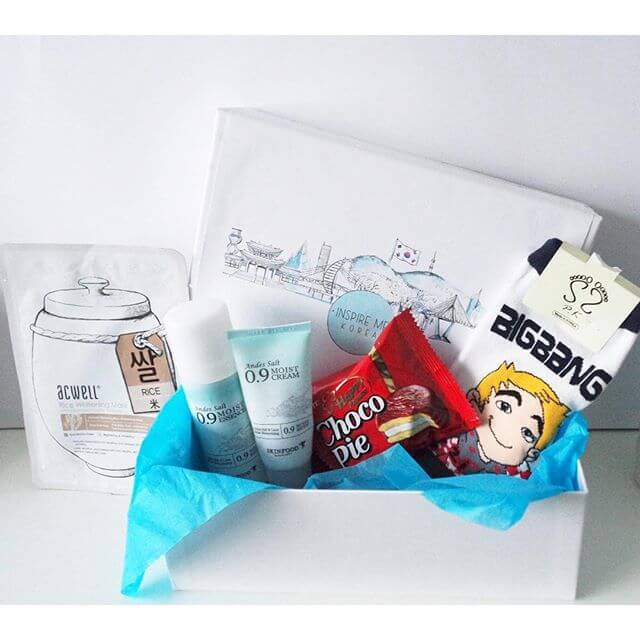 Rather than just focusing on cosmetics or K-pop collectibles, Diana wanted to add some background to the contents of the box that will actually bring the subscriber closer to Korea. This is why the boxes are packed with products that cover all different aspects of the Korean culture, such as food, culture, language and more. This way, the subscriber can enjoy the best of Korean products (think adorable K-pop group socks and the latest sheet masks, for example) while at the same time continuously learning about its history and even how to speak Korean – all this while munching on a popular Korean snack!
However, starting a business like this in a country where subscription boxes of this kind are not very well-known yet was not an easy task. From numerous phone calls to find the right box sizes and design to finally closing a deal and getting the products shipped, it took time and a lot of effort to get the business started. So, when IMK was officially ready to launch, a celebration was called for!
Inspire Me Korea officially launched on Saturday, and it was commemorated with a cheerful party at The Slum bar in London, a cosy venue close to Southfields station. There was a plethora of Korean dishes such as kimchi fried rice, noodles, bulgogi beef and delicious fried dumplings and people were encouraged to get to know each other by being handed a paper that contained interesting facts about the guests that had to be discovered in order to win a prize at the end of the night. Even those who didn't write down enough names still had a chance to win big prizes with a raffle after the initial game.
Another highlight of the night was Inspire Me Korea's promotional video, which was shown exclusively to present guests before being released online.
If you haven't seen it already, click on the video below:
Subscribers will receive a new box every month based on a specific theme such as an important event, the start of a new season and many other factors. This way, subscribers will be able to explore new and exclusive Korean products they would otherwise not have access to.
If this made you feel inspired and would like to get a taste of Korea's culture, delicious food, best-selling beauty items and collectibles from your favourite K-pop groups, make sure to subscribe to your monthly box here and use discount code 'HAPPYLAUNCH' to enjoy free shipping for the first month! Happy unboxing!