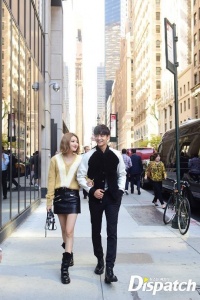 Evening Standard writer Karen Dacre has covered the rising prominence of Kpop's fashionistas in the Western fashion scene, in an article entitled It's all K on the f'row: How Korea became fashion's new fraternity, that can be found both in yesterday's print edition, and on their website.
This comes after G Dragon stole the limelight at Paris Fashion Week's Chanel show last week. Dubbed by Dacre as 'Seoul's answer to Harry Styles', G Dragon is definitely making waves in the fashion world – and he isn't the only one. The article also mentions fashion show appearances by Dara and CL of 2NE1; and Girls' Generation member Sooyoung and 'her boyfriend Minho'. Though it should be noted that despite attending NYFW with SHINee's Minho, Sooyoung is dating actor Jung Kyung Ho.
While some cynics might consider this K Pop/fashion love-in as nothing more than a marketing collaboration, it is difficult to dismiss the influence of South Korea on the luxury fashion world right now.
Dacre is right, and more and more of the fashion world are recognising this as each fashion season passes.
But the question stands, why is it 'all K on the f'row'?
Simply put, Korean celebrities have long been attending fashion shows because the most savvy of the brands know that to sell in Korea's growing fashion industry they must use native celebrities in advertising.
Probably one of the most notable moves from a western brand in the Korean market was BVLGARI's recruitment of actor Cha Seung Won as one of their global ambassadors. Alongside the likes of Adrien Brody, Eric Bana, Mag Ryan and Sting, Cha is both a brand model and ambassador for the company's charity work alongside Save The Children.
But it is the work of the hugely popular Kpop idols in the fashion world that has really captured eyes. YG stars G Dragon and CL are most noted for their connection to Chanel creative director Karl Lagerfeld, as mentioned in the Evening Standard article.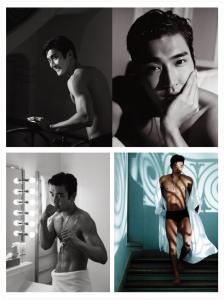 If you're at all in the know about fashion, and Karl Lagerfeld, you might have already put two and two together to understand why Kpop, or G Dragon particularly, is so interesting to him. Karl is known for his wonderful collection of muses: Kendall Jenner; Tilda Swinton; Cara Delevigne; Brad Kroenig; Baptiste Giabiconi – the list goes on. G Dragon is arguably his South Korean muse of late, but he's not the first.
Back in 2012 Karl worked with Choi Siwon of Super Junior to produce a series of photographs for VMAN Magazine. Choi is the more typical look for a Lagerfeld male muse, but the draw of G Dragon isn't a mystery.
GD is a force to be reckoned with in his home industry, not just considered cool by the teen girls targeted by Kpop, GD is a powerful trend setter and taste maker. G Dragon is any fashion designer's key to success, or in fact failure, in South Korea.
GD may have been 'met with whispers of "who is that guy?" from confused Brits who watched as he swaggered idly along the front row amid a flurry of flashbulbs' at the Chanel show, but that's okay. His connection to Chanel isn't for the Parisians, the Londoners, the New Yorkers that happen to see him at fashion shows – it is for the designer-led masses in South Korea. G Dragon is defining South Korean fashion for those that follow.
—
To read Dacre's article visit the Evening Standard Link below.
[su_spoiler title="Sources▼" style="simple"]
Evening Standard – It's all K on the f'row: How Korea became fashion's new fraternity
[/su_spoiler]