For this week's review, I'll be bringing you Etude House's 'Tear Drop Eyeliner'. There are four different shades in the range that you can pick from, I'll be showing you '#1 White, Innocent Tear'.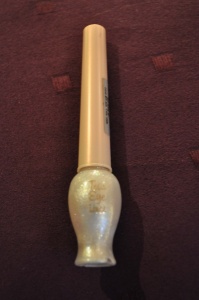 Within K-pop and Korean styles you can always spot the glittery eye make-up being sported by girl groups. With the liner focusing on the inner corner, and on the lower lash line. The style gives a pretty and glamourous effect, and even helps to accentuate aegyo-sal and brighten the eye.
Etude House's write up describe the crystal white shade as a "Pure Sparkling Pear, Opal Effective Pearl" and that "Softly-applied tear drop liner makes a bright eye makeup with natural crystal pearl colour". What's lovely about the liner is that you can build up the product to get a more intense glitter effect if needed.
Once again, as I find with all Etude House products, the packaging is really cute! The applicator has a perfect sized handle that gives lots of control; and a soft brush tip. It's really fine and gives a precise application and is super soft around the delicate eye area. There are quite a few glitter liners on the market, but I find that Etude House have shades really suited to brighten and give an enlarging effect to the eyes!
Below are a couple swatches of the product, one is the liner on and another is just on my hand with flash. I did one thin application to show how the brush gives the precise application and another I blended the glitter out to show how it'd look if you decided to apply it on a bigger area.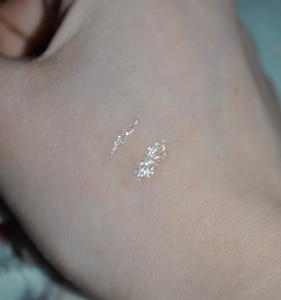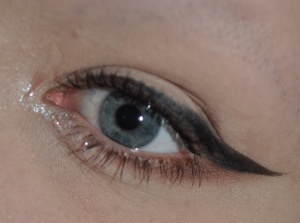 I think the shade works perfectly to accentuate the eyes, and from what I've seen of the other shades I think they'd give a great touch of glamour to any eye make-up looks!
You can get the Etude House Tear Drop liner HERE if you wanted to try the liner for yourself!
[Have you tried the Etude House Tear Drop Liner before? Or can you recommend any other products similar? Let me know in the comments!]