British actor Taron Egerton has caught the attention of Korean netizens with his 'cute' confusion during the South Korean promotions of his latest film 'Eddie the Eagle'.

His confusion surrounded the popular 'heart sign' that has been used by many Korean celebrities over the past year or so. This sign involves crossing your thumb and forefinger slightly, making a tiny 'V' shape in between them. You will have undoubtedly seen this sign being made by a plethora K-Pop idols in a lot of their selcas. It is perceived as a sweet way to show a heart and your love for fans.
Egerton is a Welsh actor known for his roles in spy-action film 'Kingsman: The Secret Sevice' and the Kray Twins biopic 'Legend' alongside oscar-nominated, British actor Tom Hardy.
His latest film involves him playing the titular character in 'Eddie the Eagle', about the British skier who was the first competitor to represent Great Britain in Olympic ski-jumping back in 1988. Australian actor Hugh Jackman stars alongside as his coach Bronson Peary. It was during South Korean promotions of this film that Egerton was asked by Korean journalists to give the 'heart sign' for the cameras.
The actor found it difficult to work out how to make the sign with his fingers at first, and after doing so, is shown in many photos looking perplexedly at his hand, presumably trying to work out how it constitutes as a 'heart sign'.
Korean netizens reacted positively to his confusion though, commenting how cute his facial expression was and being sympathetic to the fact that journalists often ask celebrities to do silly things repeatedly for cameras.
Thankfully, he seemed to get the hang of it by the end of their time in South Korea though!
Take a look at the funny photos below: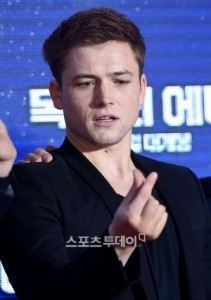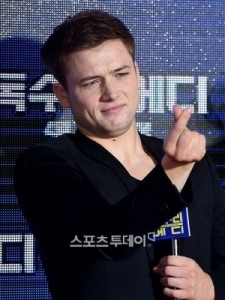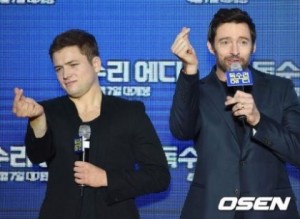 [Source: Instiz].