Hong Jin Young is a female soloist and Korean trot singer. She has recently made a comeback with her super happy track 'Thumb Up'. We are looking today at how to use her MV outfit style as an inspiration for our own looks!
The outfits Hong Jin Young wears in this video are very brightly and boldly coloured, you can watch the MV below:
This style is really easy to emulate, the singer dons a mix of dresses, skirts and crop tops in various block colours. It's a simple style that communicates the reassuring and happy message of the song really well. With these looks, Hong Jin Young wears bright, high-heeled shoes in the corresponding colours. The look would also be completed with white or black shoes if you don't want to go all out with one, single colour palette.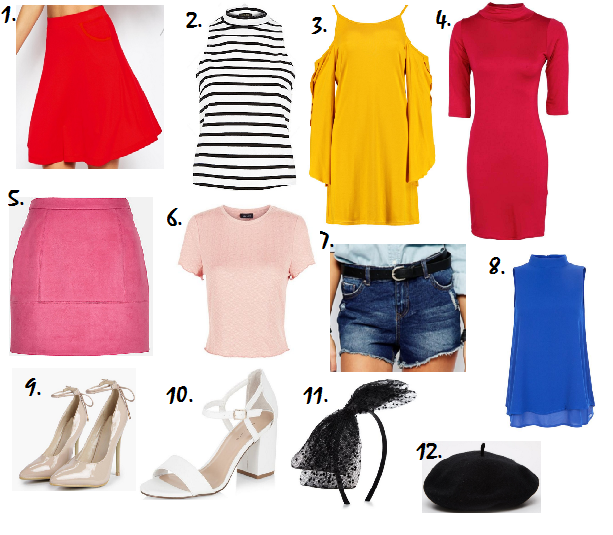 Red ASOS Skater Skirt with Pockets – ASOS: £14
White Stripe Turtle Neck Vest – River Island: £7
Loraine Cold Shoulder Split Shift Dress [Yellow] – boohoo.com: £15
Nancy High Neck 3/4 Sleeve Bodycon Dress [Lipstick] – boohoo.com: £10
Bright Pink Faux-suede A-line Skirt – River Island: £12
Shell Pink Textured Frill Trim T-Shirt – New Look: £9.99
New Look Denim Hotpants – ASOS: £12.99
Blue High Neck Layered Sleeveless Top – New Look: £13.49
Katie Ghillie Tie Court Heel – boohoo.com: £25
White Ankle Strap Block Heels – New Look: £19.99
Black Oversized Bow Headband – New Look: £9.99
ASOS Wool Beret – ASOS: £12
To complete the look, you could go with a cute beret or bow hairbands, just like Hong Jin Young. This look has a very spring/summer feel to it and it will surely help you feel brighter and happier as you wear it. Thankfully though, you could also add some thick neutral or black coloured tights and a plain cardigan or denim jacket to keep you warm if the weather has other ideas!
Bold colours can be a frightening prospect for those of us that usually prefer darker tones in our clothing, but even the addition of a single coloured item can really add some interest to your outfit.
So take some style inspiration from Hong Jin Young and inject some colour into your look!