Today I'll be bringing you a review for yet another beautifully packaged beauty product, this week it's Tony Moly's 'Pocket Bunny Sleek Mist'.
There are two variations to this particular product, Sleek and Moist. The sleek will give you a matte setting, and the moist spray will give a dewy/glowy set finish. The sleek mist Is specially formulated for oily/combination skin, which is why I chose it! (my skin needs something powerful to keep the oil at bay!) Whereas the moist version, in pink bunny packaging, is perfect for people with dry/normal skin as it'll hydrate the skin and prevent it from getting dryer or flakey after make-up application.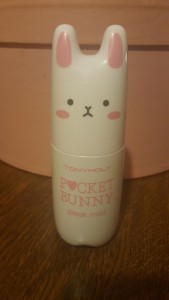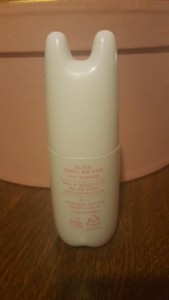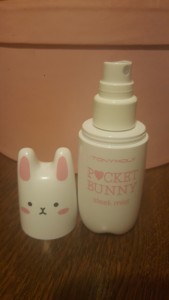 The packaging itself is really study, the lid clips on and off really securely so you can take this out and about without worrying if the product will leak out in your make-up bag. The spray top itself can be un-screwed too so if you weren't a fan of the spray to can refill it with your own preferred product and keep using the bunny! While I've been testing this product out, I've found that the mist isn't as fine as other setting sprays I've got- But this doesn't affect the setting process, other than it taking a few more seconds to dry off. The spritz doesn't have as much of a big range so you do have to hold it a little closer to the face when comparing it to other brands.
Overall- I really like this spray! It has a lovely soft scent to it, similar to a skin care lotion. I think it's a nice touch as it feels really refreshing when you go to set your makeup and have the nice scent with it! Even though this does have a matte finish, I've found it gives a nice glow and settles all of my make-up to look less powdery and more airbrushed- which I love! It does give an extra hold to my make-up too, so with spring finally here I can be sure as the weather heats up that my makeup will keep in place!
I bought this setting spray from Amazon HERE (I was too lazy to wait for international shipping times, as always)