The names Son & Park are well known in Korea's runways and fashion shows. They've made a name for themselves as make-up artists even working with various celebrities, but now they're getting attention for something different – their make-up and skincare lines.
In order to achieve flawless make-up, first the 'base' has to be right. Of course, skin that is healthy, hydrated and even-toned will require less product to cover up imperfections and pesky bumps. This is when the Son & Park Beauty Water comes in.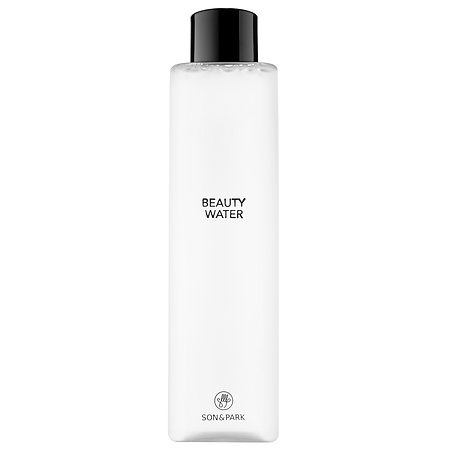 What is it?
Not your average toner, nor a pure cleansing water, the beauty water is a type of multifunctional product that can be used according to your own needs. It contains both mildly exfoliating ingredients such as willow bark and papaya extract, while also being hydrating thanks to various fruit- and flower extracts. Because it has an ideal pH of 5, it's perfect as a prepping step for actives such as Vitamin C, AHA's and BHA's.
How to use
The best way to use the beauty water is by pouring a few drops of it on a cotton pad. Because it's not quite like an essence and has exfoliating properties, a cotton pad allows for a more precise application compared to using your fingers. Use it in the morning or before/after gym to get rid of impurities, as a toner during your normal skin care routine or as a least cleansing step after oil and foam cleanser. Alternatively, the beauty water can also be transferred into a spray bottle and used as a mist during the day.
Why do we love it?
Coming in a big 340ml bottle and costing around 20 USD, The Son & Park Beauty Water is definitely a great deal. Because it can be used in so many ways, you're basically getting more than just a pH-friendly toner, cleansing water or mist, saving you the trouble of having to buy multiple products for different steps in your routine. If you're on a tight budget, the Beauty Water is definitely worth considering.
In addition to that, the Beauty Water delivers on all the promises it makes. It gets rid of impurities and traces of make-up beautifully, while not drying out skin. In fact, it somehow manages to still be hydrating while doing that. The end result is soothed, brighter and refreshed skin, whether you use it as a toner, an extra cleansing step or to reset skin's pH, it delivers. Another big plus is that the ingredients rely mainly natural ingredients such as rose water, papaya extracts, willow bark and more.
Products that are labelled as being 'multifunctional' or '3-in-1' usually have ridiculously long names and use that claim to increase their price tag, but more often than not still fail to deliver. Beauty Water, on the other hand, with its simple and minimalistic design and fuss-free description, relies solely on the efficiency of their product to shine in a competitive market where new miracle products emerge almost every day. At the same time, the affordable pricing ensures that no-one has to miss out on the Beauty Water because of the price tag. Along with what it does to your skin, what's not to love about that?