The indie band released their first full length album '23' on April 24 under their label 'HIGNGRND', a sub-label under YG Entertainment led by Epik High's Tablo. It includes a total of 12 songs, with 'Leather Jacket', 'Tomboy' and 'Wanli' all each have MV's on their Youtube channel.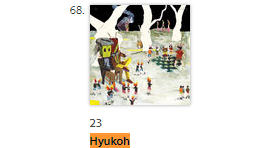 Currently on the UK album chart on iTunes, their latest release's entry number is #68! And on the worldwide iTunes chart, it is #27, and they're doing well on the domestic charts too!
Hyukoh have had support for their album by their seniors IU, G-Dragon, Taeyang, CL and Beenzino, their Instagram posts have been linked below!
Hyukoh has been increasingly getting more well known, especially for their refreshing sound injected into the generic pop industry. What did you think of Hyukoh's album?
https://www.instagram.com/p/BTRN_YXBNy-/?taken-by=dlwlrma
https://www.instagram.com/p/BTQzHh0gmMr/?taken-by=__youngbae__