There's been double the success today with K-Pop releases, with TWICE's album and now VIXX! The boy group known for their take from supernatural concepts have returned with their 4th mini album 'Shangri-La'!
See more: [MV BREAKDOWN] VIXX – 'Shangri-La'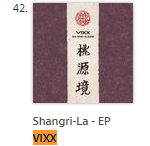 The mini-album has come in at #42 as of today on 17/05/17, which again shows the support that VIXX have from their UK Starlights! The album contains a total of 6 songs and the lyrics of all the songs had been written by their rapper Ravi. The title track 'Shangri-La' comes across as a combo of traditional and modern sounds, the MV does a good job at representing this as VIXX execute it with the class you would expect from a seasoned group in the industry.
What did you think of the album? The MV has been linked in below if you wanted to check it out!
---