Have you guys been reading about the exciting London Korean Festival coming this July? There will be a jam-packed schedule for the upcoming London Korean festival, so we are here to help you find out everything you need to know about it!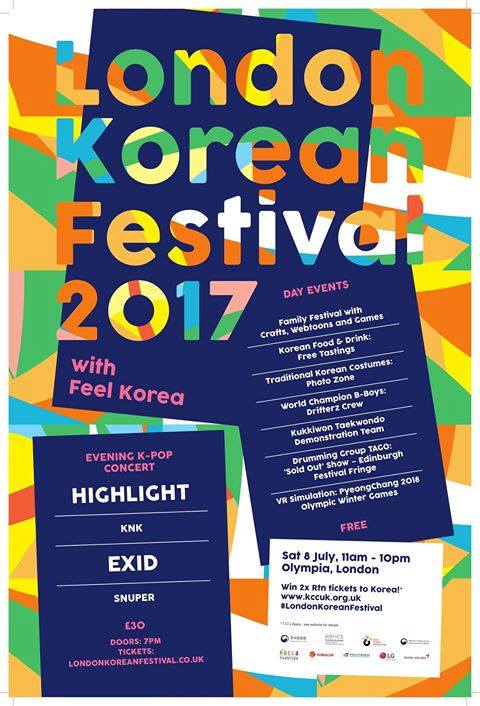 The Korean Cultural Centre UK (KCCUK) are back this year, to bring us the London Korean Festival ft. Feel Korea as a part of Korea/UK 2017-18! The festival will be held on the 8th of July at Olympia, London. The event will specifically take place at Olympia National and is located by Kensington (Olympia) underground (district line) and overground station. Alternatively, there are numerous buses which stop a short walk away from the venue.
For more information regarding directions to the venue, you can follow this link, where you can input your postcode and it will let you know how you can reach the venue. We recommend that you plan your journey in advance (we recommend TFL's journey planner here) and make sure to check for any train disruptions which may cause any inconvenience in your journey! For parking information, click here.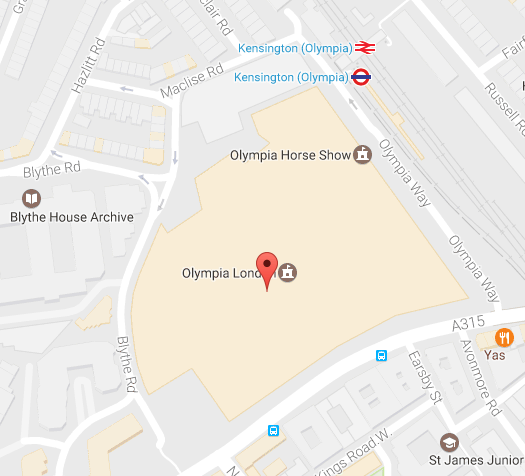 London Korean Festival will begin from 11AM and end at 10PM. However, the event will be divided between the day event which will be free-entry and the evening K-POP performance which will cost approximately £30 to attend. Tickets for the the day time event (It is now required for you to have a ticket for the day-time event due to high interest received for the festival – Please make sure you've purchased the right tickets for the right sections of the festival) and evening performance can be purchased here. The day event will run from 11AM to 5:30PM, then the evening event will begin from 7PM to 10PM.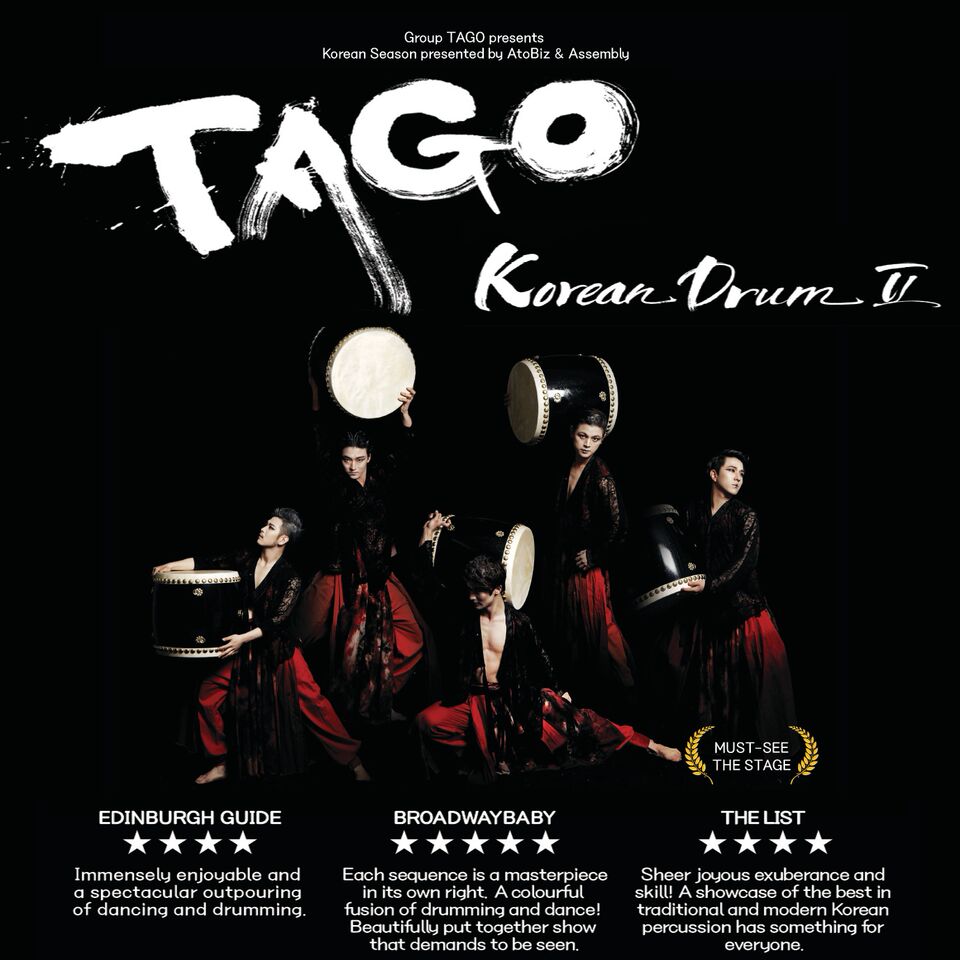 The day event will feature a range of performances from TAGO (a traditional Korean drumming group who received 5-Star reviews when they performed at the Edinburgh Fringe Festival in 2011), Drifterz Crew (a world champion b-boy crew, who were selected by the Seoul Foundations of Art and Culture as representatives of Korea) as well as the Kukkiwon Taekwondo Demonstration Team (A team who have toured over 120 countries, acting as ambassadors for Korea and taekwondo in general). The London Korean Festival will also be hosting the KBS K-Pop World Festival: UK preliminary from 2PM to 3:30PM. This will be an opportunity for selected UK K-Pop fans to showcase their skills for a chance to perform in Changwon, South Korea! It has been confirmed that one of the KNK members will be judging the competition as well! Furthermore, there will be a special preview for the Pyeongchang 2018 Olympic Winter Games located in the experience hall. For more information regarding the programme schedule, you can click here.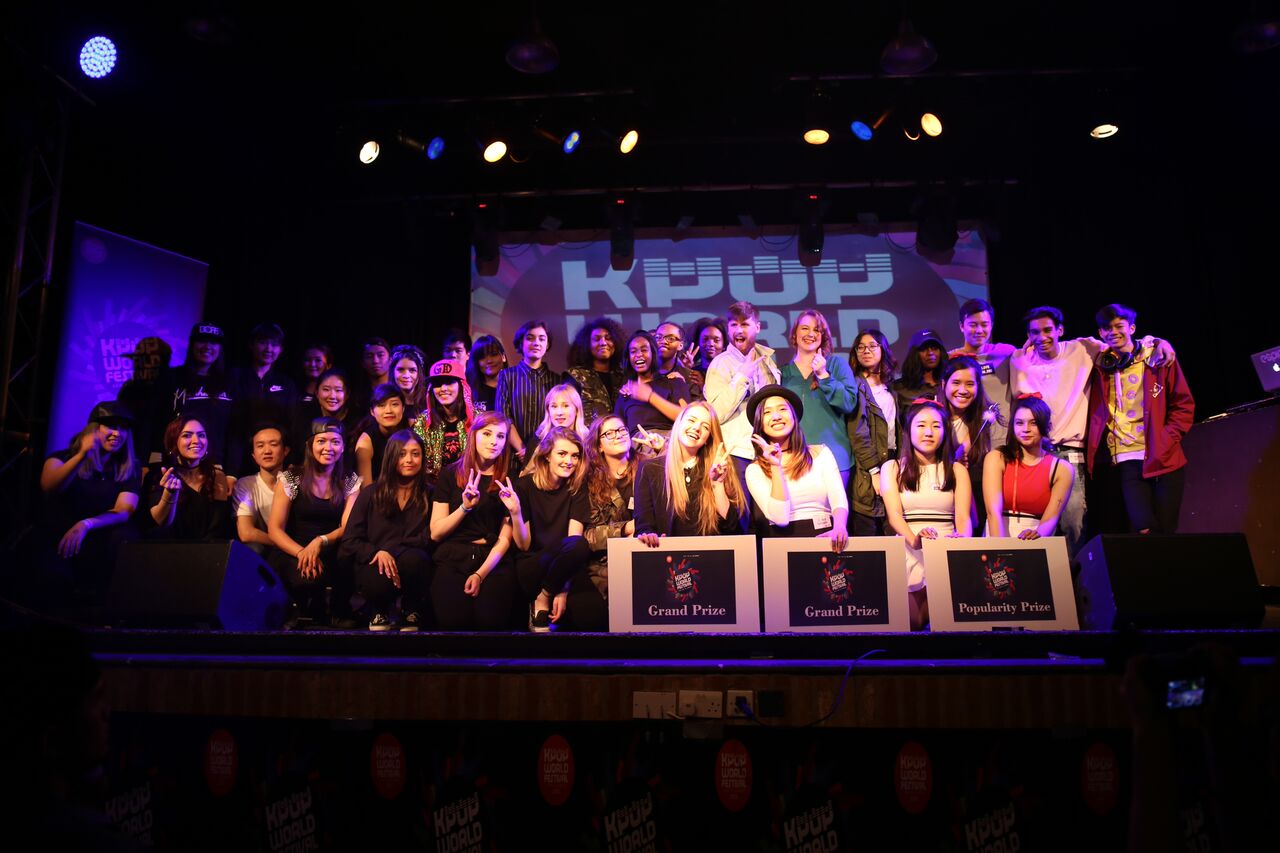 READ MORE: K-POP World Festival 2017: UK Regionals
Along with the performances, there will be numerous exhibitions and Korean experience opportunities. Take the chance to try out some delicious Korean food and drink, take a photo in traditional Korean costumes as well as an opportunity to check out Korean crafts, webtoons and games! For the K-POP fans, their will be a K-POP contents zone whereby the latest K-POP albums will be on display for the guests to listen to! Don't miss out!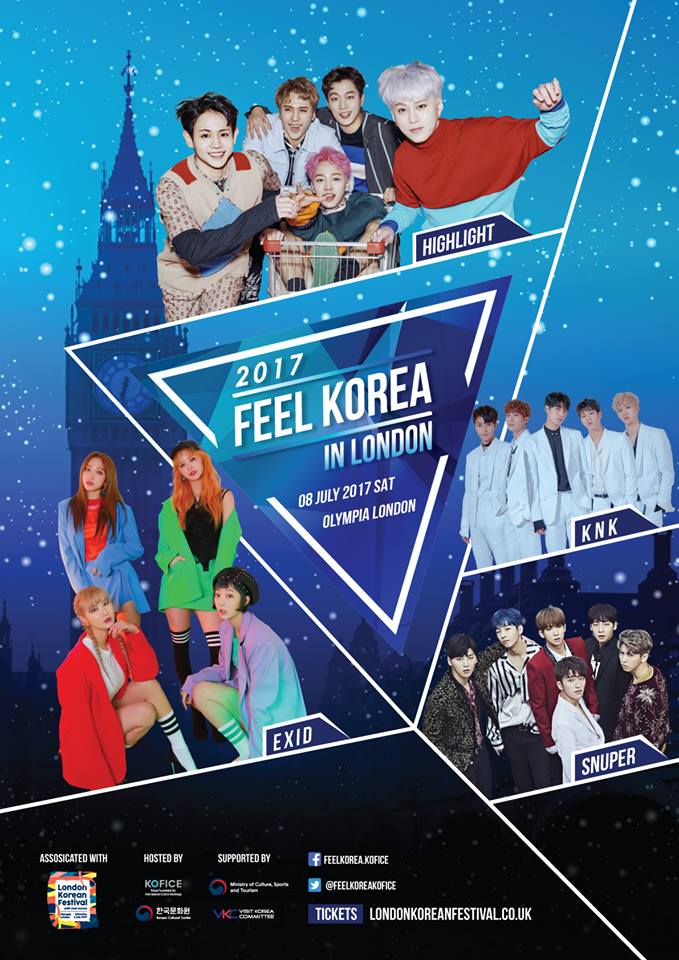 For the evening K-POP performance, KCCUK have collaborated with KOFICE to bring to you, Feel Korea! Feel Korea will be bringing to us 4 K-POP acts for an amazing stage at Olympia National! From HIGHLIGHT (formerly known as BEAST) to EXID (Known for top hits such as 'Up and Down', 'Hot Pink' and 'Every Night') as well as KNK and SNUPER.
The doors for the K-POP evening concert will be opened from 7PM. Only ticket-holders will be able to enter the hall for the evening concert – So make sure you have your tickets ready! The concert will then begin from 8PM and will end at approximately 10PM. Queueing will come as a first come first serve basis.
Guests from 12 and over are all welcome to attend, however anyone under 17 must be accompanied by an adult (an adult of 18 years old may accompany up to 7 other 12-16 year olds). It is recommended that you pack light for the event as bag/body searches will be in operation. No food or drink from outside the event will be permitted, however there will be opportunities to purchase food/drink inside the venue. All tickets bought will be non-refundable (unless in the event of cancellation) and all tickets will be standing tickets.
If you would like to contact the organiser for any queries, you may contact them here: info@londonkoreanfestival.co.uk
---
[UPDATE – 01/07/17] 
There has been an update regarding various FAQs for the concert:
Q: When can we can queue up for the 'Feel Korea' evening concert?
A: Fans can queue up outside the venue after 5.30PM.
Q: What are the rules regarding the use of cameras?
A: Small personal cameras or mobile phones will be permitted, though all guests will not be able to bring any professional photography equipment into the venue (no flash allowed).
Q: What items can be brought into the concert?
A: Small banners are allowed (no hard poles attached) along with light sticks.
*Rules are subject to chance without notice. All rules are subjected to security discretion.