You have probably heard by now that K-Pop group BTS  announced a world tour, including some stops in Europe!
Here, we aim to list all the information you need to get you prepared!
Here is the tour as it stands so far, though it is mentioned that more dates are on the way.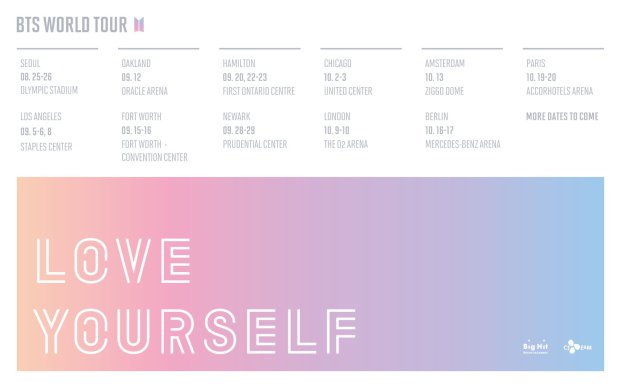 Kicking off in Seoul this August, then working it's way through some American stops before heading to Europe. Ticket prices are yet to be confirmed.
Here are the European stops so far.
– LONDON –

DATES: 9th and 10th October 2018.
VENUE: The 02 Arena.
ADDRESS: Peninsula Square, London SE10 0DX
TICKETS ON SALE: Friday 1st June 2018 @ 9am on Livenation.
N.B: Standing: 16+, Seated: Under 15s must be accompanied by an adult aged 18+
NEARBY ACCOMODATION
Docklands House,
15 Jamestown Way,
Poplar,
London
E14 2DE

The Pilot Inn,
68 River Way,
Greenwich,
London,
SE10 0BE.
—
– AMSTERDAM –
DATE: 13th October 2018
VENUE: Ziggo Dome.
ADDRESS: De Passage 100, 1101 AX Amsterdam
TICKETS ON SALE: Friday 1st June 2018 here.
NEARBY ACCOMODATION
Jaz Amsterdam,
De Passage 90 / Noord Holland,
Zuidoost,
1101 AX
Amsterdam,
Holiday Inn Amsterdam,
Hoogoorddreef 66,
Zuidoost,
1101 BE
Amsterdam,
—
– BERLIN –
DATES: 16th and 17th October 2018
VENUE: Mercedes Benz Arena
ADDRESS: Mercedes-Platz 1, 10243 Berlin
TICKETS ON SALE: Friday 1st June 2018 on Mercedes Benz Arena Website.
NEARBY ACCOMODATION
Kiez Hostel Berlin,
Marchlewskistrasse 88,
Friedrichshain-Kreuzberg,
10243 Berlin.

The Cat's Pyjamas Hostel,
Urbanstrasse 84,
Friedrichshain-Kreuzberg,
10967 Berlin.
—
– PARIS –
DATES: 19th and 20th October 2018
VENUE: Accorhotels Arena
ADDRESS: 8 Boulevard de Bercy, 75012 Pari
TICKETS ON SALE: Friday 1st June @ 9am here.
NEARBY ACCOMODATION
Hotel Claret,
44 Boulevard De Bercy,
Paris 75012
Hotel Viator Paris – Gare de Lyon,
1 Rue Parrot,
Paris 75012.
UPDATE [17/05/2018]
TICKET PRICES AND SEATING
London:
£220
£160
£125
£90
£62.50
+ fees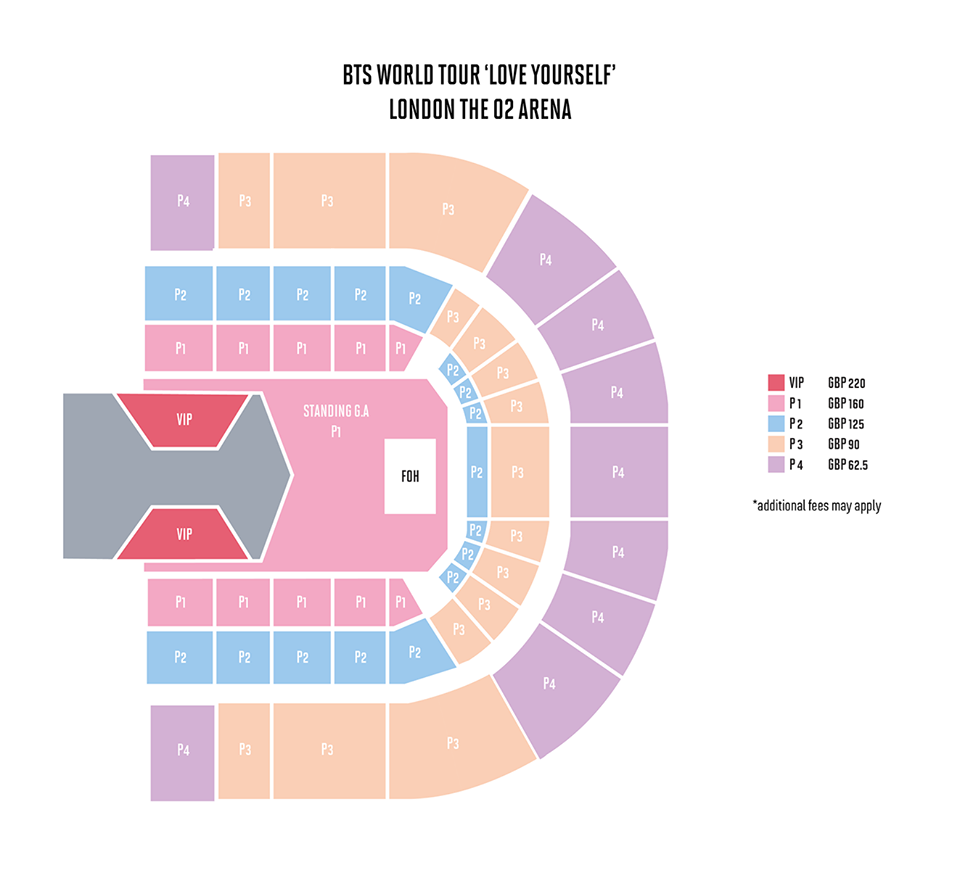 Amsterdam, Berlin, Paris:
€250
€180
€150
€120
€90
€60
+fees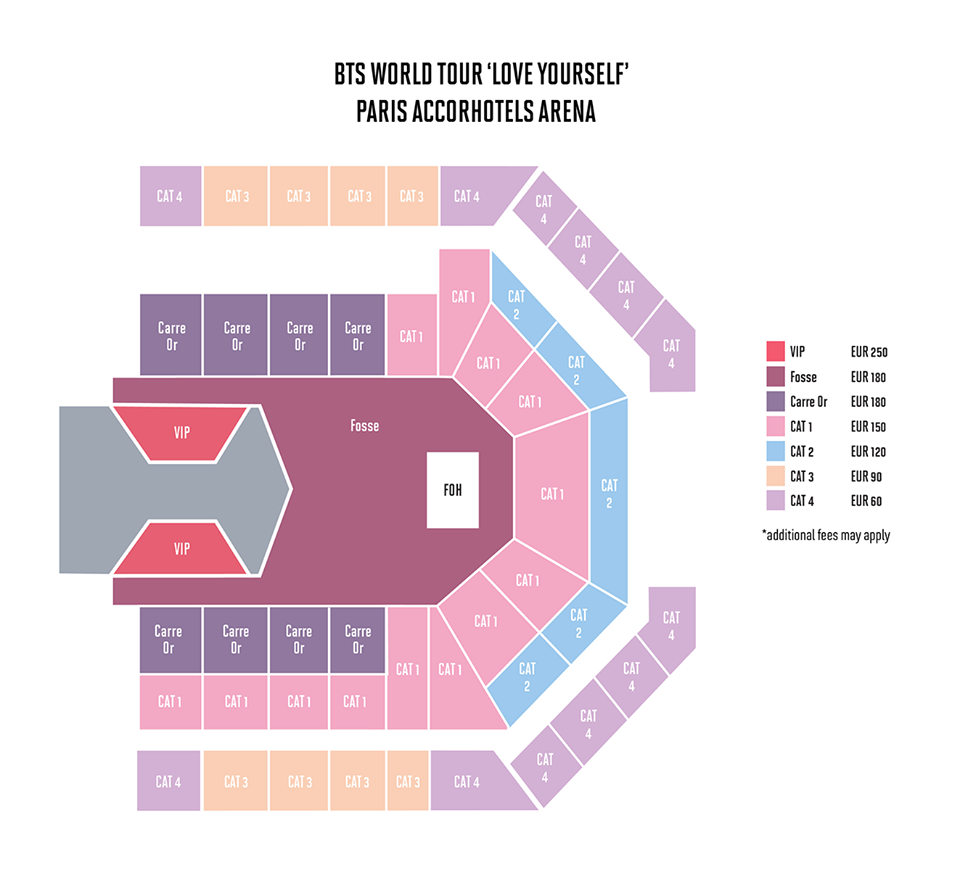 UPDATE [18/05/18]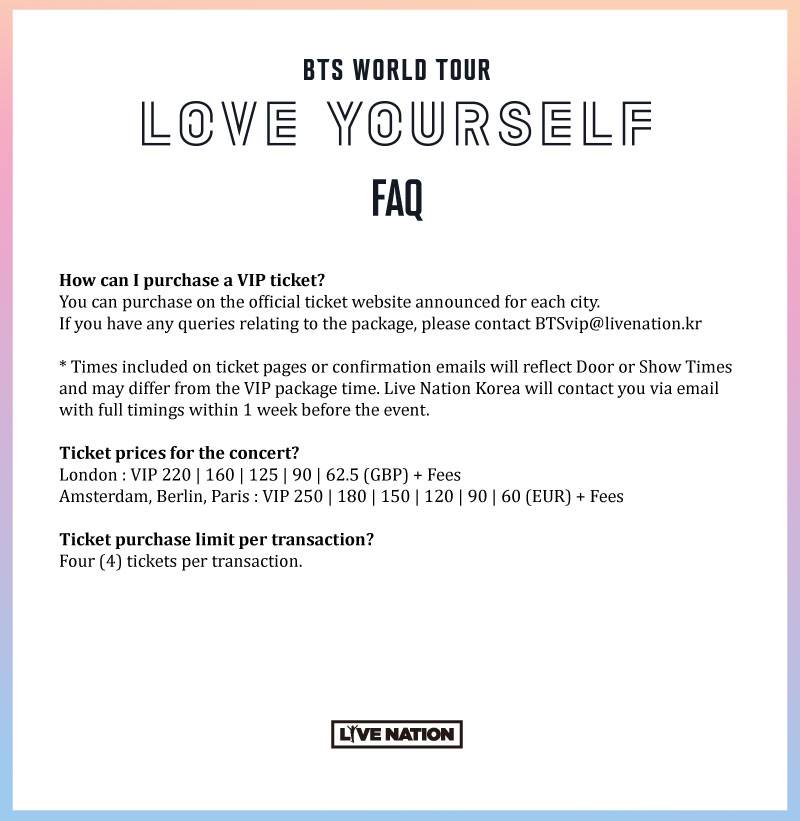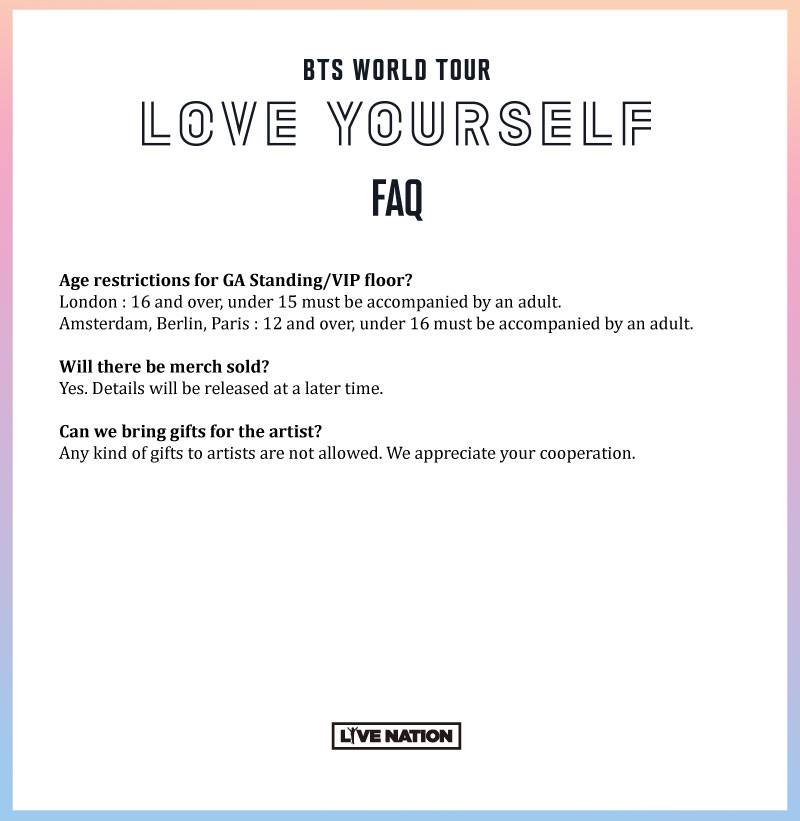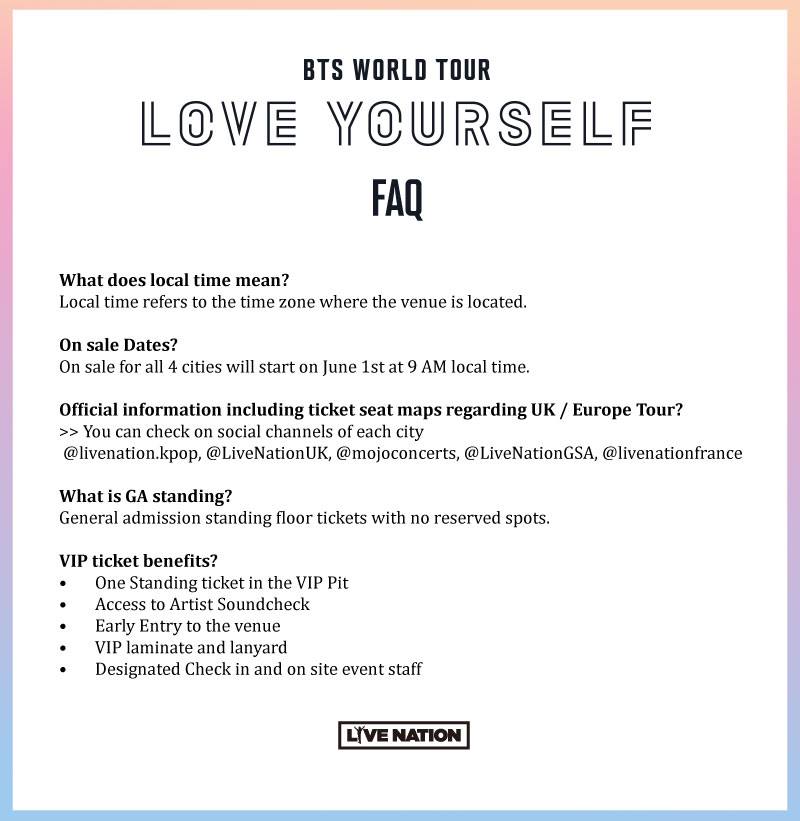 [FAQs images from Live Nation KPOP Facebook]