It's clear that from the over 5.5 million views from their teaser that there has been anticipation over BLACKPINK's latest comeback song! While fans had been hoping for a continuation of their single album series in the form of 'Square Three', instead the girl group have released a single for the summer prior to their Japan debut in August.
See more: [Song of the Week] BLACKPINK – As If It's Your Last
Since it's release, 'As If It's Your Last' has achieved #1's on several domestic charts in addition to experiencing similar successes overseas and have reported to have charted in 50 countries! BLACKPINK have exceeded 2NE1's entry at #46 earlier this year with 'Goodbye' by initially reaching #44 and then rose to #33 on the UK iTunes Top 100 Song Chart! Though stay tuned for updates if they continue to rise! They have even reached the peak for a Korean girl group on iTunes USA at #30 and the M/V is currently trending on YouTube at #6!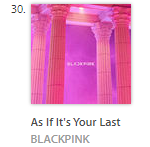 [UPDATE 23/06/17] BLACKPINK have peaked at #30 on the UK iTunes Song Chart and have recently reached over 14 million views on their M/V, officially smashed the record for the most viewed K-Pop video in 24 hours at 13.3 million views as well as obtaining 1 million likes in the timescale! The girl group have also have been featured in the list of most viewed online videos worldwide in the first 24 hours at #23, which you can see below!
---
The M/V for 'As If It's Your Last' has been rapidly increasing in views, nearly reaching 8 million views and with over 800,000 likes so far in under 12 hours of it's release! It looks like they could break the record for the most viewed K-Pop M/V in 24 hours! The YG girl group are well and truly back! You can purchase the single on iTunes here for £0.99 and you can stream the song on Spotify by clicking here.