Xinachu and Jojo Tay have teamed up with KCCUK and the London Korean Festival 2017 to bring to you the K-POP Random Dance Challenge!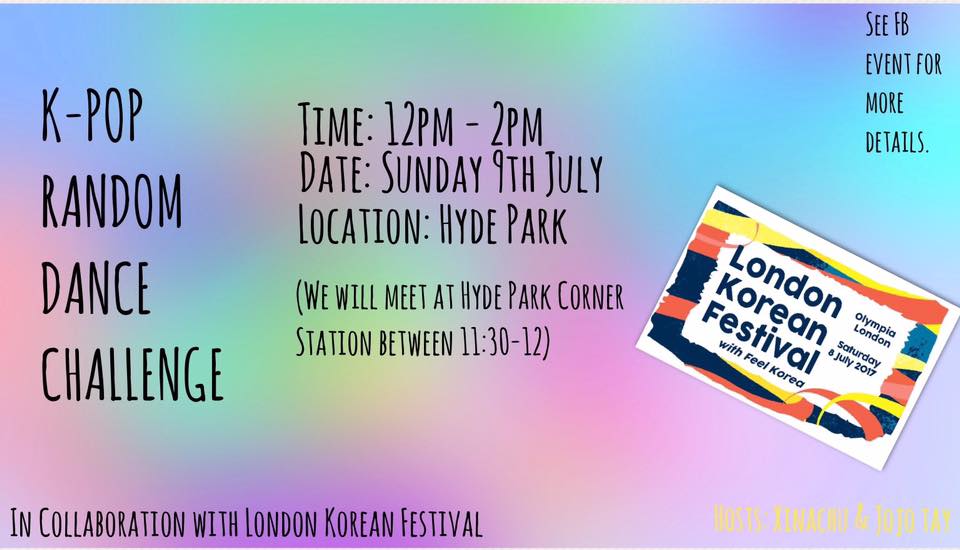 READ MORE: [CONCERT 411] London Korean Festival ft. Feel Korea
The event will be taking place on Sunday the 9th of July at Hyde Park from 12PM to 2PM. The hosts Xina and Jojo will be meeting everyone between 11:30AM and 12PM at Hyde Park Corner station before proceeding to the location of the challenge. From 12:30/12:45PM the random play dance challenge will begin. For latecomers to the event, the hosts will be posting the location of the challenge via the FB event page.
The concept of the random play dance challenge follows the same routine as the popular section in Weekly Idol. Different songs are played and the participants aim to correctly showcase the choreography following the music currently playing. Watch an example from Weekly Idol with SEVENTEEN! You can watch from 4:07 to see how it should be done!
NOTE: The Random Dance Challenge will be filmed and posted on YouTube.
Along with participating in the event, people are also free to come and spectate!
The hosts will be compiling a mix of K-POP songs for the challenge, if you have any suggestions, please notify the hosts by the 7th of July!
For more information regarding the event, you can check out the FB event page!