The newest boy group to debut from Cube Entertainment released their 5th mini album 'Demo_02' on November 22. They've definitely been busy with This marking Pentagon's third official comeback this year, with 'Ceremony' during the first half of the year followed along with 'Demo_01' in September.
They jumped all the way from #163 up 61 places to a current peak at #102! And this is their official debut on the UK iTunes chart, which just shows how much their fan base over in the UK has grown within a short space of time! They also charted at #3 in Luxembourg, their highest achievement in Europe alongside getting into the Top 10 on the Spain iTunes chart at #7!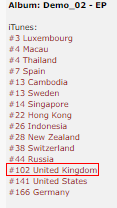 The album is available for purchase on iTunes for £2.99 here and you can also stream it on Spotify once it's been added to their account! The boys return with their promotional title track 'Runaway', you can watch the M/V below!