They've one of the longest-standing groups in K-Pop and have been active since their debut in 2005. While there's been several member changes up over the last decade, there's no denying the global impact that this SM group have made. Super Junior have previously included Europe in their past World Tour back in 2013 for Super Show 5 and in the later parts of 2014 UK fans had a bonus performance from Donghae and Eunhyuk for the London Film Festival!
SEE MORE: Super Junior's comeback album enters the Top 40 on the UK iTunes chart!
Seoul had been the first stop during December 2017 and for the new year, the countries that have been pencilled in for the tour include Singapore, Bangkok, Hong Kong, Osaka, Taipei, Tokyo, Shanghai. From an estimated date starting in April and throughout this month, SJ will fly to the Western parts of the World in the US with an end date on Sunday April 29 in LA.
There hasn't been any official information from SM, though it is possible that Paris and London could be included in the Super Show 7 stops as shown below. Once more information has been confirmed, we'll update this article with all the details you'll need!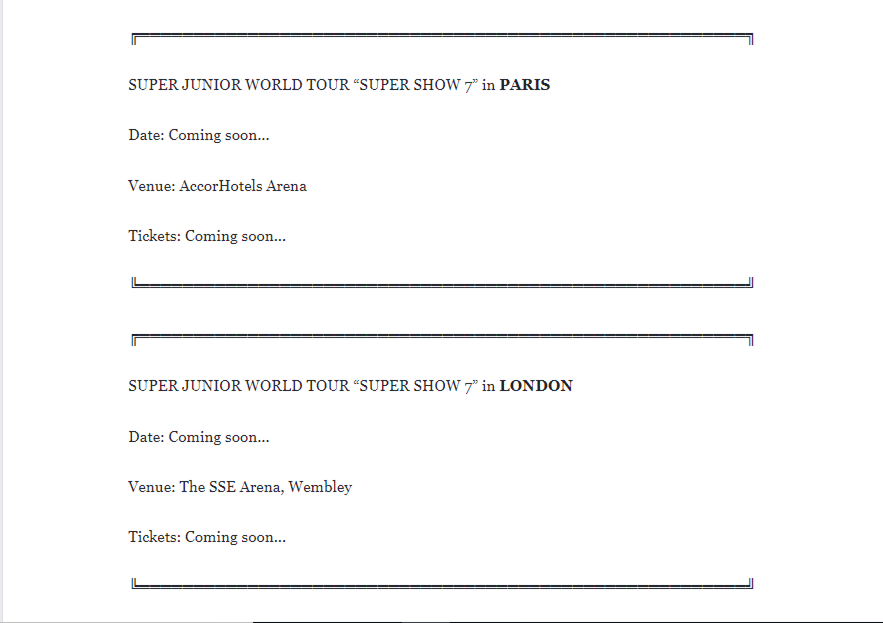 Source: (1)