On the night of June 17th, Eventim Apollo in Hammersmith saw its grounds all the way to the Thames squirming with Monbebes donning their hoodies and shirts emblazoned with their favourite or "bias" members. Many have queued since the night before and at the strike of four (or 12am Korea Time), you can hear them chant a united "happy birthday" to Monsta X's leader, Shownu, whose birthday falls just a day after the concert.
A few fans handed out banners such as posters with "Always By Your Side" in both Korean and English – a project that will come into fruition late in the concert. As well as this, fansite UKMONSTAX were handing out mini banners for Shownu's Birthday.
As the fans slowly enter the venue, Monsta X's songs play and Monbebes sang along to hits like Hero, Beautiful and Shine Forever in well-coordinated fan chants that shocked even the venue staff behind them. Even with only half of the pit filled at this point, their voices were strong enough to send vibrations rocking the floor.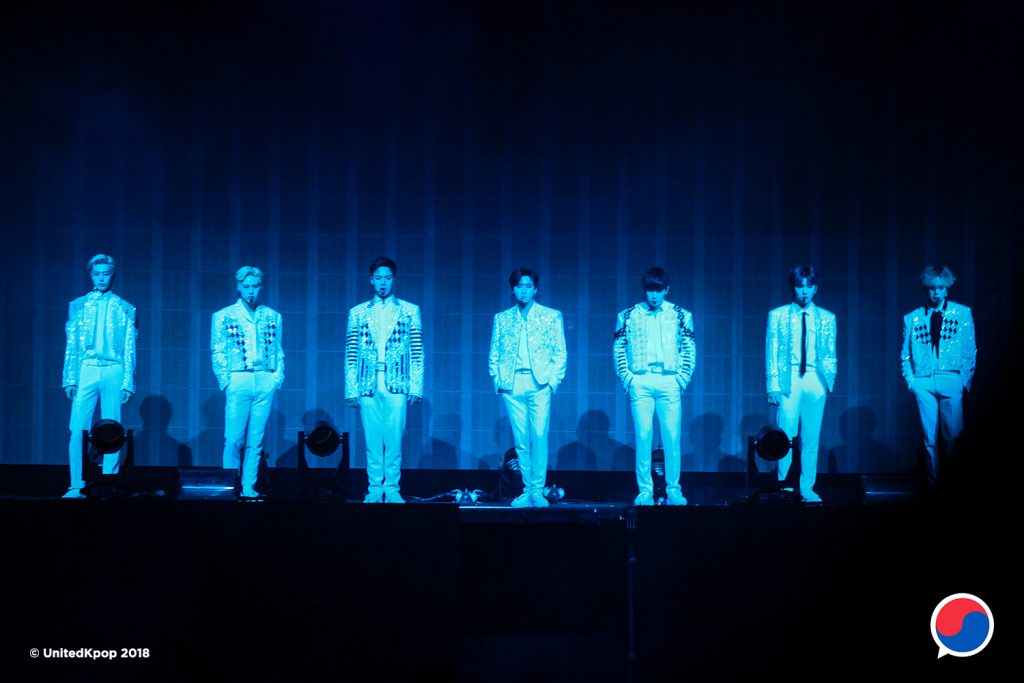 Soon the lights dimmed. A VCR introducing the seven members and the tour, THE CONNECT played on the stage's screen. When the lights shone on stage once more and Jealousy started to play, fans erupted in loud cheers. This was followed by Be Quiet and Beautiful where Jooheon's passionate rapping sent the crowd wild.
A short ment followed where fans sang happy birthday to leader Shownu after he introduced himself, eyes disappearing as he smiles at the Monbebes before him. This was mini fan project to celebrate the leader's birthday. When asked, "What do you think about when you hear London?" Jooheon blurts out "Harry Potter" with his signature accent. Someone mentions fish and chips. Hyungwon added, rather proudly, that he "took a photo with a double-decker bus yesterday" voice alight with happiness and he promised to upload the photo on social media before they leave the UK. He recently posted this writing "Wanna stay here more. Thanks. Love you England."
[#형원] Wanna stay here more. Thanks. Love you England. pic.twitter.com/QKcUzxQxt2

— 몬스타엑스_MONSTA X (@OfficialMonstaX) June 18, 2018
Kihyun, ever the flirt, adds "But do you know the real reason why we came here? Because of you guys – you, you, you you guys" he proceeded to point at various members of the crowd before him, eyes lost in his smile. He then teases the fans with a loud "Are you ready? For real?"
The next few songs are Gravity followed by Tropical Night, the electronic dance track that had fans singing and jumping to "Yeah yeah It's the tropical night yeah".
Another ment followed with I.M, Jooheon and Wonho. "I.M is our English teacher," Jooheon says with pride and proceeds to say, in a British accent "I would like some water please" sending a ripple of laughter across the crowd. I.M looks towards the crowd in awe before commenting, "I saw you guys dancing. You have better moves than us!"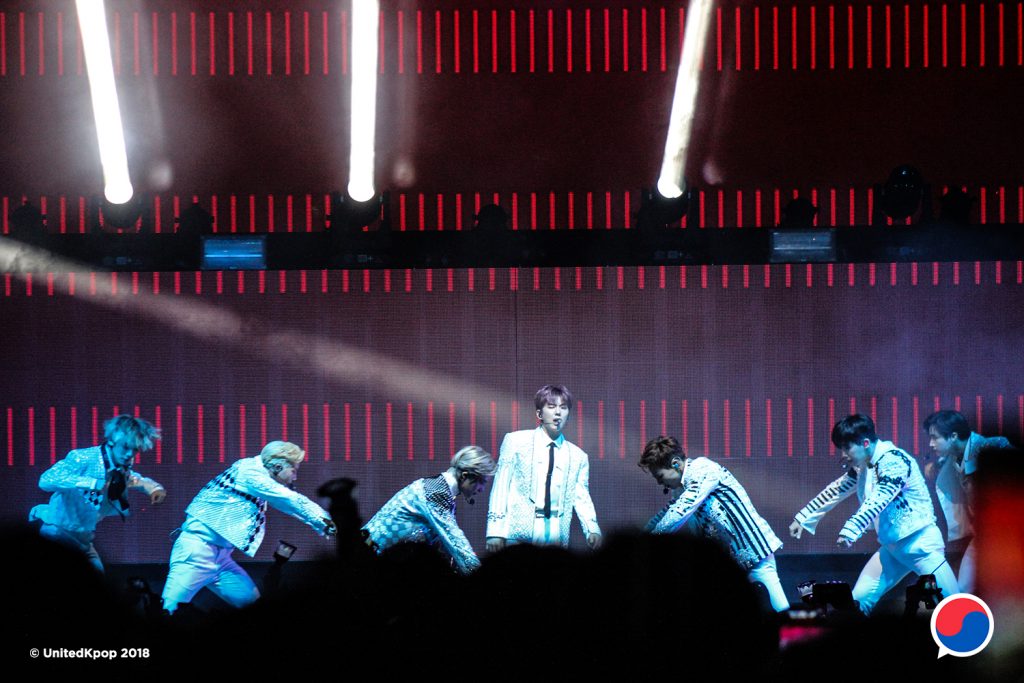 All this time the members, not only the team's youngest and fluent English speaker I.M, spoke phrases in English. They would occasionally switch to Korean where someone from backstage would translate.
Jooheon imitates the crowd excitement shrieking "OHMYGOD IT'S MONSTA X!" and it's no surprise that the concert saw such a turnout. With their 6th EP, The Connect: Dejavu peaking in the UK at #15 and the high demand for a Monsta X concert in the UK and Europe – in fact, this whole European leg of the tour (and the inclusion of London that was missed in past tours) would not have been possible without the persistent efforts of Monbebes fulfilling MyMusicTaste's various challenges in order to invite Monsta X over.
The group constantly shows worry, asking in English if the crowd is tired and if it's hot only for the Monbebes to scream in response – this excitement will last the night. "I'm quite hot," Wonho says with a playful smile, fiddling with the collar of his shirt and I.M proceeds to run his hands across the fabric, teasingly pushing it aside, amused at the fan screams rising an octave. Hyungwon worries about the fans getting hurt, eyes scanning the crowd and the way his voice lilts when he says, "be careful!" wide-eyed and playfully reprimanding sends the fans chuckling.
Kihyun sings a verse of Tropical Night and stares in awe as the fans sing back in perfect unison, even the Korean verses.
When asked if there were any UK artists they liked, Kihyun mentions that his favourite genre is Britpop. He then sings a few lines of Ed Sheeran's Thinking Out Loud, and the crowd follows his cue to sing along. This is followed by We Found Love with Minhyuk joining in after. The vocalist says in English, "There's a song I want to sing, if you know it sing together" and this followed a beautiful rendition of Sam Smith's I'm Not The Only One.
"I have goosebumps," Kihyun says, pretending to shiver and he tries again, eye smile in full force. "I lay by your side," he sings and it was beautiful, hearing the main vocal, whose voice is as good if not even better live, harmonise with the nearly four thousand Monbebes and seeing the look of bliss and awe on his face.
Hyungwon, feeling left out, pouts and says, "I'll do something too! Expecto Patronum!" sending the fans into laughter and this leads up to the next songs Crazy in Love and All In.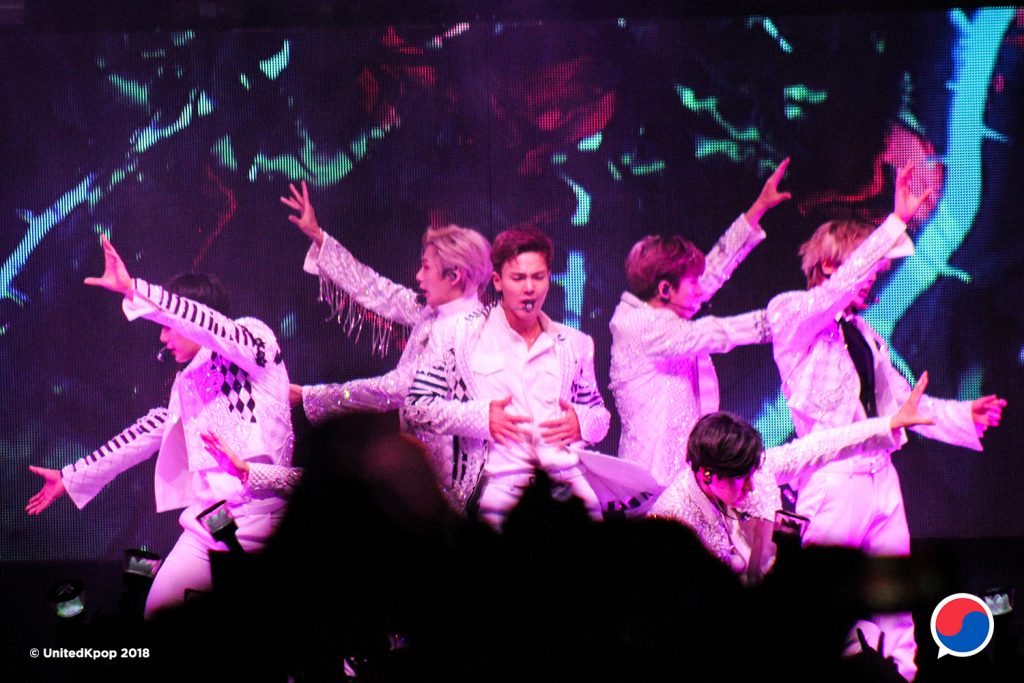 The short ments turned into short tutorials of the key points in choreography. At one point, Minhyuk and I.M were asked to do a sexy dance to hilarious effect and Jooheon ups the stakes by combining his signature aegyo and a robot dance.
The members spoke in English every chance they got with I.M acting as part translator part initiator. A look of pure awe and surprise paints his face when he leads Monbebes to complete his verses in Destroyer and Shine Forever. There's something beautiful in the way the venue filled with lyrics in perfect unison and if the look of shock and happiness on the maknae's face said anything, it was that he felt it too. Jooheon breaks up the sweet moment to playfully say, "I will write more English lyrics too!"
And after the KpopKnight fiasco, it's great to see Monbebes fill the venue with their cheers and they are more than capable of singing along to the songs and cheer in coordinated fan chants. Once again, the venue is filled with both Korean and English and shows the capacity to which music can transcend language barriers.
With Monsta X's genre versatility, they effortlessly veered off from their signature hip-hop and R&B sound to serenade Monebebes with ballads as well as setting the room on fire with EDM and dance tracks. The VCR segments see the members playfully talking to Monbebes, and the later segments hint at the ongoing narrative told in past music videos like Dramarama and Destroyer that followed the members as they challenged Time itself in an attempt to meet each other again.
The members also had solo and collaboration stages with Hyungwon dancing to Charlie Puth's How Long, I.M soon joining him after his rendition of Drake's Fake Love. While Shownu and Jooheon painted the stage with gold and silver to deliver a cover of Bruno Mars's Versace on the Floor. Kihyun, Wonho and Minhyuk, on the other hand, sent Monbebes squealing with I Do.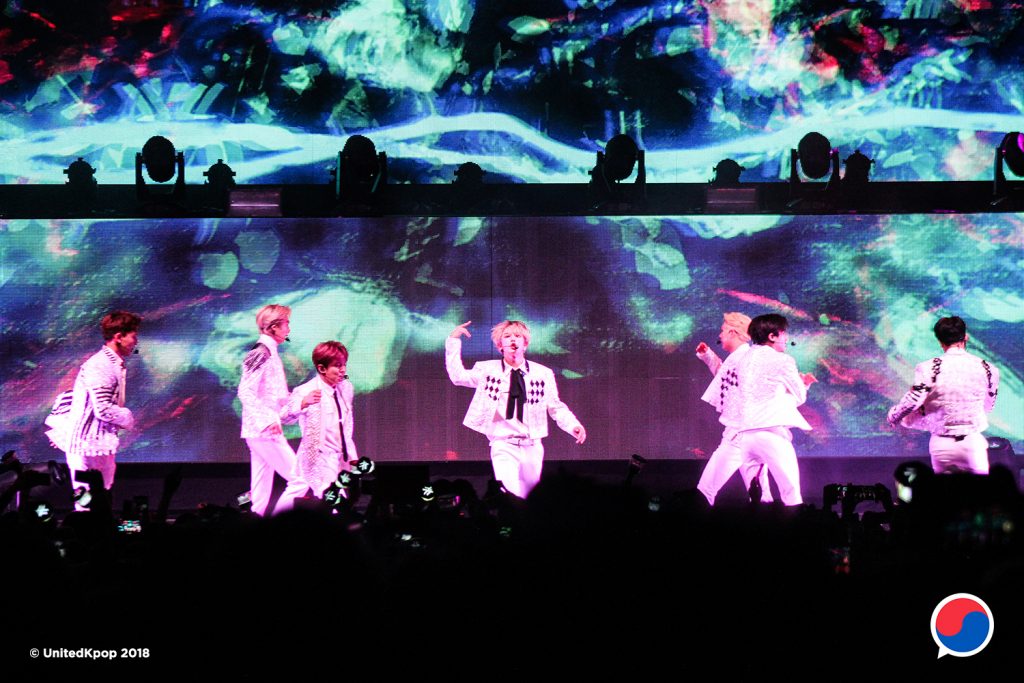 When Monsta X performed White Love, fans raised their banners, collected along the queue as part of the White Love banner project by UK Monbebe.
Having teased the possibility of performing their 2015 debut single to the cheers of the Monbebes, the sestet took to the stage with the rock version of Trespass.
When the end of the concert approaches, it seemed that Monsta X ran over the venue curfew and halfway through their encore stage, Fallin, what first appeared as if they had blown the speakers may have been due to the venue pulling the plug instead. Their last few words are muffled. While it is a shame that the sound was cut during Monsta X's encore stage, it is important to note that if venues do not comply with these regulations, live music venues can be fined thousands for breaking sound curfew, which will eventually ruin these places. This means fewer venues for Monsta X and other future groups to perform at when they might embark on their UK tours.
https://twitter.com/OfficialMonstaX/status/1008504738088828928
This slight mishap did not deter Monbebes though and they filled the strange gap in sound with their own voices, taking this as an opportunity to sing another "happy birthday" to Shownu. The sestet exited the stage to the cheers of their adoring fans, voices still strong despite the consistent fan chants that echoed throughout the venue all night.