An exciting opportunity is heading towards Eastbourne this July! Eastbourne will presenting their first ever, Korean Arts Festival. The event is being organised by Sun-Hwa Griffiths, whom is notably the chairman of the Academy of Korean Culture UK. In the past, the Academy of Korean Culture UK has held concerts in London in 4 occasions, however will be expanding their experiences across the UK. Their aim is to give exposure to a wider audience which has led to the production of the Korean Arts Festival in Eastbourne.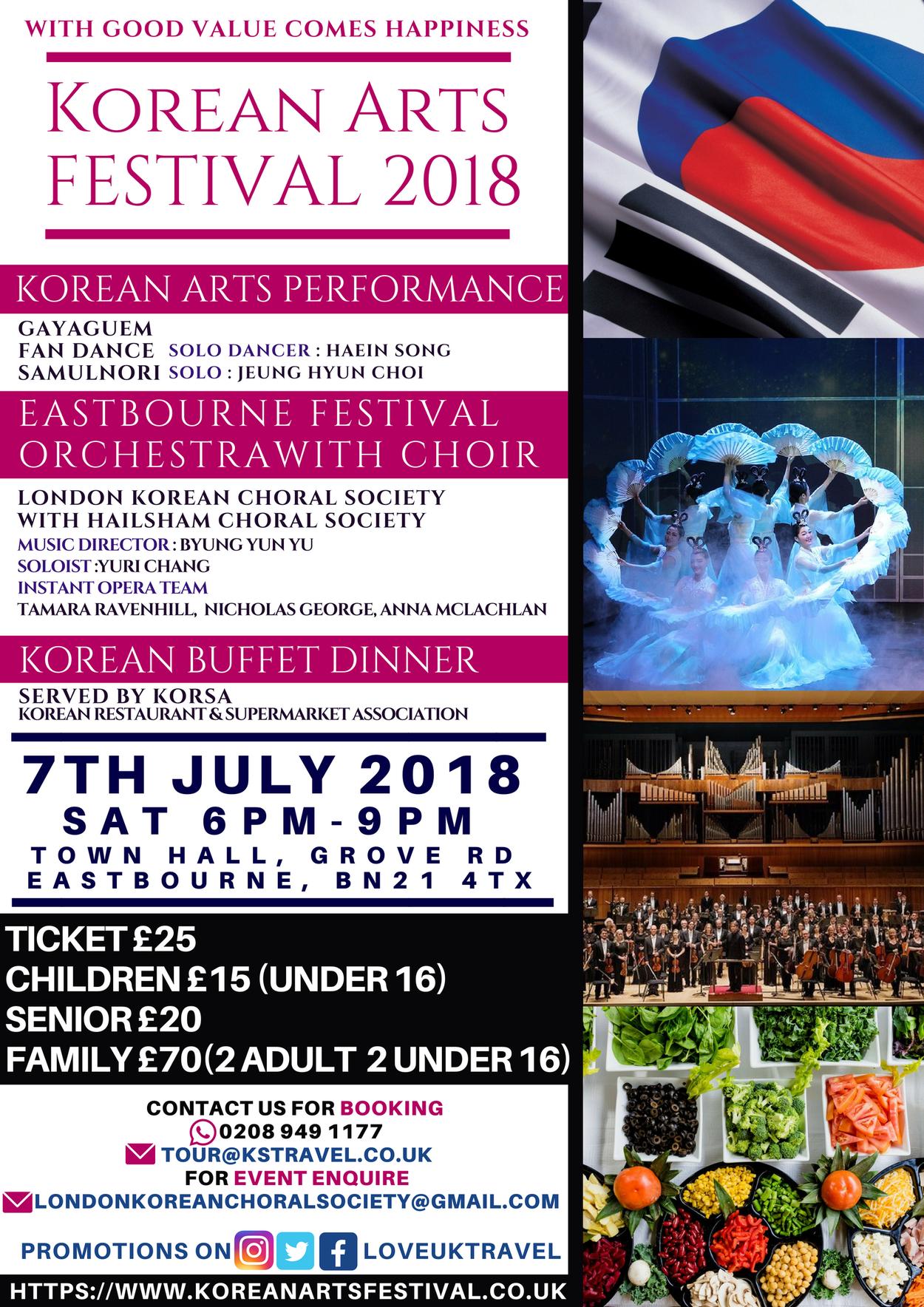 The Korean Arts Festival will showcase a number of activities. Ranging from traditional music to dance to culture to Korean cuisine. Joining the festival will also be the British orchestra under the baton of Music Director, Byung Yun-Yu. They will also be accompanied by members of The Hailsham Choral Society. The society will be performing a programme of both classic and Korean music.
Korean Arts Festival will take place on the 7th of July 2018 at 6PM to 9PM. The location of the event will be at Town Hall, Grave Rd, Eastbourne. BN21 4TX. It composes of 3 different chapters:
One: Korean Arts Performances – Fan Dance, Salmunori and Traditional Song
Two: Eastbourne Festival Orchestra with London Choral Society and Hailsam Choral Society.
Three: Korean Food Buffet – Served by Korean Restaurants & Supermarket Association (KORSA)
However, there will also be an opportunity to travel to the Korean Arts Festival by coach. KS Travel is offering a coach tour on Saturday the 7th of July from Victoria Station and New Malden to the festival. The coach will stop at Seven Sisters Country Park from 11:30AM to 3PM. After, you will have free time in Eastbourne to explore from 3PM until when the festival starts at 6PM.
After the festival is complete along with the Korean buffet, the coach will take you back to Victoria Station. Alternatively, it can drop you off in New Malden, depending on your preference.
The one day coach package tour, will cost £69 (originally £99). To book the coach package, contact KS Travel via email (tour@kstravel.co.uk) or via phone (02089491177). Don't forget to quote the promotional code: SSEKFB77! Otherwise, if you'd rather follow a simple and easy process of buying the coach tickets, check out the Korean Arts Festival website here.
In addition, you may purchase tickets for the Korean Arts Festival through the main site as well. Prices range from £15 to £70. For ticket purchases, click here.
Child (under 16) – £15
Senior – £20
Adult – £25
Family (2 Adults + 2 Children) – £70
Don't miss out an amazing opportunity to experience a special combination of East meets West!