BTS has already made history with debuting in the British charts with their latest hit; "IDOL" by charting at #36 in the Vodafone Big Top 40 but this past week has been even bigger breakthroughs. The group hailing from BigHit Entertainment have broke into the official UK Top 40 by charting at #21 for the entire country, just over a month before they travel to London for the European leg of their World Tour.
However, the Official Charts have now also revealed that "IDOL" has also charted #33 in Ireland and has become a Top 10 single in Scotland too. In the Top 100 chart dated between the 31st August and 6th September, BTS have leapt up to the #10 spot in its second week in the chart, surpassing big hits from Drake, Ariana Grande and even the viral hit, "Baby Shark".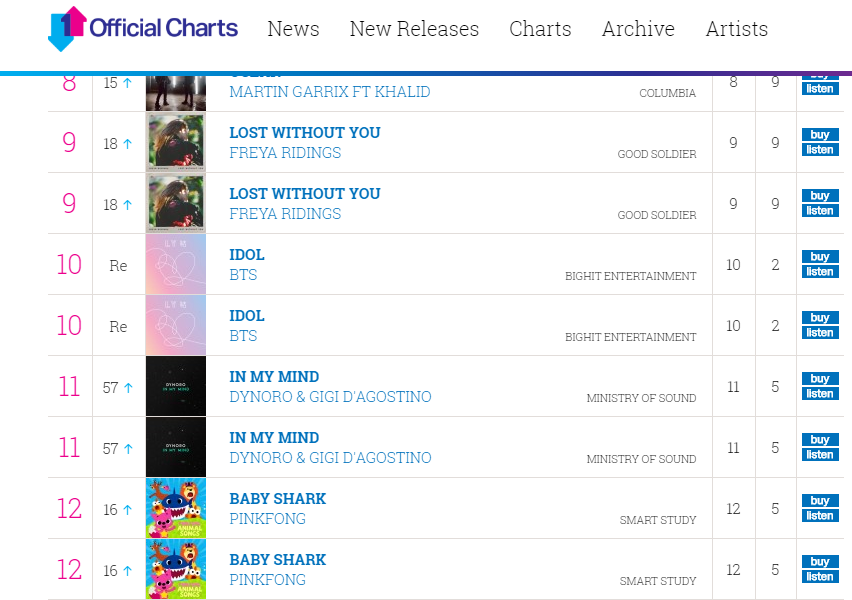 It seems that the only way for the group is up at this point with so many achievements within weeks of "IDOL"'s release and despite hesitation from radio & TV to play the track; BTS is still showing a strong UK following which is seen clearly in their Scottish Top 10 and their UK Top 40 accolade. With another weekly chart just days away and the official collaboration video with Nicki Minaj set to drop soon, only time will tell if BTS' immense hype to continue and carry into their arrival in the UK this October.