Just a few weeks ago BTS rocked the stage and shook the hearts of thousands of ARMY in London at their two sold out shows at the city's iconic O2 Arena. We asked our UnitedKpop readers to submit their favourite moments, and here's what you had to say.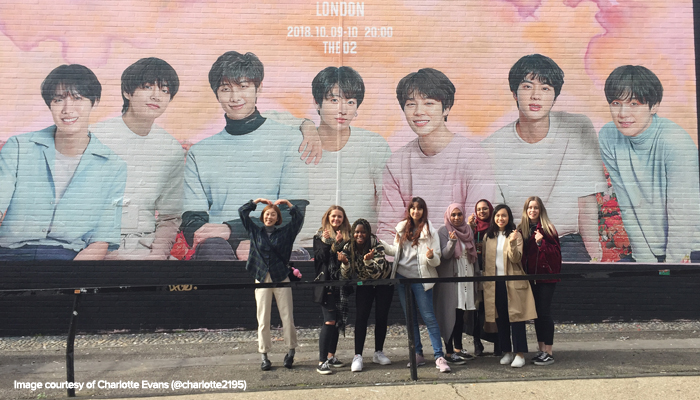 "The concert really was a pinch me moment which was one of those memories that had to be experienced to be believed. – I can't even describe the talent of not only BTS's vocals and choreography but their overall attitude and gratitude towards fans for supporting the concert." – Charlotte Evans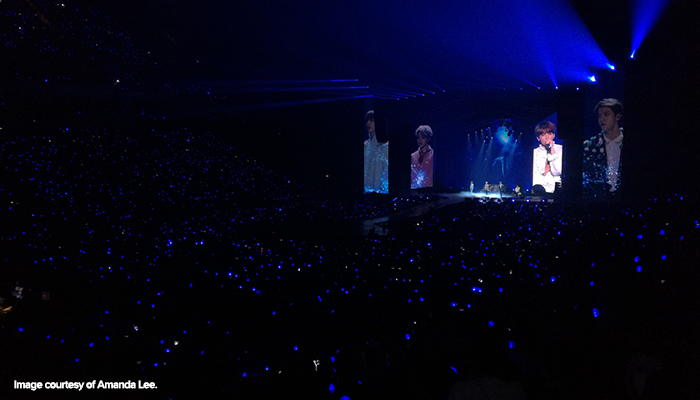 "The BTS London concert was the first Arena concert I have ever attended. I have very sensitive ears and wasn't sure whether I could attend due to how loud I thought it would be. I told myself that even if my ears burst and I collapsed that I wouldn't leave the concert, because that is how much it meant to me. I was overjoyed to find that I could tolerate the sound levels and didn't need to wear the ear defenders at all in the end.
I loved every second of it and normally I am too embarrassed to sing along or move during a concert, but here I felt comfortable waving my lightstick and singing along because I was surrounded by fellow BTS fans." – Amanda Lee
(Video by Amanda Lee)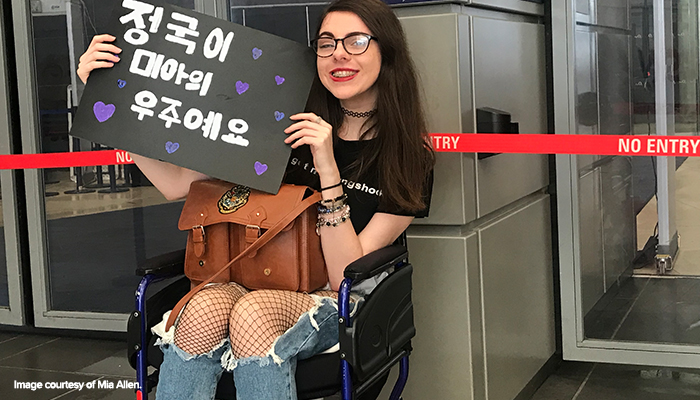 "It says 'Jungkook is Mia's galaxy'. I'm really happy I could make him smile because I saw him break down on the Tuesday. As a wheelchair user, I know what it's like to have to sit to the side and watch others do what you want to do but you know you can't. I know what it's like to not do something because of an injury and feel like you've let the whole world down. So to know that he felt that way too actually broke my heart, and I decided to let him know how special he is to me. I'm so glad it made him happy!" – Mia Allen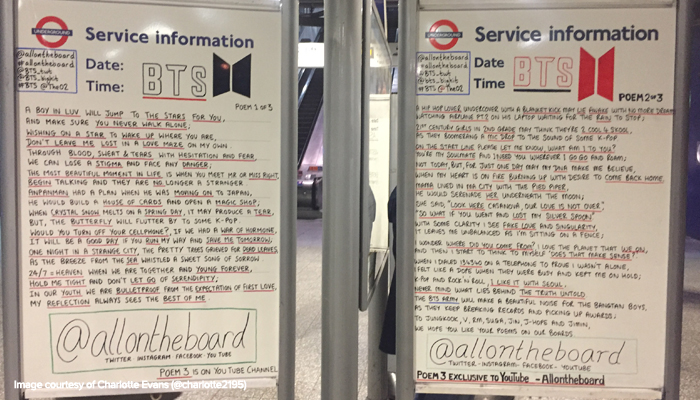 What was your favourite moment of the concert(s)?
At a run-time of just over two-and-a-half hours, each BTS gig is full of moments that stick with you long after the seven members take their final bows, wish one last thank you and disappear below the stage. With Jungkook's ill-timed injury occurring just moments before the opening London show, the two concerts were an emotional rollercoaster — full of both tears and laughter — for band and fans alike.
According to some UnitedKpop readers, here are just a few of the highlights you guys will be looking back on from the shows.
"Seeing my daughters face light up when BTS came on stage for first time. The screams and cries. To see them was amazing." – Kaley, Barnsley
"The way they group supported Jungkook when he got upset when he thought he'd let people down after hurting his foot. He was amazing that night and so were they. " – Ryan, Colchester
"When me and my friend gave away our version 2 light sticks to fellow ARMY. Their faces lit up, 2 separate girls. I'm a non hugger but I took the hug from the girl who was so happy. It made my day." – Kirsty, Milton Keynes
"The amount of work that went into creating such a great enviroment and a lot of energy. From the group themselves down to the sycing of the light sticks to each song. The fans sang along even if we didn't know what we were truly saying, we still made an effort for a group we love." – Abby, Northern Ireland
"My favourite moment was the very moment I walked into the O2. ARMY made me feel so comfortable and confident that I was able to be myself, with no one judging. I began talking to people and getting to know the family I am a part of and I couldn't be happier because as soon as BTS came out they proved it all to be true. Army really are BTS' wings just like how BTS are our wings." – Cerys, England
If you could tell BTS anything, what would you say?
BTS are known to pen a moving lyric or two ('Spring Day' says hello from the Melon Weekly Chart, which it hasn't fallen off of since its release in February 2017), and the skill doesn't end with the band. We asked you what you would say to BTS if given the chance, and you showed us that you're just as capable with words as the idols you admire.
"Never change." – Liam, Cambridge
"You ask us to love ourselves–make sure you take good care of yourselves, too. Demand that you have time to relax and recover." – Linda, Wales
"Please come back to your in the UK again, you guys are truly an amazing group! I wasn't able to stay to the very end so I really want to see you guys again!" – Sophie, UK
"I would just love to tell BTS how much I love them and I hope that once the tours over and they've had plenty of time to rest they'll come back to England during their next tour!" – Toni, Suffolk
"Thank you so much for your music, your happiness, your passion and your strength. You've been by my side for the last 5 years, through thick and thin, and have helped me through a lot. Please come back to the UK soon, it was the best night of my whole life. Never forget that UK Army loves you and will always support you!!! Thank you for helping me love myself." – Jessica, Derby
"I love you so much and I hope you come back again, keep doing what you are doing, I'm so proud of what you have achieved. Please take care of yourselves and remember; love yourself and you will be loved by all." – Laura, Nottingham
"Keep going, you are doing an amazing job, don't put yourself under so much pressure as you are giving so much energy/time already. Take time out for yourself, look after yourself and each other!" – Aatiqah, Coventry
See you soon…?
For those of you who didn't get to see BTS at the O2 this year, you might find some comfort in Suga's ending speech at the second O2 show.
"This is the last for today," he said to the thousands of cheering fans, "but we're going to see each other soon."
We'll hold you to that, Suga.