British Band PREP have teamed up with Monsta X's Shownu and Korean indie artist So!YoOn! of Se So Neon in their latest track. It is the band's first time working with either artist.
'Don't Look Back' is a fusion of jazz and R&B which preceded the band's upcoming EP, Line by Line. The song contains So!YoOn!'s backing vocals and guitar, and also features a verse from Shownu in English. Check it out the track on Spotify now!
According to a Billboard exclusive, the collaboration came about thanks to the power of Monbebes (Monsta X's fan base), after Shownu recommended some of the band's songs. The Monsta X leader also sought out the band himself so they could work together.
PREP are a British band that fuse elements of jazz, funk and R&B into pop. They are no stranger to collaborating with Korean artists. They previously collaborated with DEAN for 'Cold Fire'. Two of their members also attended Monsta X's concert back in July.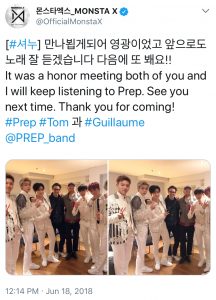 Se So Neon are a three-piece k-indie band debuted under Bunga Bunga records in 2017. They recently performed in America in September for the Modern Sky Festival.
Monsta X are a seven member group from Starship Entertainment and debuted in 2015. They recently released their second full album 'Take 1: Are You There' on Monday, after the end of their world tour. They also released the music video for their title track, 'Shoot Out'. Check it out here.
Other than Spotify, you can buy 'Don't Look Back' on iTunes now.
What do you think of this collaboration?