We've got another K-Pop dance workshop for you to enjoy!
The Korean Culture Society at the University of Westminster are hosting their own dance workshop this Wednesday. The workshop will be taught by Sunny of UJJN, a Westminster alumni and founder of the Korean Culture Society. He will teach the choreography to BTS' Idol and another song that will be revealed on the day.
Check out the full details below!
Date: Wednesday 28th November 2018
Where: Studio 2, Flow Dance Studio
Address: Unit 3, Ground Floor, Kennington Business Park, Canterbury Court, 1-3 Brixton Road, London, SW9 6DE
Time: 4:30pm to 6:30pm
Price: £7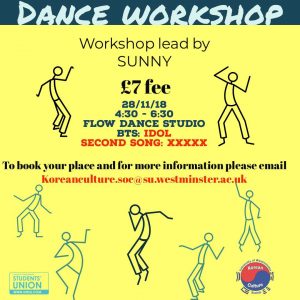 If you'd like to book your place, then fill in this form. Alternatively, you can contact the university's KSOC by emailing them.
we hope everyone who attends enjoys themselves!