It is official, Bang Yong Guk will tour Europe in March. The rapper, songwriter and record producer is stepping out on his first solo tour since his departure from B.A.P and TS Entertainment in August.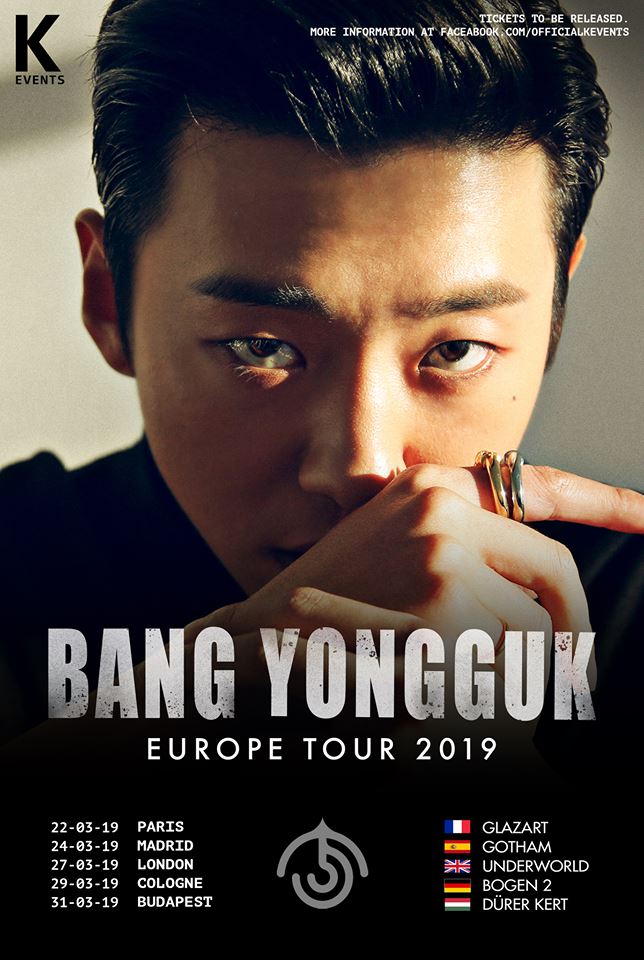 Bang Yong Guk will be touring Europe this March in 5 cities. An incredibly powerful and sentimental lyricist who will be releasing his new album soon. He is now continuing his path as the former B.A.P Leader to show the world his story. Join us for this everlasting memory.
Included in the tour list is a London stop on March 27th, at Underworld, Camden. Tickets will go on sale Sunday 10 February at midday.
SHOW SCHEDULE:
5:30PM: Gold ticket holder entry
6:00PM: Photos with Artists
7:15PM: Early Entry entry
7:30PM: General entry
8:00PM: Show starts
9:30PM: Curfew
*Please note that timing is subject to change
AGE RESTRICTIONS:
14+. Anyone under 16 must be accompanied by a parent or guardian.
Please bring photo ID.
TICKETS
[GOLD Ticket holders] £140
– First Entry at 5:30PM
– Group Photo of 4 with Bang Yong Guk
– Hi-Touch
– Photocard
– Bang Yong Guks Concert
[Early Entry] £75
– Entry after Gold Ticket holders
– Bang Yong Guks Concert
[General Entry] £40
– Entry after other ticket category holders
– Bang Yong Guks Concert
*All tickets exclude transaction fees
*Tickets are non-refundable
Show your interest in the upcoming tour at the following Facebook event pages:
22.03 PARIS: Bang Yongguk in Paris 22.03.19
24.03 MADRID: Bang Yongguk in Madrid 24.03.19
27.03 LONDON: Bang Yongguk in London 27.03.19
29.03 COLOGNE: Bang Yongguk in Cologne 29.03.19
31.03 BUDAPEST: Bang Yongguk in Budapest 31.03.19