This week of Korean culture in the UK has two events lined up for this Saturday in London and Glasgow.
12th DECEMBER: Changing Landscapes: The New Korean Cinema Movement on Screen: White Badge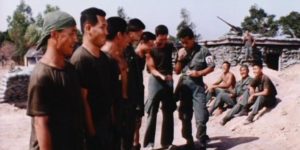 Fancy a look into the politics and history of South Korea via film? Look no further! Birkbeck Cinema is hosting a special screening of the war film "White Badge". The film is significant as it helped mark the start of the New Korean Cinema Movement. Relaxation of censorship in the country in the late 1980s had given aspiring filmmakers the opportunity to tell stories and address issues that have been previously forbidden to them.
More information: here
12th DECEMBER: Young Bros x SeoulRush K-Pop party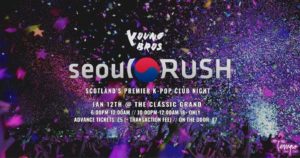 Young Bros return to Scotland's biggest city for a big night of nothing but K-Pop and Korean Hip-Hop classics! The DJ roster for the night includes SweetPillow and Mochii. Entry to the venue, The Classic Grand, is from 6pm and for anyone over 14, however, access after 10pm and to alcohol is strictly for those over 18. Entry is £7 on the door.
More information: here