Lee Hi and CLC both released comebacks last week. They both charted on iTunes in the UK!
Lee Hi ended her three-year hiatus with the release of her new song 'No One'. The collaboration with B.I. from IKON has peaked on European iTunes at #10 in Romania. It also charted in Sweden, Norway, Spain and Russia.
Her album 20°C peaked at #2 in Finland. It reached #3 in Russia and #4 in Denmark, Slovakia and Sweden. The album also charted in Czech Republic, Luxembourg, Norway, Ireland, Spain, the Netherlands, France, Germany, Belgium, the UK, Italy, Switzerland and Austria.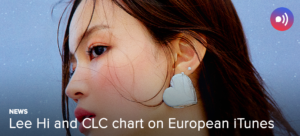 CLC released their second comeback of the year 'ME'. The title song hit #17 in Finland and Poland, as well as #21 in Ireland. The song also charted in Spain, Sweden, Denmark, Belgium, Russia, the Netherlands, the UK and Austria.
Congratulations to Lee Hi and CLC on their achievements!