It's been two years since KNK made their way to London. Appearing on stage at the Feel Korea Concert in 2017, they swiftly made their mark as a group, oozing their own unique style and charm. Organised by MyMusicTaste, the 18th August finally saw them 'Back Again', playing to a crowd of dedicated Tinkerbells at the O2 Academy Islington. 
Debuting in 2016, it's been quite a journey for KNK of the last three years. After parting ways with their formative company YNB Entertainment in what was a rather amicable split, and member Youjin choosing to move on from the group for personal reasons, they took an extended hiatus during 2018. This proved to be the break that they needed in order to come together again. Joined by new member Dongwon, the group had their first comeback in over a year with 'Lonely Night.' Their most recent release, the catwalk-inspired 'Sunset', comes from the S/S Collection album. Both releases have proven to be a hit with fans, many of whom have supported the group throughout the most recent changes.
Whilst some groups might have found the small venue and even smaller crowd disheartening, KNK fully took their surroundings in their stride, making for an intimate yet high energy performance. London Tinkerbells were certainly under no impression that their numbers would hinder their volume. With the lights dimmed and each successive KNK track played, the practised fanchants only seemed to grow louder. By the time the boys made their entrance, the cheers had increased to a dull roar. Each member looked sexy and stylish in simple black trousers and shirts, accented with gold. It's no wonder that this is a group known for their height; the outfits truly took advantage of this and accentuated their long legs and arms, heightening the choreography. Not only this but from the very first song, it was clear that KNK was not planning to hold back. They gave their all with every move. Sharp, clean and passionate, it showed the stage presence that shone the last time they performed in London.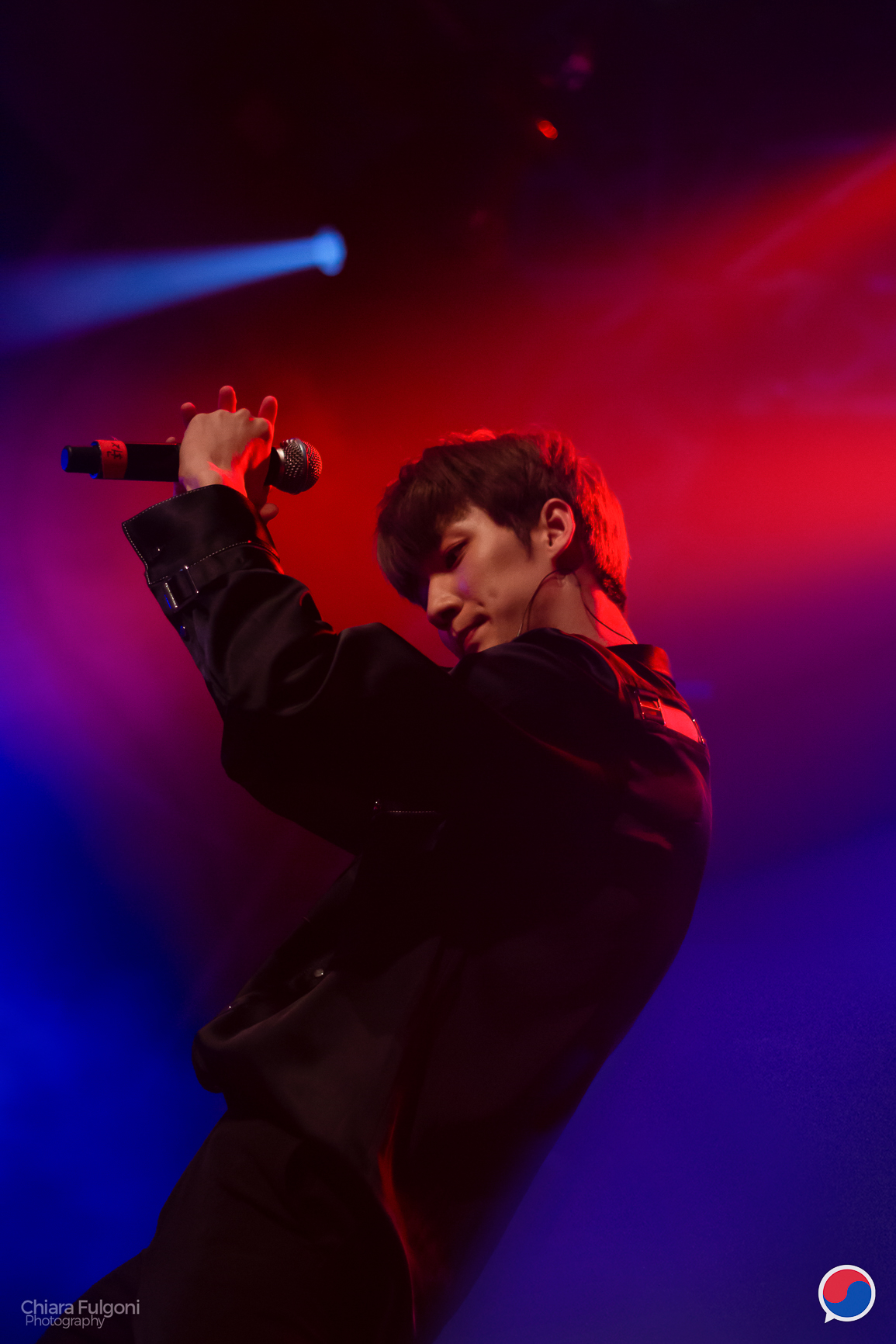 As if to prove their dancing prowess, they began by showcasing the as yet unseen choreography for 'We Are the One', a track from their newly released S/S Collection. The powerful moves proved to be the perfect opener, setting the stage for what felt like a more chilled performance. 'Sunset' is by no means a slow-paced song, and the strength that all five members poured into the choreography showed this. From the distinctive cradle-like starting position which sees Heejun hanging from the other members' outstretched arms, it was obvious which song was coming. KNK has some beautiful distinctive dances and throughout the concert, they weren't afraid to show these off. The crowd, instantly thrilled to hear the latest comeback single live, matched the enthusiasm of the members with impressive fanchants.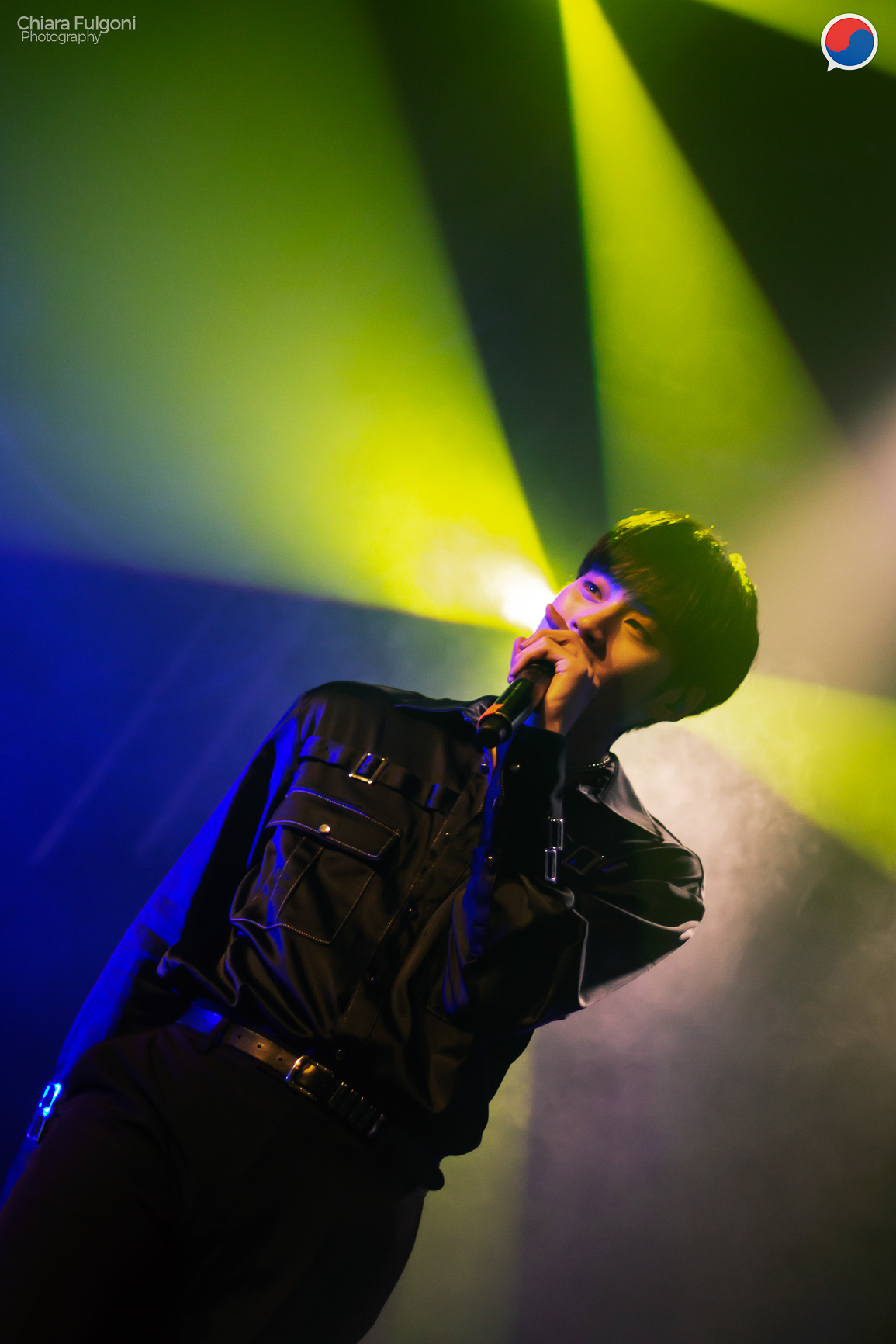 "Park Seoham! Lee Dongwon! Jeong Inseong! Kim Jihun! Oh Heejun! Keunakeun! Sunset! 4 y'all!"
The introductions that followed were hardly needed if those chants were anything to go by. Nevertheless, each member introduced themselves purely in English, greeting the fans whom they acknowledged they hadn't seen in two years. It's a nice touch when performers take note of the city they are in and tailor their interactions with the crowd accordingly. KNK did so frequently, and that they also did so in English was another step they made to connect with the fans. This and the intimacy of the venue that allowed the boys to see nearly every face in the crowd meant that the interactions felt incredibly genuine. After Dongwon's extended greeting in English, a shout of "Good job!" said in Korean came from the crowd and the boys responded warmly, repeating the phrase to Dongwon to make certain he heard the praise.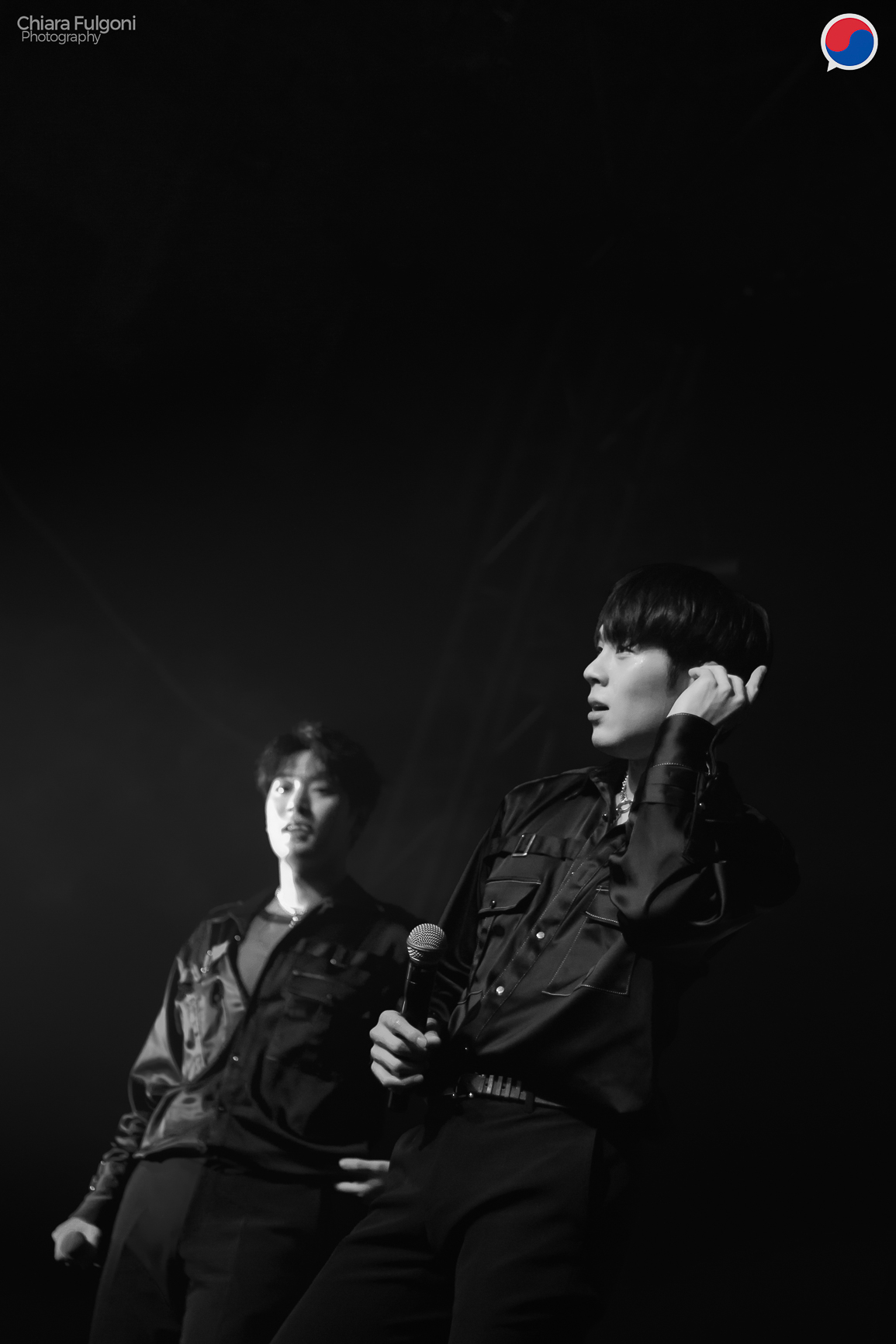 After this, the group transitioned into the next set of songs. 'Day by Day' was followed up by Rain, which despite the lack of umbrellas looked equally a suave and impressive as any live stage had during their promotions of the song. 'Lonely Night' came shortly after, the opening notes strikingly similar to that of Rain's opening. However, once the beat dropped and the members got into the rhythm of the song, it was entirely distinct. This is the great thing about KNK's discography thus far. Never have they sacrificed their own style for the sake of a generic song. Each performance, therefore, was unique and completely owned by all the members. Even Dongwon, who hadn't been with the group during the release of 'Rain', matched seamlessly with it' style. KNK do not simply perform songs – they make them their own.
Once again breaking to talk with Tinkerbells, the topic turned to KNK's favourite things about London. This is a familiar subject for idols experiencing new countries, and it's a wonderful bonding point for them and their international fans. The members waved back to fans as others spoke spending as much time interacting with those in the balcony as those close to the stage. They continued with another set of four songs, all album tracks that slowed the pace down a little. From 'Think About You' and 'What Do You Think', to 'Sunrise' and 'I Remember', each song was met with cheers from the crowd, who all seemed to know the songs well.
Whilst there were no solo stages this time, having kept to the group's main discography, it was nice to hear some of the group's favourite songs aside from their own during their next talking segment. Prompted by the others on stage, Inseong began by giving a small taste of his recent performance as Astronaut on King of Masked Singer. His powerhouse vocals sent shivers throughout the room. Dongwon mentioned KARD, much to the delight of Seoham, who often likes to prove he is their biggest fan. Heejun then volunteered to sing harmonies for Seoham, who was in full fanboy mode. He then claimed that for his actual performance, Seoham would sing a song that was very important to the UK.
He then proceeded to hum almost the entirety of Hedwig's Theme from Harry Potter!
As a well known Harry Potter fan, it would have been a shock had Seoham not mentioned the series once during their visit. Yet to sing the iconic theme song was a hilarious choice, one that the crowd absolutely loved.
The next songs, 'Tonight', 'Feel So Good' and 'Beauty' brought up the mood again before the boys all chose a number from the audience, each of whom would win a signed polaroid. This was made all the more playful by their instructions for the successful fans to shout and dance if they heard their number called. Heejun provided some beatbox back up for the rest of KNK and the fan to dance to each time a number was chosen. Small moments like this really made the concert feel that much more personal. This was KNK meeting and interacting with their fans rather than solely putting on a show for them to watch. It was a heartwarming sight that brought a lot of smiles to the faces in the room.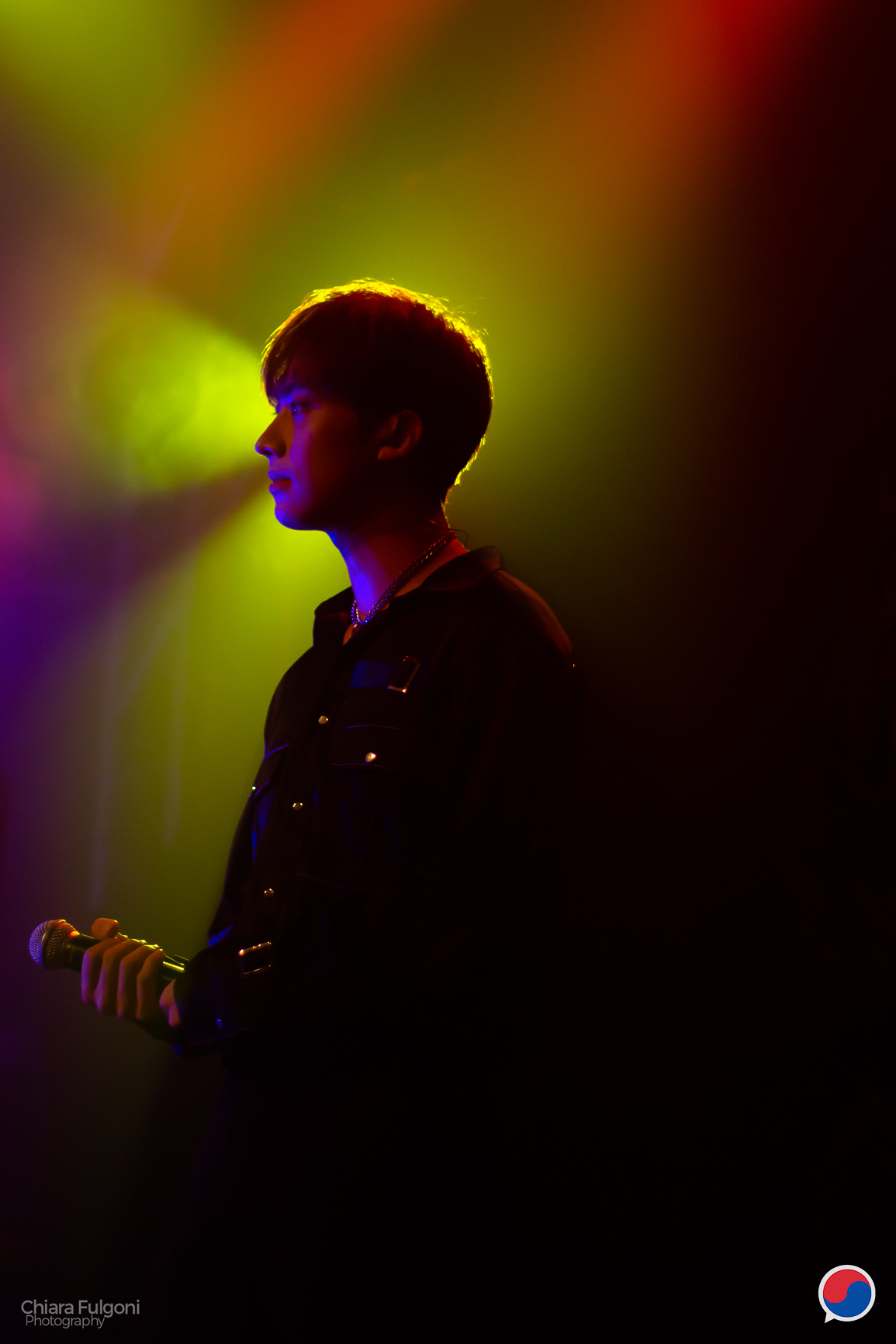 With the promise of their "sexiest song" coming next, the atmosphere settled in anticipation. 'Fade' was indeed sexy. Much of the choreography involved the members lowering to the floor, the lighting on stage low and blue. It's safe to say they delivered on their promise. This, followed straight by the soulful 'Sun Moon Star' changed the mood of the concert entirely. Before moving to the next songs, the members reminisced once more on their time in London two years ago and how glad they were to be back. Thus, the next songs were fan songs. A dedication to the fans they returned with such warmth to see.
After hearing moving ballad 'Propose', Tinkerbells returned that warmth during 'Angel Heart' with a lovely banner project organised by @asitblossoms on Twitter. Pink banners filled the room as the chorus swelled. Each member leaned forward to read the messages on them, Seoham even taking one to make sure they could all see. It was a touching moment, one acknowledged not through words, but simply the feeling in the room.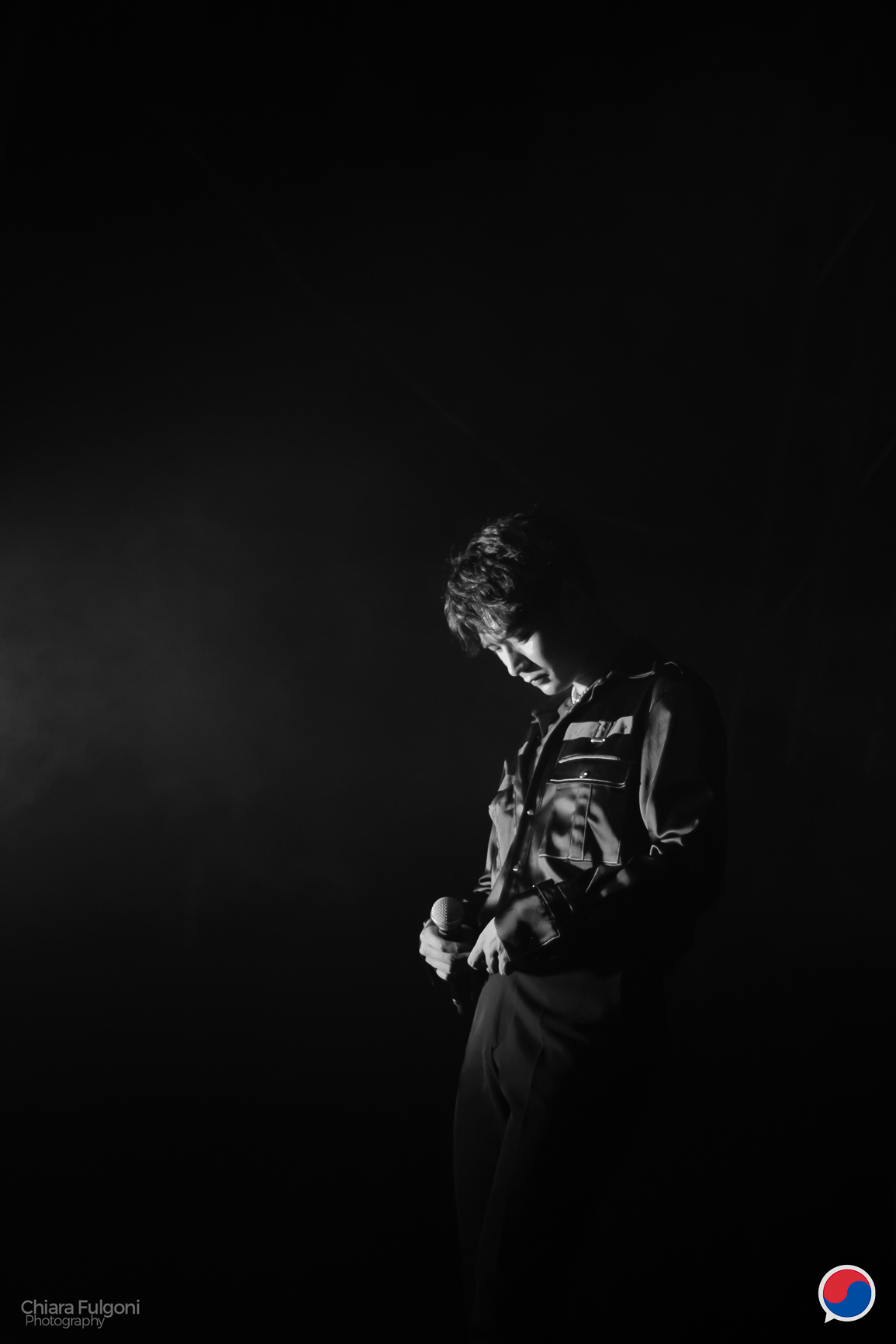 Perhaps it was bittersweet because there was an unspoken knowledge that the show was slowly coming to an end. The KNK boys addressed the audience once again to thank them for calling them back to London and for coming that night. Heejun pointed out a couple in the audience, remarking that it was unusual to see couples at their concerts. He asked which of them was their fan, to which the guy gestured to both of them, offering finger hearts to show his own appreciation. This moment, and the many, many other small moments of interaction that KNK constantly offered their fans, is one that made this concert so memorable. International fans rarely have such chances to be close to their idols. That KNK seemed to understand this and interact with as many people in the crowd as possible is a testament to how welcoming they are as a group. 
Full of energy until the very end, they smashed they're way through older, fan favourite singles 'Back Again' and 'U.' Despite having performed at least sixteen songs by this point in the night, not a single move was missed, nor half-hearted. They truly gave their all until leaving the stage, and even more so when returning for the encore. With a flag from the audience and a few more of the banners from the fan event earlier, the boys played around on stage, throwing hearts to fans above and below, dancing and having fun with their audience. After a photo with the crowd, it was sad to see them go. The room felt empty as soon as their presence was gone, and that can only be a testament to just how much their personalities lit up the room.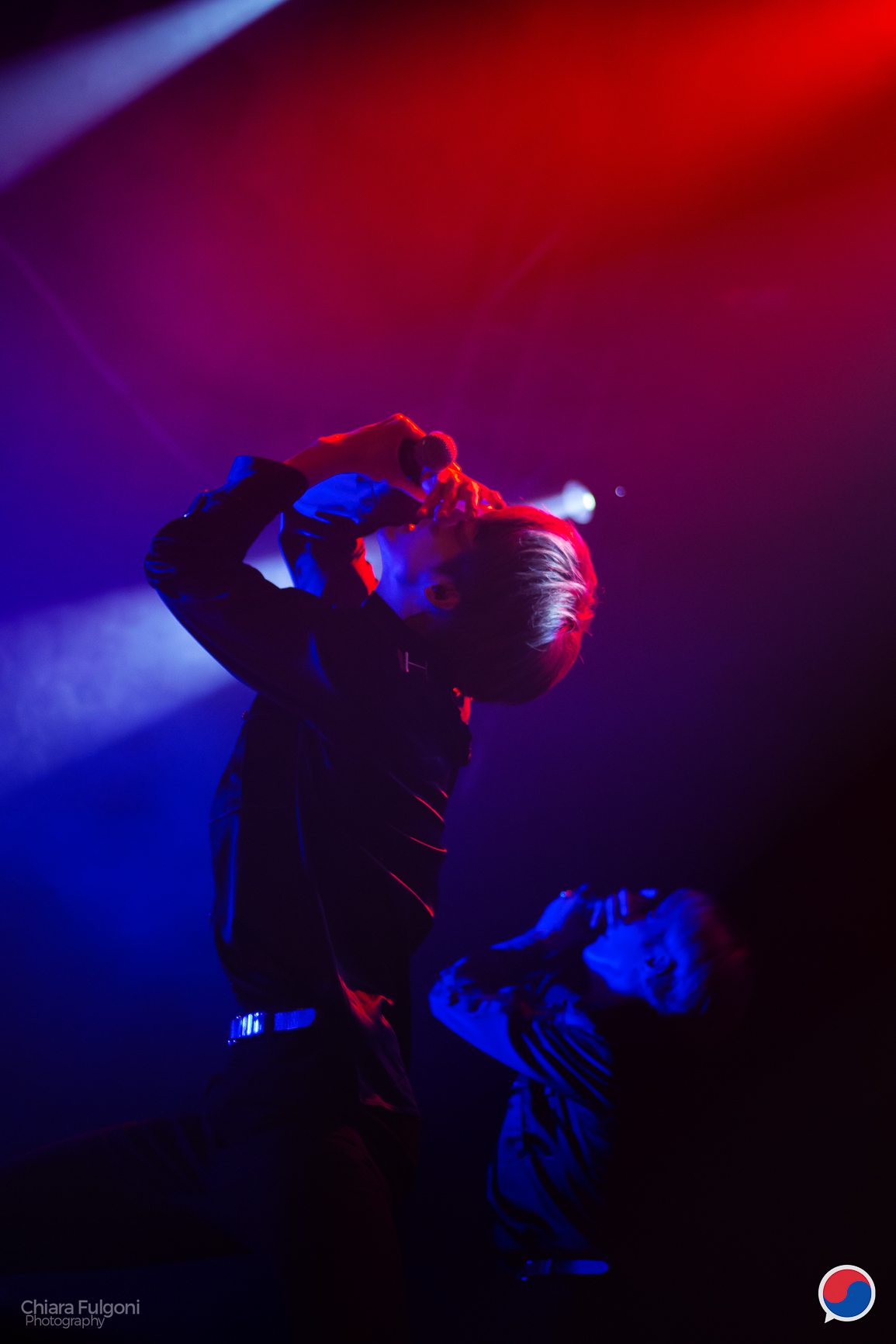 KNK may be a small group. They may have endured hardships and more false starts than many. But Sunday night proved that they can hold their own just as well, if not better, than some of the most popular male groups today. With that and their boundless enthusiasm and drive to continue forward, it won't be long, I think, before we see them once again in London. Tinkerbells here will undoubtedly welcome them back with open arms.
A huge thanks to MyMusicTaste for making the concert a reality, and allowing KNK to meet their fans all across Europe on the Sunrise Tour!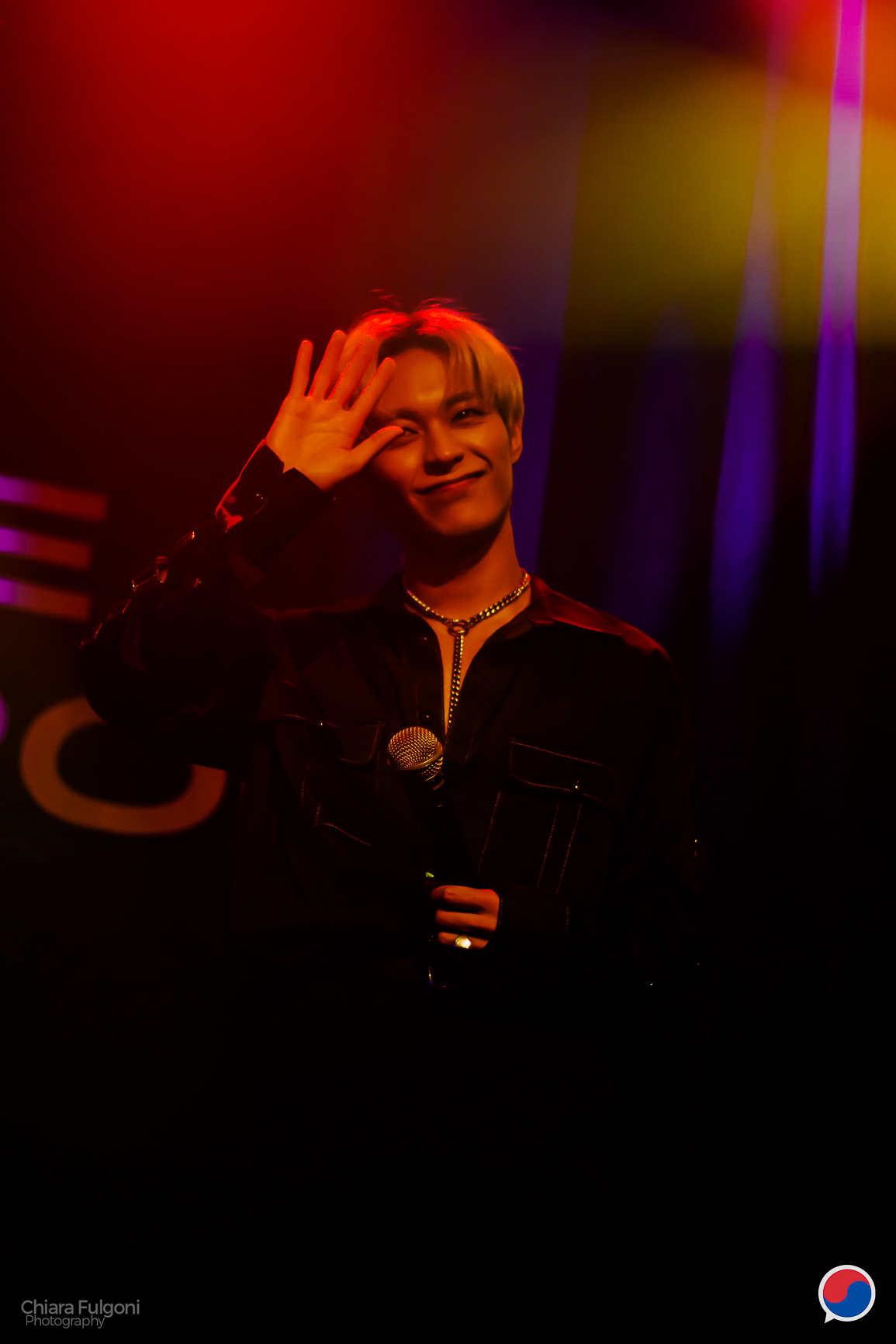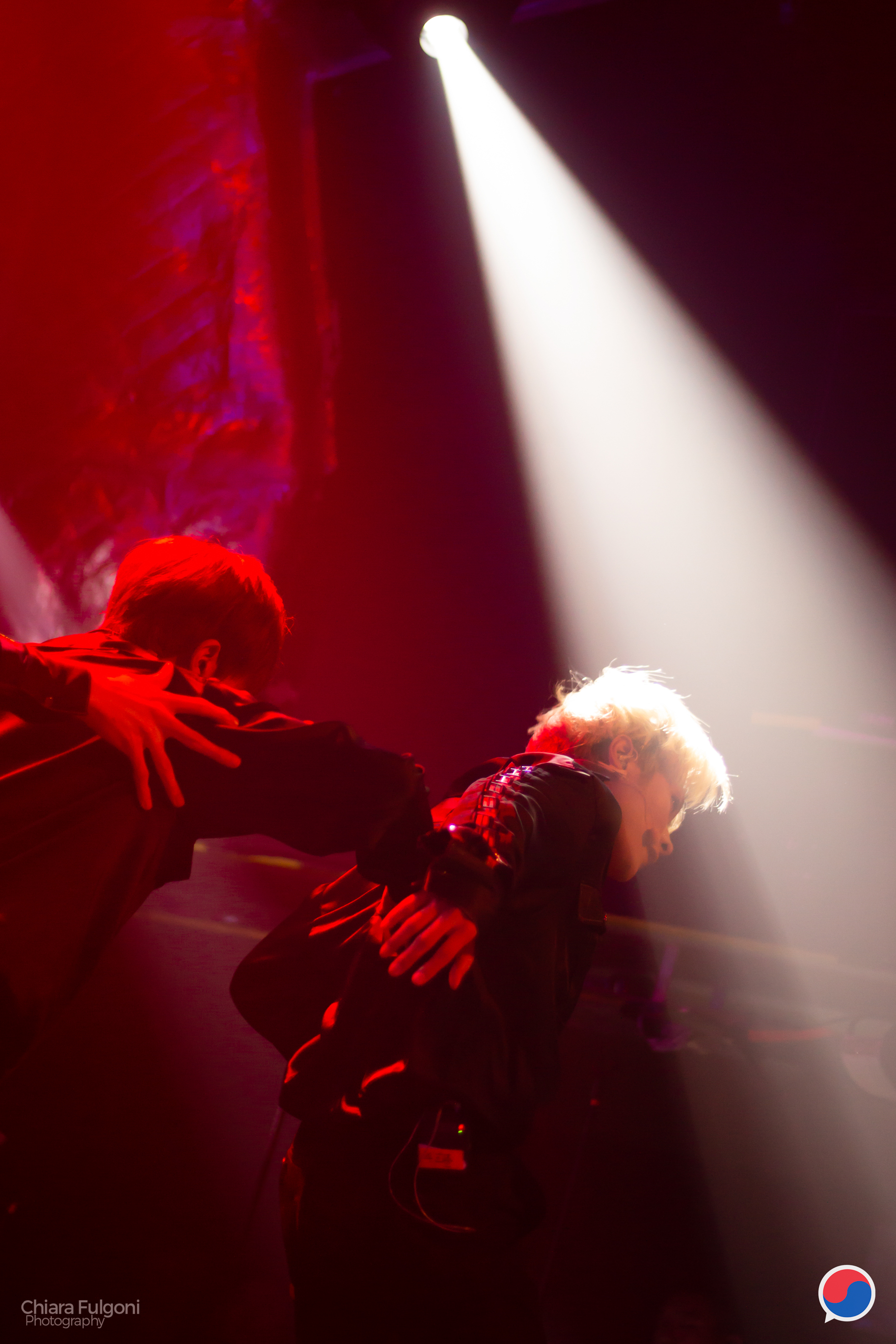 –